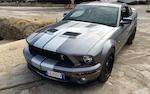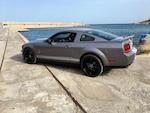 Ford Shelby Mustang GT500 coupé 2006
Châssis n° 1ZVFT885675221191

•Interprétation moderne de la légendaire Shelby GT500 des années 1960
•Deux propriétaires
•Utilisée avec parcimonie
•Immatriculée en Italie

L'écurie du légendaire pilote texan Carroll Shelby avait engagé la « pony car » de Ford, la Mustang, en compétition avec succès en Amérique du nord, remportant le tire du SCCA pour la catégorie B des voitures de série trois saisons d'affilée au milieu des années 1960. Capitalisant sur ce succès, Shelby commença à construire des Mustang modifiées reconnues officiellement et commercialisées par des concessionnaires sélectionnés dans le réseau Ford. La première Mustang Shelby, la GT350, fut présentée en 1965, animée par une version modifiée du V8 small block de 289 ci (4, 7 litres). Lorsque l'usine proposa le V8 big block de 390 ci en option sur la Mustang en 1967, Shelby surenchérit en installant le V8 Cobra Jet 428 ci (7 litres) de Ford pour créer la GT500, l'une des plus importantes et des plus emblématiques « muscle cars » des années 1960. Le train roulant était modifié en conséquence pour encaisser les performances accrues de la GT, bien qu'extérieurement peu de choses distinguent la GT de Shelby de la voiture de série à l'exception d'une large bande « course » longitudinale au centre de la carrosserie. Sur route, il n'y avait bien sûr, aucune comparaison.

En 2006, Ford ressuscita sa collaboration avec Carroll Shelby pour créer un ensemble de modèles spéciaux en série limitée, au sommet duquel trônait la Shelby GT500. Présentée au Salon de New York 2005, la production de la GT500 débuta en mai 2006, comme modèle 2007. La GT500 recevait un V8 330 ci (5, 4 litres) à compresseur dont les 500 ch étaient délivrés via une transmission manuelle Tremec à six rapports. Parmi les caractéristiques spéciales, des suspensions renforcées, un kit carrosserie et des roues de 18 pouces. La production ne dura que trois années (2007-2009) avec environ 30 000 exemplaires produits. Carroll Shelby décéda en 2012 et la GT500 est l'une des dernières voitures à porter le nom du grand homme.
Cette GT500 a été achetée neuve en 2006 par une riche homme d'affaire suisse qui n'a conduit la voiture que sur quelques miles en Suisse, avant de la vendre au propriétaire actuel, un passionné de voitures américaines, en 2007. Depuis son acquisition, la Shelby faisait partie de la collection du vendeur et a été régulièrement entretenue par son mécanicien. Son usage a été parcimonieux, se limitant à un voyage de la Sicile vers nord de l'Italie et retour. Depuis, cette rare et attirante supercar américaine a été remisée dans un garage hors humidité et se présente en état bien préservé et entièrement d'origine.

2006 Ford Shelby Mustang GT500 Coupé
Chassis no. 1ZVFT885675221191

•Revival of the iconic 1960s Shelby GT500
•Two owners from new
•Used sparingly
•Registered in Italy

Legendary Texan racing driver Carroll Shelby's team had been campaigning Ford's Mustang 'pony car' with considerable success in North America, winning the SCCA's B-Production title three years running in the mid-1960s. Capitalising on his success, Shelby began manufacturing modified Mustangs, which were officially sanctioned and sold through selected Ford dealerships. The first Shelby Mustang - the GT350 - arrived in 1965 powered by a modified version of Ford's 289ci (4.7-litre) small-block V8. When the factory introduced a 390ci 'big-block' V8 option on the Mustang for 1967, Shelby went one better, installing Ford's 428ci (7.0-litre) Cobra Jet V8 to create the GT500, one of the great, iconic musclecars of the 1960s. The running gear was up-rated appropriately to cope with the GT's increased performance, though outwardly there was little to distinguish Shelby's GTs from the standard product apart from a pair of broad 'racing' stripes down the body centreline. On the open road there was, of course, no comparison.

In 2006, Ford revived its alliance with Carroll Shelby to create a series of special limited edition models, at the pinnacle of which sat the Shelby GT500. Introduced at the 2005 New York Auto Show, the GT500 commenced production in May 2006 as a 2007 model. The GT500 was powered by a 330ci (5.4-litre) supercharged V8 engine, whose 500 horsepower was delivered to the road via a Tremec six-speed manual transmission. Special features included up-rated suspension, a body kit, and 18" diameter wheels. Production continued for only three years (2007-2009) with approximately 30,000 cars completed. Carroll Shelby died in 2012, and the GT500 is one of the last cars to carry the great man's signature.

This GT500 was purchased new in 2006 by a wealthy Swiss businessman, who drove the car for only a handful of miles in Switzerland before selling it to the current vendor, an American-car enthusiast, in 2007. Since its acquisition, the Shelby has formed part of the vendor's private collection and been maintained regularly by his mechanics. Its use has been sparing – confined to one trip from Sicily to northern Italy and back. Since then, this rare and desirable American supercar has been kept in a dehumidified garage and is presented in well-preserved and completely original condition.

Saleroom notices
Veuillez noter que cette voiture a été retirée de la vente. Please note that this car has been withdrawn from the sale.