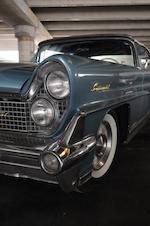 Lincoln Continental Mark IV cabriolet 1959
Châssis n° H9YC406833

•Voiture de luxe américaine emblématique
•Transmission automatique
•Restaurée
•Immatriculée en France

Les modèles de Lincoln, une filiale de Ford, ont toujours concurrencé ceux de Cadillac, une division du groupe General Motors, en termes de luxe et d'exclusivité, en particulier le haut de gamme Continental. Aujourd'hui synonyme de Lincoln, le nom de modèle Continental fut utilisé pour la première fois en 1940 pour le magnifique exercice de style de Bob Gregorie sur le châssis Zephyr à moteur V12. Haut de gamme sportif aux côtés de la Zephyr, la Continental avait débuté comme un modèle unique à carrosserie sur mesure, commande personnelle du patron de Lincoln, Edsel Ford, et fut reconnue comme une classique du design automobile par des institutions aussi diverses que musée d'Art Moderne et le Classic Car Club of America. L'arrêt du moteur V12 à la fin du millésime 1948 signifiait qu'il n'y aurait pas d'autre Continental avant sept années, mais lorsqu'elle réapparut, la nouvelle Continental déclencha le même enthousiasme que le modèle original. Dévoilée au Salon de Paris en octobre 1955, la Continental Mark II était un modèle coupé hardtop aux lignes sublimes dessinées par une équipe qui comprenait Gordon Buehrig, William Clay Ford et John Reinhart. Facturée aux environ de 10 000 dollars, une somme colossale, la Continental Mark II était forcément un modèle très exclusif. Toujours est-il qu'on prétend que Ford perdait environ 1 000 dollars pour chaque Mark II vendue, une situation intenable qui précipita le lancement de la Mark III, profondément remaniée et considérablement moins chère, en 1958. Les modifications apportées au modèle suivant, la Mk IV, se cantonnaient à quelques détails stylistiques extérieurs, le plus visible étant une lunette arrière inversée. Le V8 Lincoln 430 ci (7 049 cm3) à soupapes en tête restait de mise sur la gamme Continental, ses 350 ch se montrant largement suffisants pour déplacer ces énormes voitures à plus de 160 km/h.

L'un parmi seulement 2 195 cabriolets Continental Mark IV construits en 1959, cet exemplaires a été restauré entre 2012 et 2016 (factures fournies) et se présente en excellent état général, complet avec sa capote fonctionnant. La peinture est neuve (2016) et les pare-chocs seront rechromés pour la vente. Bleue avec intérieur noir et blanc, ce sublime cabriolet américain est vendu avec sa carte grise de collection française et son contrôle technique.

1959 Lincoln Continental Mark IV Convertible
Chassis no. H9YC406833

•Iconic American luxury car
•Automatic transmission
•Restored condition
•Registered in France

The products of Ford-owned Lincoln have for years rivalled those of General Motors' Cadillac division in their exclusivity and luxury, in particular the range-topping Continental. Nowadays synonymous with Lincoln, the 'Continental' model name was first used in 1940 for Bob Gregorie's masterly styling exercise on the existing V12 Zephyr chassis. A sportier, top-of-the-range companion to the Zephyr, the Continental had started out as a personal, custom-bodied one-off commissioned by Lincoln boss Edsel Ford, and would be hailed as a classic of automotive design by authorities as diverse as the Museum of Modern Art and the Classic Car Club of America. The demise of the V12 engine at the end of the 1948 season meant that there would be no more Continentals for seven years, but when it did return the new Continental caused just as much of a sensation as the original. Premiered at the Paris Salon in October 1955, the Continental Mark II was a sublimely styled hardtop coupe created by a team that included Gordon Buehrig, William Clay Ford and John Reinhart. Priced close to the then breathtaking $10,000 mark, the Continental MkII was necessarily a most exclusive automobile. Nevertheless, Ford is reputed to have lost around $1,000 on every Mark II sold, an unsustainable situation that prompted the introduction of the heavily revised and considerably cheaper Mark III for 1958. Changes to the successor Mark IV were mainly confined to external styling details, the most obvious of which was a reverse slant rear window. Lincoln's 430ci (7,049cc) overhead-valve V8 engine continued to power the Continental range, its 350bhp more than sufficient to propel these huge cars well past 100mph.

One of only 2,195 Continental Mark IV convertibles made in 1959, this example was restored between 2012 and 2016 (invoices available) and is presented in generally excellent condition, complete with working soft-top. The paintwork is new (2016) and the bumpers will be re-chromed for the sale. Finished in blue with black/white interior, this ultimate American soft-top is offered with French Carte Grise de Collection and Contrôle Technique.