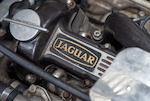 Jaguar Type E série III V12 roadster avec hardtop d'usine 1972
Châssis n° UD1S21059
Moteur n° 78S449LA

•Importée de Californie, États-Unis
•Séduisant modèle à transmission manuelle
•Seulement 19 474 miles (31 340 km) d'origine
•Immatriculée en France

« Du coupé ou du roadster, le second est certainement le plus séduisant à regarder, que ce soit sous ses formes hardtop, cabriolet ou roadster. Le biotope naturel de la Type E est la route, surtout celles du continent. Capote ouverte, dans les hauteurs des Alpes, il n'y a pas de compagne plus agréable que la Type E surtout quand on peut entendre la musique du V12 dont l'écho se répercute sur les parois rocheuses. » Classic Cars, février 1974.

Cette belle Type E a été exportée au Pays-Bas dans les années 1990 de la Californie ensoleillée par « The Roadster Group », une société spécialisée dans la recherche de modèles à faible kilométrage aux États-Unis. À l'époque la Jaguar avait enregistré environ 16 000 miles (25 750 km) au compteur et fut vendue à un gentilhomme hollandais qui déménagea en Belgique en 2001. La dernière inspection technique en Hollande (datée du 21 mai 2001) fait état d'un kilométrage de 28 277 km (17 571 miles), alors qu'au premier contrôle technique en Belgique le 26 septembre de cette même année, le kilométrage relevé était de 32 072 km (19 929 miles). Depuis, la voiture a été peu utilisée ne faisant qu'un « tour du pâté de maison » de 3 km chaque année. Le kilométrage actuel est seulement de 19 474 miles, soit environ 31 360 km !

La Type E est réputée être en très bel état général et originale, sa carrosserie ne présentant ni soudure ni oxydation, ayant été repeinte une seule fois (dans sa couleur argent d'origine), l'intérieur restant d'origine. Rénovée il y a quelques temps, la capote est rouge foncé et sa protection assortie est présente. Les autres caractéristiques notables sont la séduisante boîte manuelle à quatre rapports, un très rare hardtop d'usine de la couleur de la carrosserie, un volant à jante bois conforme à l'origine et cinq jantes à rayons chromées de 15 pouces. Une révision mécanique importante et une vérification ont été effectuées juste avant l'achat de la voiture par le vendeur, en février 2012, et une nouvelle batterie et un coupe-circuit ont été installés à l'époque. Cette magnifique Type E est vendue avec ses papiers d'immatriculation française.

1972 Jaguar E-Type Series III V12 Roadster with Factory Hardtop
Chassis no. UD1S21059
Engine no. 78S449LA

•Imported from California, USA
•Desirable manual transmission model
•Only 19,474 miles from new
•Registered in France

'Of the coupe and the roadster, the latter is certainly the most attractive to look at in any of its three forms: hard- or soft-tops and open. The natural habitat of the E-Type is the open road, preferably the Continental road; hood down, high in the Alps, there can be few more enjoyable companions than a V12 "E", and you might even be able to hear the music of a V12 on song echoing off the mountainside.' - Classic Cars, February 1974.

This beautiful E-Type was imported into the Netherlands in the 1990s from sunny California by 'The Roadster Group', a company that specialised in sourcing low mileage cars from the USA. At the time the Jaguar had approximately 16,000 miles recorded on the odometer, and was sold to a Dutch gentleman who moved to Belgium in 2001. The last Dutch technical survey (dated 21/5/2001) shows a recorded mileage of 17,571, while at the first Belgian technical survey on 26th September that same year the mileage was recorded as 19,229 miles. Since then the car has seen very little use, making only a single 'around the block' trip of a couple of miles each year. The current mileage is only 19,474, which is approximately 31,360 kilometres!

The E-Type is reported to be in very solid and original condition overall, its body being un-welded and rust free, while the exterior has been repainted once (in the original silver colour), the interior being factory original. Renewed in recent years, the soft-top is dark red and its matching original cover is present. Other noteworthy features include the desirable four-speed manual gearbox, a very rare original factory hardtop in body colour, period-correct wood-rim steering wheel, and five original 15" chromed wire wheels. A major mechanical service and check-up was carried out immediately prior to the vendor's purchase of the car in February 2012, and a new battery and cut-off switch fitted at the same time. This beautiful V12 E-Type is offered with French registration papers.

Saleroom notices
The French registration papers for this car will be forwarded to the buyer post sale, a copy is on file. Please note that the engine number of this car is 7S8449LA and not 78S449LA as stated in the catalogue. Veuillez noter que les documents d'immatriculation de cette voiture seront envoyés à l'acheteur après la vente. Une copie peut être consultée. Veuillez noter que le numéro de châssis de cette voiture est 7S8449LA et non 78S449LA comme mentionné au catalogue.