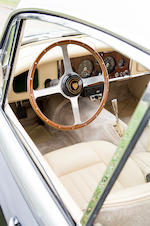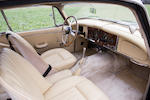 Jaguar XK150 3,8 litres coupé 1957
Chassis no. S834413 BW
Engine no. V 1545 8
Châssis n° S834413BW
Moteur n° V1545-8

•Livrée neuve en France
•Moteur 3, 8 litres Guy Broad
•Boîte cinq rapports Getrag
•Passeport FIVA

« La nouvelle Jaguar est incroyablement rapide et, on s'en rend à peine compte, mais elle est plus spacieuse et pratique comme transport quotidien que sa devancière avec une visibilité améliorée et un style continental. » Autosport à propos de la Jaguar XK150, le 24 mai 1957.

À l'origine livré neuve en France avec un moteur 3, 4 litres, ce coupé XK150 à conduite à gauche a été acheté par le vendeur lors d'une vente aux enchères au Royaume-Uni en 1998, et appartient à son nouveau propriétaire depuis bientôt vingt ans. La voiture a été restaurée en 1998 et a bénéficié de nombreuses améliorations mécaniques. Ce qui inclut un moteur modifié, construit par le spécialiste bien connu Guy Broad en version 3, 8 litres avec trois carburateurs SU 2 pouces, des pistons Venolia, un joint d'étanchéité d'arbre Arrow, une conversion au joint de culasse à lèvres, une culasse straight port avec soupapes de 1, 75 pouce à l'admission et de 1, 875 pouces à l'échappement et des cames au profil Type D. L'amélioration des performances se fait aussi grâce à une boîte à cinq rapports Getrag, un différentiel à glissement limité, une direction assistée, un radiateur en aluminium, des roues fil de 15 pouces et des freins à disque aux quatre roues. La XK a participé à plusieurs rallyes européens et sera vendue avec son passeport FIVA. Décrite par le vendeur comme étant en très bon état général, la voiture est vendue avec ses papiers d'immatriculation EU et les factures de Guy Broad et Don Law (pour un total de 20 000 £) en 2000/2001).

1957 Jaguar XK150 3.8-Litre Coupé
Chassis no. S834413BW
Engine no. V1545-8

•Supplied new in France
•Guy Broad 3.8-litre engine
•Five-speed Getrag gearbox
•FIVA Passport

'The new Jaguar is immensely fast, one need hardly remark, but it is more roomy and practical as an everyday vehicle than its predecessors, with improved all-round visibility and a distinctly Continental line.' – Autosport on the Jaguar XK150, 24th May 1957.

Originally a 3.4-litre model supplied new in France, this left-hand drive XK150 coupé was purchased by the current vendor at a UK auction in 1998, having been with its then owner for some 20 years. The car was restored in 1998 and also benefits from numerous mechanical upgrades. These include an improved engine, built by recognised specialist Guy Broad to 3.8 litres capacity, which incorporates triple SU 2'' carburettors, Venolia pistons, Arrow rear oil seal, lip seal cylinder head conversion, straight porting with 1¾" inlet and 1⅞" exhaust valves, and D-type specification camshafts. Additional performance enhancements include a five-speed Getrag gearbox, limited-slip differential, power assisted steering, aluminium radiator, 15" chromed wire wheels, and disc brakes all round. The XK has completed various European rallies and comes with a FIVA passport. Described by the private vendor as in generally very good condition, the car also comes with EU registration papers and invoices from Guy Broad and Don Law (totalling some £20,000 in 2000/2001).