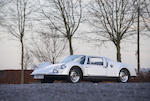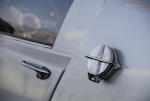 APAL Horizon GT coupé 1968
Châssis n° 2

•Un des dix modèles de ce type construits
•Un d'environ 150 coupés Apal produits
•Jamais immatriculée jusqu'en 2016
•Restaurée

Fondé par le spécialiste de la fibre de verre Edmond Pery, le constructeur belge Apal (Application Polyester Armé de Liège) commença à construire des voitures en 1961 et s'est surtout fait connaître avec ses buggies et ses répliques de Porsche Speedster. Le premier modèle d'Apal était un coupé inspiré de la Porsche Carrera Abarth de 1959, construit sur un châssis de Volkswagen « Coccinelle », dont il fut construit quelques 150 exemplaires au cours des années 1960. La plupart d'entre elles faisaient appel au train roulant de la Coccinelle mais une trentaine d'entre elles étaient équipées de mécanique d'origine Porsche et d'autres composants comme les sièges et le tableau de bord. Les coupés Apal connurent un certain succès en compétition et en rallye et se révélèrent plus rapides que les Porsche contemporaines dans le rallye Liège-Sofia-Liège, en raison de leur moindre poids.

Cette Apal particulière a été fabriquée à la fin de 1967 ou au début de 1968 et s'avère être l'un des dix exemplaires seulement construits. Ce coupé deux portes deux places est équipé d'un moteur Volkswagen d'environ 1, 7 litre de cylindrée et affiche une vitesse de pointe de près de 200 km/h. Son panneau de toit amovible que l'on peut stocker dans le coffre est particulièrement intéressant. La mécanique et la carrosserie ont été restaurées et la voiture se présente en effet « comme neuve ». Cette rare pièce de l'histoire automobile est une incontournable pour tout collectionneur sérieux de Porsche.

1968 APAL Horizon GT Coupé
Chassis no. 2

•One of only ten of this model produced
•One of circa 150 APAL coupés produced
•Not registered until 2016
•Restored condition

Founded by glassfibre specialist, Edmond Pery, the Belgian manufacturer APAL (Application Polyester Armé de Liège) started producing cars in 1961 and is mainly known for its beach buggies and Porsche Speedster replicas. APAL's first model was a coupé inspired by the 1959 Porsche Carrera Abarth and built on a Volkswagen 'Beetle' chassis, some 150 examples of which were produced during the 1960s. Most cars also used the VW power train but some 30 were equipped with original Porsche mechanicals and other items such as the seats and dashboard instruments. The Apal coupés enjoyed success in racing and rallying, and in the Liège-Sofia-Liège Rally proved faster than the contemporary Porsches thanks to their much lower weight.

This particular APAL was built at the end of 1967/beginning of 1968 and is one of only ten examples produced. A two-door, two-seater coupé, it is powered by a Volkswagen engine of around 1.7 litres capacity and 100bhp, and has a maximum speed of circa 200km/h. Of particular interest is the detachable roof panel, which when removed can be stowed in the boot. This car was never registered, but it will be registered in Belgium prior to the sale. The mechanicals and exterior have been restored, and the car is presented in effectively 'as new' condition. This rare piece of automotive history is a 'must have' for the serious Porsche collector.