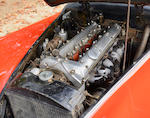 Jaguar XK120 roadster 1953
Châssis n° 673222
Moteur n° W6708-8

•Calquée sur la XK120 de Brooks Stevens
•Peinture deux tons probablement unique
•Exceptionnel état d'origine, non restaurée

Cette Jaguar XK120 inhabituelle a été calquée sur celle que possédait Brook Stevens, l'influent designer industriel américain, dont le roadster fut, pense-t-on, le seul exemplaire livré neuf avec une peinture deux tons. Photographiée au Brooks Stevens Auto Museum en 1959, la XK120 de Stevens figure dans le livre de Glen Adamson intitulé Industrial Strength Design : How Brooks Stevens Shaped Your World. Né en 1911, Stevens a fait ses études à l'université Cornell et a connu une carrière prolifique dans le design de mobilier, de matériel électro-ménager, d'automobiles, de motocyclette, aussi bien que comme styliste graphique. En 1944, il faisait partie du groupe qui, avec Raymond Loewy, fonda l'Industrial Designers Society of America.

Le premier propriétaire de cette XK120 connaissait Brook Stevens et décida de faire peindre sa voiture dans une livrée deux tons, comme l'exemplaire de Stevens. Souhaitant qu'elle soit unique, il opta pour un noir sur rouge (alors que celle de Stevens était noir sur beige).

Maintenant aux mains de son troisième propriétaire seulement, la XK120 est en bon état et en principe 100% d'origine, n'ayant jamais été restaurée. On nous signale que le second propriétaire, un homme très âgé, est encore en vie. Il est rare de trouver une Jaguar XK120 non restaurée qui ne soit pas complètement rouillée. Celle-ci est absolument indemne de rouille, probablement du fait qu'elle a été remisée dans le désert californien.

Tous les composants les plus importants sont d'origine – moteur, boîte, transmission, etc...- et les planchers en bois eux-mêmes ont survécus, intacts. En dehors de la base des sièges, la sellerie en cuir est d'origine, y compris le tableau de bord et les contre-portes et même le bac de batterie. Tous les tapis de sol sont présents ainsi que la capote, sa structure et la trousse à outils (le tissu de la capote devra être changé). La voiture possède également ses clés d'origine et son manuel, fourni par le concessionnaire à l'époque. Cinq pneus noirs sont vendus avec la voiture.

La voiture est censée être en bon état de marche, le moteur tourne bien, les freins ont été révisés, les batteries changées et quatre pneus à flanc blanc BF Goodrich neufs ont été montés. La documentation fournie comprend la carte grise française de collection, le carnet d'entretien d'origine, le certificat de conformité Jaguar et un rapport d'état sur la carrosserie.

1953 Jaguar XK120 Roadster
Chassis no. 673222
Engine no. W6708-8

•Modelled on the Brooks Stevens XK120
•Believed unique two-tone paint scheme
•Exceptionally original and un-restored

This unusual Jaguar XK120 has been modelled on that owned by Brooks Stevens, the influential American industrial designer, whose roadster is believed to be the only example delivered new with two-tone paintwork. Pictured at the Brooks Stevens Auto Museum in 1959, the Stevens XK120 is illustrated in Glen Adamson's book, 'Industrial Strength Design: How Brooks Stevens Shaped Your World'. Born in 1911, Stevens studied at Cornell University and went on to enjoy a prolific career designing home furnishings, domestic appliances, cars, and motorcycles, as well as working as a graphic designer and stylist. In 1944, he was one of the group, including Raymond Loewy, which founded the Industrial Designers Society of America.

This XK120's first owner knew Brooks Stevens and decided to have his car painted in two-tone livery like Stevens' example. He wanted his car to be unique and chose black over red (the Stevens car was black over beige).

Currently in the hands of only its third owner, the XK120 is in good condition and virtually 100% original having never been restored. We are advised that the second owner, a very old gentleman, is still alive. It is rare to find an un-restored Jaguar XK120 that is not totally rusted; this one's rust-free condition being attributable to its storage in the Californian desert.

All major components are original – engine, gearbox, transmission, etc – and even the original wooden floors have survived unscathed. Apart from the seat bases, the interior leather upholstery is original, including the dashboard and door trim, and even the case for the batteries. All the original carpets are present also together with the hood, hood frame, and tool kit (the hood fabric needs to be changed). The car also comes with its original keys and the maintenance manual supplied by the original dealer. Five all-black tyres are included in the sale.

The car is reported to work well; the engine performs strongly, the brakes have been overhauled, the batteries changed, and four new BF Goodrich Silvertown whitewall tyres fitted. Accompanying documentation consists of a French Carte Grise de Collection, original service and maintenance books, Jaguar Certificate of Conformity, and a report on the condition of the bodywork.