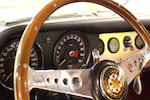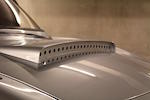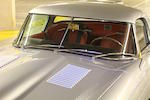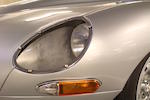 Jaguar Type E 3.8-Litre semi-Lightweight compétition coupé hardtop 1962
Châssis n° 877005

•Construite par Classic Restoration Services en 2015/2016
•Monocoque en acier ; bloc en fonte d'acier
•Capots et panneaux de carrosserie en aluminium
•Éligible pour la plupart des manifestation réservées aux GT d'avant 1966
•Environ 245 000 € de restauration et de modifications

Le passage du Championnat du monde des constructeurs à la catégorie GT en 1963, poussa Jaguar à développer une petite série de voitures allégées pour se mesurer à Ferrari. Le règlement de la FIA pour la catégorie Grand Tourisme stipulait qu'un minimum de 100 voitures devait être construites mais autorisait des modifications de la carrosserie, permettant à Jaguar de prétendre que ses Lightweight étaient des Type E de série dotées d'une carrosserie spéciale.

Pour créer la version Lightweight de 1963, le caisson monocoque et les panneaux extérieurs de carrosserie en acier de la Type E étaient fabriqués en aluminium et le moteur passé à la lubrification par carter sec, doté d'une culasse « wide angle » et d'une injection Lucas, lui permettant de développer 300 ch. On eut d'abord recours à la boîte à quatre rapports de série avant d'adopter une ZF à cinq rapports. Les 12 voitures construites par l'usine étaient destinées aux concessionnaires spécialisés dans les modèles de compétition ou à des pilotes privés sélectionnés. Aujourd'hui, des copies de ces rares versions compétition font parties des Type E les plus populaires et les plus recherchées.

Cette Type E semi-lightweight a été construite par Classic Restoration Services, une société qui a plus de 23 années d'expérience dans la restauration et la préservation des Jaguar de collection. Achevée en 2016, après quelques 1 150 heures de main-d'œuvre, cette étonnante semi-lightweight est la première Type E aux caractéristiques FIA que le propriétaire de CRS, Srdjan Jovović, a personnellement préparée, réalisant là un vieux rêve. Pour reconstituer les caractéristiques d'époque, Srdjan s'est tourné vers Bob Smith de RS Panels, un maître artisan qui peut s'enorgueillir d'une expérience de 50 années à construire des Jaguar de compétition, notamment des Lightweight, dont l'aide a été essentielle.

Construite autour d'un caisson monocoque en acier, la carrosserie est équipée d'un capot, d'un hardtop, de portes et d'un couvercle de coffre ventilé en aluminium et d'un arceau intégral de sécurité aux normes FIA. Les premières Lightweight construites par l'usine faisaient appel à un caisson construit en tôles d'acier plus minces, permettant de réduire le poids, obtenu sur cette voiture en sablant le caisson d'origine. Le caisson est également soudé et brasé comme la version d'usine. On a également fait appel à l'alliage pour le hardtop, les sièges baquets (sur un dessin de Bob Smith) et même le chauffage ! Le résultat final est un poids à vide très satisfaisant – avec ses garnitures intérieures, tous les liquides et 50 litres d'essence – de 1 140 kg.

En suivant les indications aimablement fournies par Philip Jordan de Crosthwaite & Gardiner, le moteur de compétition a été construit à partir d'un bloc en acier aux normes FIA à culasse « wide angle », d'un usage très courant sur les Type D, XKSS et Lister-Jaguar à l'époque. Le moteur est également doté d'un vilebrequin taillé dans la masse, d'un amortisseur harmonique, d'un volant moteur allégé, de bielles Omega et de pistons 11 : 1, tandis que la culasse a été entièrement réalisé par forage numérique. La lubrification par carter sec a été envisagée, mais finalement abandonnée, en raison des difficultés de montage sur une conduite à gauche, mais aussi en raison d'un surpoids d'environ 20 kg. Une lubrification par carter humide avec chicane anti-refoulement a été préférée. Le moteur est refroidi par un radiateur et une boîte à eau en aluminium avec ventilateur moderne débrayable.

Des arbres à cames de compétition et une injection Lucas ont également été envisagés, mais cette voiture étant destiné à un usage routier, il a été décidé de recourir à un profil de came moins agressif et à des carburateurs Weber 45 DCOE, qui donne un excellent ralenti au moteur tout en fournissant 350 ch. Les gaz d'échappement sont évacués via un échappement compétition en inox. La puissance est transmise par un embrayage renforcé de 9, 5 pouces (comme sur les Lightweight d'usine) équipé d'une butée d'embrayage Dennis Welch, via une boîte Jaguar à crabot à rapports courts (avec bagues de synchronisation renforcées), puis par un différentiel à glissement limité à carter en acier. On avait jugé la boîte Jaguar à quatre rapports entièrement synchronisés idéale pour cette voiture lorsqu'elle fut mise en production en 1964, elle était plus légère de 35 kg que la boîte à cinq rapports ZF utilisée sur 50% des Lightweight d'usine.

Le système de freinage est équipé de maîtres-cylindres AP Racing, avec répartiteur, étrier de freins avant renforcés et freins avant et arrière ventilés. Les autres caractéristiques notables sont les jambes de suspension type Lightweight, l'allumage Lucas avec MSD, un réservoir faible autonomie, une tenue de route améliorée, deux pompes compétition Facet, un régulateur et un Filter King, des durits Aeroquip, des jantes magnésium Peg Drive de 7 pouces, un extincteur, un harnais et un coupe-circuit aux normes FIA. La documentation fournie comprend le titre américain, les papiers de douane, un certificat du Jaguar Heritage Center et un dossier complet de la restauration contenant les factures pour un total de plus de 150 000 €.

Après 240 km d'essai intensif, la Type E a été envoyée sur le circuit de Zandvoort en décembre 2016 pour un article à paraître dans le numéro de mars de l'édition hollandaise du magazine Octane la confrontant à la nouvelle Jaguar F-Type SVR Lightweight. Cette superbe Type E semi-Lightweight qui sort tout juste de chez Interclassic à Maastricht où elle était exposée, est une perspective bien alléchante pour son future propriétaire.

1962 Jaguar E-Type 3.8-Litre Semi-Lightweight Competition Hardtop Roadster
Chassis no. 877005

•Built by Classic Restoration Services in 2015/2016
•Steel monocoque; cast-iron cylinder block
•Aluminium bonnet and outer panels
•Eligible for most pre-'66 GT series

The elevation of the GT class to Manufacturers' Championship status for 1963 prompted Jaguar to develop a small batch of very special lightweight cars to challenge Ferrari. The FIA's regulations for the Gran Turismo category stipulated that a minimum of 100 cars had to be built, but permitted coachwork modifications, thus enabling Jaguar to claim that its lightweights were standard E-types fitted with altered bodywork.

To create the 1963 lightweight version, the E-Type's steel monocoque tub and outer body panels were remanufactured in aluminium and the engine dry-sumped and fitted with an alloy cylinder black, 'wide-angle' head, and Lucas mechanical fuel injection, producing in excess of 300bhp. The production four-speed gearbox was used initially before a ZF five-speed unit was adopted. The 12 cars built by the factory were intended for the use of competition orientated Jaguar dealers or specially selected private entrants. Today, copies of these rare competition variants are among the most popular and sought after of all E-Types.

This 1962 semi-lightweight E-Type was built by Classic Restoration Services, a company with over 23 years of experience in the restoration and preservation of classic Jaguar cars. Completed in 2016, this stunning Semi-Lightweight is the first FIA-specification E-Type that CRS's owner Srdjan Jovović has personally prepared, fulfilling a long-time dream. Seeking advice on period-correct specification, Srdjan turned to Bob Smith of RS Panels, a master craftsman with some 50 years of unrivalled experience in building competition Jaguars, especially Lightweights, whose help was invaluable.

Constructed around a steel monocoque tub, the body is fitted with an aluminium bonnet, hardtop, doors, and vented boot lid, and a special FIA-approved Custom Cages roll cage. The first few factory-built Lightweights used a monocoque made from slightly thinner steel sheet, affording a weight reduction achieved in this car's case by sand-blasting the original tub. The tub was also braced and seam-welded, just like the factory version. Alloy was also used for the hardtop, bucket seats (to a Bob Smith design), and even the heater! The end result is a highly satisfactory kerb weight for this car – including the fully trimmed interior, all fluids, and 50 litres of fuel – of 1,140kg.

Following advice kindly given by Philip Jordan of Crosthwaite & Gardiner, the competition engine was built up around an FIA-specification iron block and a wide-angle cylinder head, the latter being widely used in period in the D-Type, XKSS, Lister-Jaguar, etc. The engine also incorporates a billet crankshaft, harmonic damper, lightened flywheel, and Omega con-rods and 11:1 pistons, while the cylinder head has been fully CNC gas-flowed. Dry-sump lubrication was considered but rejected because of its installation difficulties on a left-hand drive car, plus the weight penalty of around 20kg. Wet-sump lubrication has been retained, the sump being fitted with an anti-surge baffle. The engine is cooled by an aluminium radiator and header tank with a modern fan switch.

Full-race camshafts and Lucas fuel injection were considered also, but as this car was intended to be road-usable it was decided to use a less aggressive cam profile and Weber 45 DCOE carburettors, enabling the engine to idle comfortably; even so, it still produces a competitive 350bhp. Exhaust gasses exit via a stainless steel, full race system. Power is transmitted via a 9.5" heavy-duty clutch (as per the factory Lightweights) with Dennis Welch throw-out bearing to a Jaguar straight-cut close-ratio gearbox (with heavy-duty balk rings) and thence to a steel-cased, limited-slip differential. The all-synchro Jaguar four-speed 'box was considered ideal for this car, as it entered production in 1964 and is some 35kg lighter than the five-speed ZF used in 50% of the factory Lightweights.

The braking system incorporates AP Racing master cylinders, a bias bar, upgraded front brake callipers, and front and rear brake cooling. Other noteworthy features include Lightweight-type suspension uprights, Lucas distributor with MSD, a short-distance fuel tank, upgraded handling kit all round, twin Facet competition fuel pumps, a Filter King and regulator, Aeroquip hoses, 7" magnesium peg-drive wheels, a fire extinguisher, and FIA full race harness, and an FIA approved kill switch. Accompanying documentation consists of a US title, customs papers, and a Heritage certificate.

Following some 150 miles of shakedown testing, the E-Type was taken to the Zandvoort race circuit in December 2016 for a feature to be published in the March edition of the Dutch Octane magazine, comparing it with the new Jaguar F-Type SVR Lightweight. Offered fresh from display at Interclassics Maastricht, this beautiful Semi-Lightweight E-Type is a mouth-watering prospect for its next owner.