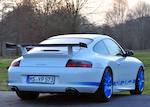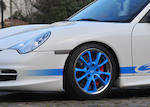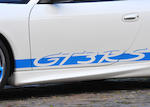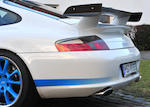 Porsche 911 GT3 RS type 996 coupé 2003
Châssis n° WPOZZZ99Z4S691767
Moteur n° 63426929

•Rare version hautes performances de la 911
•Deux propriétaires seulement
•Moteur refait il y a environ 2 300 km
•Historique d'entretien complet

« Depuis son lancement en 1999, la Porsche 911 GT3 a été l'étalon auquel se sont mesurées toutes les voitures destinées au circuit. Il y a des 911 plus puissantes, plus chères, mais la GT3 représente la quintessence de la sportive, son expression la plus intense. En fait, les quatre générations de GT3 se rangent parfaitement aux côtés de la légendaire RS 2.7 de 1973 dans les annales des 911 les plus remarquables. » - Auto Express.

Avant tout destinée à la compétition, tout en étant utilisable sur route, la Porsche 911 GT3 – dévoilée en 1999 – peut faire remonter ses origines à travers toute une lignée de modèles légendaires à hautes performances, jusqu'à la légendaires 911 Carrera RS de 1973. La voiture tire son nom de la catégorie GT3 de la FIA, réservée aux voitures de série, et a connu toute une série de versions depuis sa présentation en 1999 sous le type 996 de l'éternel 911.

Suite à la présentation de la GT3 type 996 originale, Porsche avait dévoilé une version encore plus spécifique pour le circuit en 2003, la GT3 RS. Les initiales RS de RennSport (littéralement Sport compétition) faisait références à l'emblématique premier modèle de la lignée, 40 ans plus tôt. Aux caractéristiques GT3 RS, le six cylindres à plat 3, 6 litres « Metzger » était optimisé, fournissant 400 ch, bien que sa puissance revendiquée soit restée inchangée à 318 ch, pour des raisons d'homologation. La RS était plus légère que la GT3 « ordinaire ». Les recettes d'allègement comprenaient une lunette arrière en polycarbonate, un capot et des ailes arrière en fibre de carbone, tandis que les disques de freins en fonte d'acier étaient remplacés par des rotors composites en céramique pour une meilleure résistance à la chaleur en usage compétition. La suspension de la RS était réglable et elle avait une garde au sol 3 mm plus basse que la GT3 de série. La GT3 RS type 996 ne fut produite qu'en 2003/2004 à seulement 682 exemplaires.

Construite en 2003 et immatriculée en octobre 2004, cet exemplaire de la supercar de Porsche était utilisé comme transport quotidien par un chef français bien connu qui possédait un restaurant étoilé Michelin à Bruxelles. La voiture blanche avec décorations bleues et roues assorties est l'une de seulement 200 exemplaires produits dans cette séduisante combinaison de couleur, par rapport aux 400 voitures à décoration orangées. Habillé d'Alcantara noir, l'intérieur est équipé de sièges sport et d'un arceau.

On nous avertit que le moteur a été révisé à 96 700 km (voir factures pour un total de 25 000 € au dossier) et que cette voiture bien entretenue a parcouru 99 000 km d'origine. Jamais accidentée, présentée dans un excellent état général, cette étonnante supercar Porsche est vendue avec ses anciens papiers d'immatriculation belge, un historique d'entretien complet, ses papiers d'immatriculation allemande en cours et son TüV.

2003 Porsche 911 Type 996 GT3 RS Coupé
Chassis no. WPOZZZ99Z4S691767
Engine no. 63426929

•Rare high-performance 911 variant
•Two previous owners
•Engine rebuilt circa 2,300 kilometres ago
•Full service history
•Rare colour combination

'Since its launch in 1999, the Porsche 911 GT3 has been the benchmark against which every other track-focused car has been rated. There are more powerful, more expensive 911s, but the GT3 represents the sports car at its purest and most intense. In fact, all four generations of GT3 arguably rank alongside 1973's legendary 2.7 RS in the annals of greatest 911s.' - Auto Express.

Intended primarily for racing, though still road legal, the Porsche 911 GT3 - first introduced in 1999 - can trace its ancestry all the way back through a succession of high-performance models to the legendary 911 Carrera RS of 1973. The car takes its name from the FIA's GT3 category of production sports car racing, and has been produced in a variety of versions since its introduction in 1999 on the Type 996 iteration of the perennial 911.

Following the launch of the original Type 996 GT3, Porsche introduced an even more track-focused variant in 2003: the GT3 RS. Standing for RennSport (literally 'race sport') the 'RS' designation referenced that iconic first-of-the-line model of 40 years previously. In GT3 RS specification, the 3.6-litre flat-six 'Metzger' engine was up-rated, producing around 400bhp, although the claimed output remained unchanged at 318bhp for homologation purposes. The RS was lighter than the 'ordinary' GT3; weight saving measures included a polycarbonate rear window, and carbon-fibre bonnet and rear wing, while the stock cast-iron brake discs were replaced with ceramic composite rotors for greater fade resistance under competition conditions. RS suspension was adjustable, and the car ran some 3mm lower than the stock GT3. The Type 996 GT3 RS was produced during 2003/2004 only, with 682 units built.

Built in 2003 and first registered in October 2004, this example of Porsche's class-leading supercar was used as his daily driver by a well-known French chef who owned a Michelin-starred restaurant in Brussels. The car is finished in white with blue graphics and matching wheels, and is one of only 200 produced in this most attractive colour combination, compared with over 400 cars with orange detailing. Trimmed in black Alcantara, the interior is equipped with sports seats and a roll cage.

We are advised that the engine was overhauled at 96,700 kilometres (see invoices totalling €25,000 on file) and that this well maintained car has covered some 99,000 kilometres from new. Accident free and presented in generally excellent condition, this stunning Porsche supercar is offered with its former Belgian registration papers, full service history, and current German registration papers and TüV.

Saleroom notices
The original Belgium registration papers and TUV are in transit and will be forwarded to the buyer post sale. This car doesn't come with German registration papers. Veuillez noter que les documents d'immatriculation et du TUV sont en transit et seront envoyés à l'acheteur après la vente. Ce lot est vendu sans papiers d'immatriculation allemand.