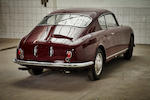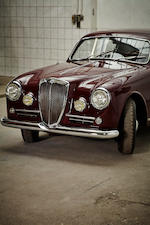 Lancia Aurelia B20 GT « S » 5e série coupé 1957
Carrosserie Pinin Farina
Châssis n° B20S 1.276
Moteur n° B20 4.608

•Rare modèle S (Sinistra) à conduite à gauche
•Numéros de moteur et de châssis concordants
•Immatriculée neuve en France
•Dans la même famille depuis l'origine
•Éligible aux Mille Miglia, au Tour Auto, etc...

« La B20 représentait les débuts et la concrétisation du concept de gran turismo – c'est-à-dire une sportive élégante et confortable. Le slogan de l'époque « une voiture de sport en tenue de soirée » est tout à fait approprié et la carrosserie de Pinin Farina reste un chef-d'œuvre de beauté formelle. » Manganaro et Vinai in « Lancia Corse », 1988.

La première voiture de Vincenzo Lancia, dévoilée en 1907, démontrait une liberté d'esprit et un rejet des conventions qui allaient restés associés à la marque jusqu'à l'époque moderne. Après la seconde guerre, Lancia avait repris la production avec l'Aprilia et sa petite cousine l'Ardea, mais attendant son heure, se profilait un autre concept révolutionnaire, l'Aurelia. La classique Aurelia de Lancia, première voiture à faire usage d'un moteur V6, fut dévoilée au Salon de Turin en 1950. Le V6 à 60° de 1 754 cm3, conçu par Francesco de Virgilio pendant la guerre, était entièrement en aluminium et faisait appel à des soupapes en tête actionnées par des poussoirs très courts, à la place des traditionnels arbres à cames en tête de Lancia. De construction monocoque en avance sur son temps, l'Aurelia reprenait la suspension avant indépendante « télescopique », inaugurée par la Lambda, mais recevait un demi-arbre tiré à l'arrière, une autre première mondiale. La transmission était, elle aussi, inhabituelle, composé d'un arbre en deux parties et d'un système transaxle regroupant boîte et différentiel sur lequel était monté des freins inboard, même si, pour une fois, il ne s'agissait pas d'une première.

La berline B10 était rejointe l'année suivante par le coupé B20, dessiné par Pinin Farina, une 2+2 fastback sur un empattement raccourci qui combinait les performances d'une sportive et l'aspect pratique d'une berline, inaugurant le concept de Gran Turismo. Le moteur de l'Aurelia avait été porté à 1 991 cm3 en 1951 et c'est cette mouture dans une version améliorée qui trouvait place dans la B20. Plus légère et avec un rapport de pont plus long que la berline, la B20 atteignait un bon 160 km/h.

Éblouissant le monde sportif, une B20 légèrement préparée et pilotée par le fumeur invétéré et grand buveur de Brandy Giovanni Bracco terminait 2e des Mille Miglia en 1951, seulement devancée par la Ferrari 4, 1 litres d'usine de Luigi Villoresi ! Il est à noter que l'agile Aurelia s'était montrée plus rapide que la Ferrari dans les cols au nord de Florence. Partageant le volant de son Aurelia B20 avec Umberto Maglioli, Bracco remporta la Targa Florio pour Lancia en 1952 et, en 1954, une autre B20 remporta le rallye de Monte-Carlo aux mains du pilote monégasque Louis Chiron.

Pratiquement toutes les Lancia était à conduite à droite à l'époque, ce qui rend cette « S » (sinistra) à conduite à gauche tout à fait inhabituelle. Cette voiture, un exemplaire à numéros concordants, a été immatriculée pour la première fois par un chanteur français bien connu en France et, depuis 1963, a appartenu à d'autres membres de sa famille.

Entre 2005 et 2007, l'Aurelia a été restaurée par un spécialiste Lancia réputé, Albert Cailler (factures au dossier). Bien soignée et entretenue régulièrement, la voiture est en excellent état, presque parfait. On nous signale que le moteur est très vivant et que la voiture fonctionne bien et tient bien la route. Éligible pour de nombreuses et prestigieuses manifestations, cette GT emblématique des années 1950 est vendue avec ses factures de restauration et sa carte grise française.

1957 Lancia Aurelia B20 GT 'S' 5th Series Coupé
Coachwork by Pinin Farina
Chassis no. B20S 1.276
Engine no. B20 4.608

•Rare 'S' (Sinistra) left-hand drive model
•Matching chassis and engine numbers
•First registered in France
•Single family ownership from new
•Eligible for the Mille Miglia, Tour Auto, etc

'The B20 represented the birth and the realisation of the "Gran Turismo" concept – that is, an elegant comfortable sports car. The contemporary slogan was right on target: "A sports car in Tails" and Pininfarina's bodywork remains a masterpiece of formal beauty.' – Manganaro and Vinai 'Lancia Corse', 1988.

Introduced in 1907, the Vincenzo Lancia's first car showed an independence of thought and defiance of convention that would remain associated with the marque well into the modern era. After WW2 Lancia had recommenced production with the Aprilia and its smaller cousin the Ardea, but waiting in the wings was yet another groundbreaking design: the Aurelia. Lancia's classic Aurelia, the first car ever to employ a V6 engine, was launched at the 1950 Turin Motor Show. Designed in wartime by Francesco de Virgilio, the 1,754cc 60-degree V6 was of all-aluminium construction and used overhead valves operated via short pushrods instead of Lancia's traditional overhead camshafts. An advanced unitary construction design, the Aurelia retained Lancia's 'sliding pillar' independent front suspension, first seen on the Lambda, but used a novel semi-trailing-arm layout at the rear, another world first. The transmission too, was unusual, comprising a two-piece prop-shaft and combined gearbox/rear transaxle on which were mounted the inboard brakes, though for once this was not an entirely new departure.

The B10 saloon was joined the following year by the Pinin Farina-styled B20 Coupé, a fastback '2+2' on a shortened wheelbase which, with its combination of sports car performance and saloon car practicality, can be said to have introduced the Gran Turismo concept to the world. The Aurelia engine had been increased to 1,991cc in 1951 and it was this unit in up-rated form that went into the B20. Lighter and higher geared than the saloon, the B20 was good for a top speed of over 100mph.

Stunning the motor racing world, a mildly race-developed B20 driven by chain-smoking, brandy-swigging Giovanni Bracco finished 2nd in the 1951 Mille Miglia, beaten only by Luigi Villoresi's 4.1-litre works Ferrari! It is worth noting that the nimble Aurelia was actually faster than the Ferrari over the mountain passes north of Florence. Sharing his Aurelia B20 with Umberto Maglioli, Bracco won the Targa Florio for Lancia in 1952 and in 1954 another B20 won the Monte Carlo Rally in the hands of the famous Monegasque driver Louis Chiron.

Almost all Lancias of this period were right-hand drive, which makes this 'S' (Sinistra) left-hand drive B20 all the more unusual. A matching-numbers example, this car was completed in May 1956 and originally was finished in grey with matching cloth interior. First registered by a famous French chanteur in France, it has belonged to other members of his family since 1963.

Between 2005 and 2007, the Aurelia was restored by noted Lancia specialist, Albert Cailler (invoices on file). Well cared for and serviced regularly since then, the car remains in excellent, nearly flawless condition. We are advised that the engine is responsive, and that the car handled and drives well. Eligible for a variety of the most prestigious events, this iconic 1950s GT is offered with restoration invoices and French Carte Grise.