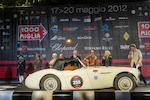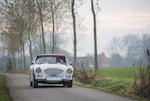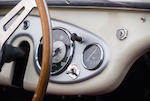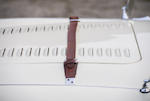 Austin-Healey 100M Le Mans roadster 1956
Chassis no. BN2-L/229932
Engine no. 1B/229932
Châssis n° BN2-L/229932
Moteur n° 1B/229932

•L'une des 640 100M d'usine construites
•Rare et séduisant hardtop
•A participé et terminé les Mille Miglia 2012
•Harmonie de couleurs Old English White/intérieur rouge d'origine

Suite aux sensationnels débuts de l'Austin-Healey 100 au salon de Londres en 1952, l'usine avait engagé deux voitures légèrement modifiées aux 24 Heures du Mans 1953 qui terminèrent aux 12e et 14e places, ce qui était tout à fait honorable pour des voitures pratiquement de série. Le nom de Le Mans fut choisi pour un kit à monter soi-même proposé par les concessionnaires, avec lequel les propriétaires pouvait amener leur voiture aux caractéristiques voisines de celles des voitures d'usine. Le kit comprenait une paire de carburateurs SU HD6 de 1,75 pouce, un collecteur d'admission spécial avec sa boîte à air, des cames plus pointues, des ressorts de soupapes renforcés et un alternateur avec une séquence d'allumage différente. Une fois le kit installé, la puissance passait de 90 ch sur le modèle de série à 100 ch.

À partir d'octobre 1955, la conversion était proposée montée par l'usine sur le modèle BN2 sous la forme de la 100 M. En plus du kit Le Mans, celle-ci recevait des pistons haute compression, une barre antiroulis renforcée, des amortisseurs Armstrong spéciaux à l'avant et un capot percé d'ouïes. La puissance passait à 110 ch et la vitesse de pointe à presque 200 km/h, avec le pare-brise rabattu. Le nombre de BN1 modifiées par leur propriétaire est inconnu, mais 1 159 voitures, pour la plupart des BN2, furent construites ou modifiées ultérieurement aux caractéristiques de la 100 M entre 1955 et 1956. Parmi celles-ci, environ 640 ont été construites par l'usine, dont 544 furent exportées aux États-Unis.

Cet exemplaire, châssis numéro BN2-L/229932, est une séduisante 100M construite par l'usine, achevée le 30 novembre 1955 et envoyé aux États-Unis le 7 janvier 1956. La voiture a été livrée dans ses couleurs Old English White avec intérieur rouge qu'elle conserve encore aujourd'hui. La Healey résida en Californie jusqu'en 2000, époque à laquelle elle roulait encore et se trouvait dans un état étonnant. En 2005-2006, la voiture a été entièrement restaurée à ses caractéristiques d'origine et l'on nous informe qu'elle est toujours dans un état exceptionnel.

BN2-L/229932 est accompagnée d'un certificat du British Motor Industry Heritage Trust qui confirme ses numéros et ses couleurs concordants. Pus important encore, il confirme également que cette Austin-Healey est bien une des authentiques 100M Le Mans construites par l'usine. La voiture figure également dans le registre des 100M Le Mans tenu par William Meade. Le hardtop vendu avec constitue un complément très rare, parfaitement fini, qui convient tout à fait à la 100M. De plus, cette 100M est vendue avec passeport FIVA A/2 et a participé aux Mille Miglia en 2012. La voiture a été entièrement révisée et se trouve prête à partir pour toute destination. La documentation fournie comprend le passeport FIVA mentionné ci-dessus, ses papiers d'immatriculation belge, la feuille de route des Mille Miglia 2012 et une facture des travaux récemment effectués.

Seul un petit nombre de 100M (estimé à moins de 150) construites par l'usine survit et les exemplaires authentiques sont désormais considérés comme les plus recherchées des Austin-Healey de série. Cet exemplaire, qui reste en très bon état après sa restauration d'il y a dix ans avec tous ses numéros concordants et une participation réussie aux Mille Miglia, coche toutes les bonnes cases et mérite sa place dans n'importe quelle collection dans le monde.

1956 Austin-Healey 100M 'Le Mans' Roadster
Chassis no. BN2-L/229932
Engine no. 1B/229932

•One of only 640 factory-built 100Ms
•Rare and desirable hardtop
•2012 Mille Miglia participant and finisher
•Original colour scheme of Old English White with red trim

Following the Austin-Healey 100's sensational debut at the 1952 Motor Show, the works had entered two mildly modified cars in the 1953 Le Mans 24-Hour Race, which finishing in 12th and 14th places, a highly praiseworthy achievement for what were recognisably production sports cars. Accordingly, the name 'Le Mans' was chosen for a bolt-on tuning kit offered through Austin-Healey dealers, by means of which private owners could bring their cars up to a specification approaching that of the works entries. The kit included a pair of 1¾" SU HD6 carburettors plus special inlet manifold and cold air box, high-lift camshaft, stronger valve springs and distributor with alternative ignition advance curve. With the kit installed power increased from the standard 90 to 100bhp.

From October 1955 the conversion was available factory-fitted on the successor BN2 model in the form of the 100M. In addition to the Le Mans kit, the latter boasted high-compression pistons, stiffer front anti-roll bar, special Armstrong front dampers and a louvred bonnet. Power increased to 110bhp and top speed, with windscreen folded flat, to within a whisker of 120mph. The number of BN1s converted by their owners is unknown, but 1,159 cars, mostly BN2s, were built or subsequently modified to 100M specification between 1955 and 1956. Of these, approximately 640 were completed at the factory, some 544 of which were exported to the USA.

This example, chassis number 'BN2-L/229932', is a desirable factory-built 100M, which was completed on 30th November 1955 and shipped to the USA on 7th January 1956. The car was delivered in Old English White with red trim, the same colour scheme it has today. The Healey resided in California until 2000, at which time it was still running and in remarkably solid condition. In 2005-2006, the car was completely restored to original specification, and we are advised that it remains in commensurately good condition.

'BN2-L/229932' comes with a British Motor Industry Heritage Trust Certificate confirming it is full matching numbers and colours. More importantly, it also confirms that this Austin-Healey is one of the genuine factory-built 100M 'Le Mans' cars. The car is also listed in the 100M 'Le Mans' Registry, maintained by William Meade. A rare extra is the accompanying factory hardtop, which is beautifully finished and suits this 100M very well. Furthermore, this Austin-Healey comes with a FIVA A/2 passport, and in 2012 participated in the Mille Miglia. The car is fully serviced, 'on the button' and ready to go anywhere. Accompanying documentation consist of the aforementioned FIVA passport, Belgian registration papers, 2012 Mille Miglia timing sheet, and an invoice for work carried out recently.

Only a small number of the original 640 factory-built 100Ms survive (estimated at less then 150) and genuine examples are now considered among the most desirable of Austin-Healey production cars. This example remains in lovely condition after its restoration of ten years ago; with all numbers matching and a successful Mille Miglia participation to its credit, it ticks all the right boxes and is worthy of inclusion in any world class collection.


Saleroom notices
Le registre de la 100M nous a informé qu'un nouveau critère est requis afin d'être admis ou de nouveau admis au registre des 100M. Cette exigence (ces critères) pourrait expliquer pourquoi seulement 60 des 200 modèles d'usine toujours existants à ce jour sont référencés sur ce registre. Ni le vendeur, ni Bonhams, ne sont en mesure de confirmer que ce lot rempli les nouvelles conditions requises. Cependant, comme noté au catalogue dans la description, ce lot est offert avec un certificat BMIHT confirmant le châssis no BN2-L/229932 comme un véritable châssis d'usine de 100M. The registrar of the 100M Registry has informed us that new criteria is required in order to be admitted/re-admitted to the 100M Registry. This requirement (these criteria) may explain why just 60 or so of the 200 factory 100Ms thought to survive are listed with the Registry. Neither the Seller, nor Bonhams, can confirm whether this Lot meets the Registry's new requirement. However, as noted in the catalogue description, this Lot is offered with a BMIHT Certificate confirming chassis no. BN2-L/229932 as a genuine factory built 100M.