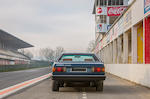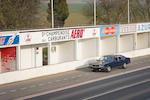 Maserati Quattroporte III 4.9 litres berline 1984
Châssis n° AM 330-493520

•Livrée neuve en Italie
•Transmission automatique
•Trois propriétaires
•Environ 95 000 km d'origine

« On dit que la Quattroporte est la berline la plus rapide du monde. C'est une voiture très raffinée pouvant croiser à plus de 160 km/h avec quatre personnes à bord, avec un équipement suffisamment luxueux pour supporter sans problème la comparaison avec le nec plus ultra des berlines de luxe, la Mercedes-Benz 600 et la Rolls-Royce Silver Shadow. » - Car & Driver.

Dessinée par Frua et dévoilée en 1963, la Quattroporte à moteur V8 était un modèle Maserati emblématique, première berline et première monocoque de la marque modénaise. Elle était animée par une version réduite à 4, 2 litres du V8 à quatre arbres à cames en tête de la 5000 GT et recevait une suspension indépendante à l'avant et un pont De Dion à l'arrière, ce dernier étant remplacé par un essieu rigide à ressort à lames en 1967. Car & Driver enregistra un 0 à 100 km/h en 8, 7 secondes et atteignit 190 km/h avec la Quattroporte, estimant qu'on pouvait encore ajouter 16 km/h de plus, ce qui n'était pas rien pour une quatre place bien équipée pesant près de 2 tonnes.

Sa remplaçante Quattroporte II était équipée du V6 et de la transmission aux roues avant de la Citroën SM et habillée d'une carrosserie Bertone, mais ne survécut pas longtemps au rachat de Maserati par De Tomaso. La suivante, la Quattroporte III dessinée par ItalDesign, arriva en 1978. On retrouvait un moteur V8 sur la troisième du nom - au choix en 4, 2 litres ou 4, 9 litres – et la III revenait à la propulsion, empruntant la plate-forme d'une Kyalami allongée et ses quatre roues indépendantes.

Réponse italienne à Bentley – comme le proclamait bien fort la publicité du constructeur - la Maserati Quattroporte était l'une des quatre portes les plus rapide du monde à l'époque. En tant que voiture de luxe italienne, la Quattroporte III était choisie par la plupart des riches industriels et par les célébrités du pays, ainsi que par son président de la République, Alessandro Pertini.

Ce modèle à transmission automatique est l'une des 1 821 Quattroporte III construites entre 1978 et 1984 et se trouvait auparavant exposée au Musée de l'automobile de Reims. Le premier propriétaire de la voiture était un entrepreneur et philanthrope bolognais bien connu et le second était un magnat de la mode. Le troisième et actuel propriétaire a acheté la voiture en avril 2003 (à 84 000 km), à la suite de quoi le spécialiste italien de Maserati, Candini, a mené tous les travaux d'entretiens nécessaires. Bleu Alfieri avec intérieur en cuir havane, cette berline sportive Maserati de collection est vendue avec son libretto, ses papiers de l'ASI et sa plaque d'immatriculation italienne d'origine de 1984.

1984 Maserati 4.9-Litre Quattroporte III Saloon
Chassis no. AM 330-493520

•Delivered new in Italy
•Automatic transmission
•Three owners
•Circa 95,000 kilometres from new

'The Quattroporte is billed as the world's fastest sedan. It is a highly refined automobile with a four-passenger cruising capability in excess of 100mph, with enough attendant luxuries to compare favourably with non plus ultra of all luxury sedans, the Mercedes-Benz 600 and the Rolls-Royce Silver Shadow.' - Car & Driver.

Styled by Frua and introduced in 1963, the V8-powered Quattroporte was a landmark model for Maserati, being the Modena firm's first four-door saloon and its first car of unitary construction. The Quattroporte was powered by a downsized - to 4.2 litres - version of the 5000GT's four-cam V8, and beneath the skin featured independent front suspension and a De Dion rear axle, though the latter was replaced by a conventional elliptically sprung live axle in 1967. Car & Driver recorded a 0-100km/h time of 8.7 seconds and wound their Quattroporte up to 190km/h, estimating that there was another 16km/h still to come, all of which was some going for a fully-equipped four-seater weighing close to 2,000kg.

The successor Quattroporte II deployed the V6 engine and front-wheel-drive package of the Citroën SM in a body by Bertone, but did not long survive Maserati's take-over by Alessandro De Tomaso. Its successor - the Ital Design-styled Quattroporte III - arrived in 1978. Maserati V8 power was restored for this, the third of the line - the options being a 4.2 or a 4.9-litre unit - and the 'III' reverted to rear wheel drive using a lengthened Kyalami floor pan and all-independent suspension.

The Italian answer to Bentley - as its manufacturer's publicity proudly claimed - the Maserati Quattroporte was one of the world's fastest four-door saloons in its day. As Italy's premier luxury car, the Quattroporte III was the choice of many wealthy Italian industrialists and celebrities, as well as the country's president, Alessandro Pertini.

This automatic transmission model is one of only 1,821 Quattroporte IIIs built between 1978 and 1984, and was previously displayed at the Musée de l'Automobile in Reims, France. The car's first owner was a well-known Bolognese entrepreneur and philanthropist, the second was a manufacturer in the fashion industry. The current (third) owner purchased the Maserati in Italy in April 2003 (at 84,000 kilometres), whereupon Candini, the Maserati specialist in Modena, carried out a full service. Finished in Blue Alfieri with Havana leather interior, this beautiful and collectible Maserati sports saloon is offered with Italian libretto, ASI paperwork, and its original Bologna registration plate from 1984.

Saleroom notices
Please note that the chassis number of this car is AM 330A9A003520 and not AM330-493520 as stated in the catalogue. Veuillez noter que le numéro de chassis de cette voiture est AM 330A9A003520 et non AM330-493520 comme mentionné au catalogue.