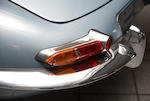 Jaguar Type E 3,8 litres « plancher plat » roadster 1961
Châssis n° 876464
Moteur n° R3421-9

•Séduisant roadster « plancher plat » à conduite à gauche
•Numéros et couleurs concordants
•Entièrement restaurée
•Magnifique harmonie de couleurs
•Immatriculée en Italie

« Nous avons là une des voitures les plus silencieuses et les plus souples du marché, capable de ronronner à 15 km/h sur le rapport supérieur ou de bondir à sa vitesse maximale de 240 km/h d'une simple pression sur une pédale. Et pratique en plus, dotée d'un large hayon et d'un coffre spacieux, sans oublier la beauté de ses lignes à couper le souffle qui battent les italiennes à leur propre jeu. »

On connaît peu de résumé plus élogieux des qualités manifestes de la Jaguar Type E que celui de John Bolster dans Autosport, juste après les débuts de la voiture en 1961. Dévoilée dans sa version 3, 8 litres, la Jaguar Type E fit sensation lors de sa présentation, avec ses lignes au classicisme instantané et sa vitesse maximale de 240 km/h. Le concept de la nouvelle venue devait en fait beaucoup à la sportive Type D victorieuse au Mans. Un caisson monocoque faisait l'essentiel de sa structure, doté d'une extension tubulaire à l'avant pour recevoir le moteur. Celui-ci n'était autre que la version 3, 8 litres S à trois carburateurs, proposée en option sur sa devancière XK 150. Avec ses 265 ch, les performances de la Type E ne décevaient pas. D'abord parce qu'elle pesait 227 kg de moins que la XK 150 et aussi parce que l'aérodynamicien Malcolm Sayer s'était servi de toute l'expérience acquise avec la Type D pour créer l'une des carrosseries les plus élégantes et les plus efficaces qui habillèrent jamais une automobile. Les conducteurs les plus grands pouvaient cependant trouver l'intérieur peu spacieux, un défaut corrigé par un puits de pédalier plus profond, adopté (avec quelques modifications mineures) au début de 1962. Cependant, de toutes les versions de cette Jaguar à la longue carrière, les première 3, 8 litres à « plancher plat » construites avant février 1962, sont, pour bien des passionnés les plus séduisantes.

Cette étonnante Type E a quitté l'usine en décembre 1961 et a été livrée par Jaguar Cars de New York à son premier propriétaire, un certain R. D. Potley de West Islip, dans l'état de New York. Selon le certificat du JDHT, les couleurs originales étaient bleu argent opalescent avec intérieur bleu foncé contrastant et capote assortie, une harmonie intéressante. L'histoire de la voiture n'est pas connue jusqu'à environ 2003 lorsqu'elle fut achetée par le vendeur italien. Celui-ci voulait restaurer la voiture dans sa gloire d'origine et confia le travail aux spécialistes du Centro Restauri Storici (CRS), près de Crémone, dans le nord de l'Italie. CRS a utilisé la technique de la « rôtissoire » et le résultat est absolument remarquable. La carrosserie, l'intérieur, la capote et la mécanique ont tous été entièrement rénovés et un reportage photographique de la restauration est fourni, ainsi que les papiers d'immatriculation italienne et le certificat du JDHT mentionné plus haut.

Cette Type E de la première série se présente dans une rare et belle harmonie de couleurs et mérite la plus grande attention.

1961 Jaguar E-Type 3.8-Litre 'Flat Floor' Roadster
Chassis no. 876464
Engine no. R3421-9

•Desirable left-hand drive 'flat floor' roadster
•Matching numbers and colours
•Comprehensively restored
•Beautiful colour combination
•Registered in Italy

'Here we have one of the quietest and most flexible cars on the market, capable of whispering along in top gear at 10mph or leaping into its 150mph stride on the brief depression of a pedal. A practical touring car, this, with its wide doors and capacious luggage space, yet it has a sheer beauty of line which easily beats the Italians at their own particular game.'

There have been few better summaries of the Jaguar E-Type's manifest virtues than John Bolster's, penned for Autosport shortly after the car's debut in 1961. Introduced in 3.8-litre form, the E-Type caused a sensation when it appeared, with instantly classic lines and a 150mph (241km/h) top speed. The newcomer's design owed much to that of the racing D-Type: a monocoque tub forming the main structure, while a tubular spaceframe extended forwards to support the engine. The latter was the same 3.8-litre, triple-carburettor 'S' unit first offered as an option on the preceding XK150. An optimistic 265bhp was claimed, but whatever the installed horsepower, the E-Type's performance did not disappoint; firstly, because it weighed around 500lb (227kg) less than the XK150 and secondly because aerodynamicist Malcolm Sayer used experience gained with the D-Type to create one of the most elegant and efficient shapes ever to grace a motor car. Taller drivers though, could find the interior somewhat lacking in space, a criticism addressed by the introduction of foot wells (and other, more minor, modifications) early in 1962. But of all the versions of Jaguar's long-lived and much-loved sports car, it is the very early 'flat floor' 3.8-litre cars built prior to February 1962 which, for many enthusiasts, remain the most desirable.

This stunning E-Type left the works in December 1961 and was dispatched via Jaguar Cars, New York to its first owner, one R D Potley of West Islip, New York. According to the accompanying JDHT Certificate, the original colour scheme was Opalescent Silver Blue with contrasting dark blue interior and matching hood, a most attractive combination. The car's subsequent history is not known prior to circa 2003 when it was purchased by the Italian vendor. The latter wanted to restore the E-Type to its former glory, and entrusted the work to the specialists of the Centro Restauri Storici (CRS) near Cremona in Northern Italy. CRS employed a 'rotisserie' restoration technique and the result is nothing less than stunning. The body, interior, hood, and mechanicals were all comprehensively overhauled, and a photographic record of the restoration accompanies the car together with Italian registration documents and the aforementioned JDHT Certificate.

This early E-Type from the most desirable first series is presented in a rare and beautiful colour combination and deserves the closest inspection.