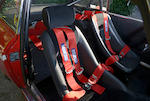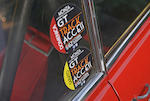 Ex-Scuderia Monzeglio Corse, Luigi Pozzo ; victorieuse en Gran Turismo 2 au championnat d'Italie en 1971
Alfa Romeo 1300 GTA Junior 1968
Carrosserie Bertone
Châssis n° AR 775599
Moteur AR 00559 (voir texte)

•Une d'environ 400 GTA 1300 Juniors construites
•Historique en compétition complet
•Libretto italien d'origine
•Moteur récemment refait
•Moteur GTA 1300 Junior de rechange

Dévoilée en 1966, la GTA (le A signifiait allegerita – allégée) était la version compétition officielle de la Giulia Sprint GT. Comme à l'accoutumée, la version compétition avait été développé sous la responsabilité d'Autodelta, le département compétition du constructeur, et fit ses débuts le 20 mars 1966 à Monza où Andrea de Adamich et Teodor Zeccoli triomphèrent dans la course des 4 Heures du Jolly club. Dès lors, les GTA préparées par Autodelta connurent un succès incroyable, remportant le championnat européen des voitures de tourisme trois années d'affilée de 1966 à 1968. La classe des 1300 cm3 au championnat avait longtemps été l'apanage des Mini Cooper mais cela changea en 1968 avec l'arrivée de la GTA 1300 Junior qui allait au cours des quelques années suivantes établir une domination égale à celle de la Mini au début des années 1960. Spécifique au modèle, le moteur à course courte de la 1300 Junior était équipé de la culasse à double allumage de la 1600 GTA et tournait à plus de 9 000 tr/min, développant plus de 150 ch. Un peu plus de 400 GTA avaient été construites lorsque la production prit fin en 1975.

Cette GTA Junior était à l'origine jaune avec des motifs carrés bruns sur le toit, la livrée de la Scuderia Monzeglio Corse. Elle a depuis été repeinte en rouge, probablement dans les années 1970, mais on aperçoit encore la couleur originale par endroits. L'historique de la voiture en compétition est impressionnante et comporte notamment une victoire au championnat italien en 1971, pilotée par Luigi Pozzo. Cet historique est bien documenté avec de nombreuses photographies.

Pozzo a récemment retrouvé la GTA et a même laissé une dédicace sur l'ancien carnet de bord confirmant qu'il s'agissait bien de la voiture avec laquelle il avait remporté le championnat d'Italie Gran Turismo 2 en 1971. Les autres résultats notables sont la Coppa CASI (catégorie 1300) en 1971 et le record du tour à Imola en 59, 3 secondes. Les sorties les plus récentes comprennent l'édition 2016 de la course de côte Vernasca Silver Flag.

Récemment refait par Paolo Centazzo, le spécialiste romain d'Alfa Romeo, le moteur qui équipe aujourd'hui la voiture est basé sur un bloc de la scuderia Monzeglio (avec leur estampillage) mais un second moteur Alfa Romeo 1300 GTA conforme (00559) est également vendu avec la voiture.

Cette GTA a fait l'objet d'un article dans Autosprint (numéro de décembre 1971) et figure également dans Automobilismo d'Epoca (numéro de novembre 2016). La voiture est vendue avec son ancien libretto italien au nom de SPA Monzeglio avec leur adresse à Turin (le numéro d'immatriculation italien était TO A49497). Une occasion à ne pas manquer.

The Ex-Scuderia Monzeglio Corse, Luigi Pozzo; winner of the 1971 Italian Gran Turismo 2 Championship
1968 Alfa Romeo 1300 GTA Junior
Coachwork by Carrozzeria Bertone
Chassis no. AR 775599
Engine no. AR 00559 (see text)

•One of circa 400 GTA 1300 Juniors built
•Extensive in-period racing history
•Original Italian libretto
•Engine recently rebuilt
•Spare GTA 1300 Junior engine included

Introduced in 1966, the GTA (the 'A' stood for Alleggerita - lightened) was the official competition version of the Giulia Sprint GT. As usual, the racing version was the responsibility of the factory's Autodelta competitions department, and made its debut on 20th March 1966 at Monza where Andrea de Adamich and Teodoro Zeccoli triumphed in the Jolly Club Four-Hour Race. From then onwards the Autodelta-prepared GTAs enjoyed outstanding success, winning the European Touring Car Championship three years running from 1966-68. The Championship's 1,300cc class had long been the preserve of the Mini Cooper, but that would all change in 1968 with the arrival of the GTA 1300 Junior, which for the next few years would enjoy dominance equal to that of the Mini in the early '60s. Unique to the model, the 1300 Junior's short-stroke engine was equipped with the 1600 GTA's twin-plug cylinder head and revved to more than 9,000rpm, producing over 150bhp. A little over 400 GTA 1300 Juniors had been constructed when production ceased in 1975.

This GTA 1300 Junior was originally finished in yellow with distinctive brown squares on the roof, the distinctive livery of cars belonging to Scuderia Monzeglio Corse. It has since been repainted red, most likely in the 1970s, but the original colour still shows in places. The car's in-period racing history is impressive and includes a win in the Italian Championship 1971, driven by Luigi Pozzo. This racing history is well documented, with numerous photographs.

Pozzo was recently reunited with the GTA and even left a dedication in the old logbook, confirming that this was the car in which he won the Italian Gran Turismo 2 Championship in 1971. Other notable results include a win in the 1971 'Coppa CSAI' (1,300cc category) and a fastest lap at Imola with a time of 1m 59.3s. More recent outings include the 2016 edition of the 'Vernasca Silver Flag' hill climb.

Recently rebuilt by the Rome-based Alfa Romeo specialist, Paolo Centazzo, the engine currently fitted is based on a Scuderia Monzeglio block (with their stamping) but the car also comes with a second engine incorporating a correct Alfa Romeo 1300 GTA engine block ('00559').

This GTA has been subject of an article in 'Autosprint' (December 1971 edition) and also features in 'Automobilismo d'Epoca' (November 2016 edition). The car is offered with its the old-style Italian libretto in the name of SPA Monzeglio with their Turin address (the Italian number-plate was 'TO A49497'). An opportunity not to be missed.

Saleroom notices
Please note that the engine number of this car is K00530*E9598 and not AR00559 as stated in the catalogue. Veuillez noter que le numéro de moteur de cette voiture est K00530*E9598 et non AR00559 comme mentionné au catalogue.