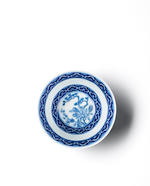 A rare Imperial inscribed blue and white 'tea poem' tea bowl
Jiaqing seal mark and of the period, dated dingsi year corresponding to 1797
Delicately painted in brilliant tones of cobalt blue at the central medallion with gnarled branches of finger citron, pine and plum blossoms, encircled by a ruyi-head border reserved on blue ground with a further similar band below the rim, the exterior inscribed with a poem composed by the Jiaqing Emperor written in kaishu, dated to dingsi year of the Jiaqing's reign with two mock seals of Jia Qing, enclosed by two ruyi-head borders, box. 11cm (4 1/4in) diam. (2).
Footnotes