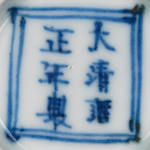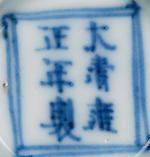 Two very rare enamelled 'scholar and fisherman' wine cups
Yongzheng six-character marks and of the period
Each delicately potted with gently curved sides raised on a slightly recessed base, the first exquisitely enamelled on the exterior with a continuous scene portraying a scholar leisurely seated beside a pine tree with his arms resting on the tree trunk, the reverse with a jagged rockwork and an iron-red seal mark reading zhuju, the second vividly depicting a fisherman wading in shallow water amidst a bamboo grove and rockwork with his arms outstretched forward in an attempt to catch a snipe and a clam. 7cm (2 3/4in) diam. (2).
Footnotes