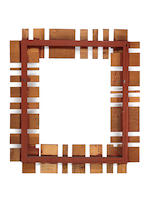 Kishio Suga B. 1944, 菅木志雄
Inside and Out of Lattice
1990

signed and dated 1990
oil paint and wood panels

149 x 133 x 8cm (58 11/16 x 52 3/8 x 3 1/8in).
Footnotes
Saleroom notices
Please note the image has been inverted in the catalogue illustration. It has been corrected online.