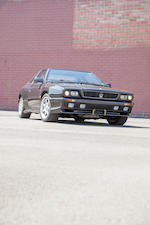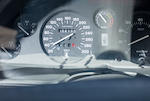 1990 Maserati Shamal
Design by Marcello Gandini
VIN. ZAM339B00MA300060

3,217cc DOHC Twin Turbo V8
Electronic Fuel Injection
326bhp at 6,000rpm
6-Speed Getrag Manual Transmission
4-Wheel Independent Suspension
4-Wheel Ventilated Disc Brakes with Rear ABS

*One of only 369 Shamals produced
*Single-owner since 1994
*Showing only 6,200km
*Recently serviced

THE MASERATI SHAMAL

Shamal – a hot, strong northwesterly summer wind that blows in total freedom over large areas - this is the name that Maserati gave to their new range topping sports car. An exuberant 326hp engine, sending its power through a world class six-speed manual transmission, mounted in an extremely rigid chassis, which employs an active, intelligent, electronically adjustable suspension, makes for an almost unrivaled driving experience in period.

For maximum performance, Maserati selected a V8 configuration. The new, all aluminum engine featured an 80mm bore by 80mm stroke, dual overhead camshafts, four valves per cylinder, state of the art twin water cooled IHI turbochargers, and a Weber/Marelli electronic fuel injection and ignition system. The parts used to create this marvel of an engine are so great that they can be compared to that of the Ferrari's hallowed 288 GTO and F40 supercars. The sophistication continues with the suspension system which employs a system of interacting levers to ensure that the wheels always remain completely square relative to the road surface. This high-tech system was developed in direct partnership with Koni. An Allie to the suspension was the newly developed 'Ranger' differential, which was capable of sending all available power to just one half-shaft, leaving zero torque on the other, allowing the power to be utilized where it was needed most. Maserati claimed that the system offered traction comparable to that of four-wheel drive system. The ingenious systems resulted in an incredibly well handled and braking car, regardless of the road surface, allowing the driver to really wring out all 326hp and 320 ft. lb. of torque.

In addition to its mechanical marvels, the Shamals esthetics were futuristic and groundbreaking. Designed by the Maserati Design Center in collaboration with ex-Bertone stylist Marcello Gandini, a man with an enviable selection of the world's most desirable cars to his credit, The Shamal shares design elements with some of his most radical creations. Different from other supercars with these credentials, the cockpit of the Shamal was luxuriously appointed with sumptuous leather upholstery and plentiful wood veneer trim, amongst a host of modern amenities.

The Shamal was never sold new in the US and by the time production ceased only 369 examples of this most exclusive modern Maserati had been made.

THE MOTORCAR OFFERED

This Dazing Black over Pella Nera example of the rare Shamal is believed to have been sold new in Switzerland, possessing Swiss smog check certificates from the earliest days. The car was acquired by the seller in 1994, where it has made up part of a truly outstanding, world class collection. Showing a mere 6,200 kilometers on the odometer - a figure that is understood to be from new - the car presents beautifully. It appears that a Dinitrol rust protection coating was applied in the 1990s, aiding to the preservation of the car. Earlier this year, the engine received a fresh service where the timing belt was refreshed.

Complete with its owner's manual, warranty booklet, sales brochures, as well as its workshop and service manuals, this Shamal is rare opportunity to acquire one of the most uncommon sports cars of the modern era and one only recently allowed into the United States. Whether an enthusiast or an investor, this Shamal is an extremely smart acquisition.
Saleroom notices
Please note due to California emissions laws, this vehicle may only be sold to an out-of-state resident for use outside the state of California or to a licensed automotive dealer.