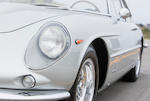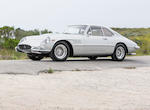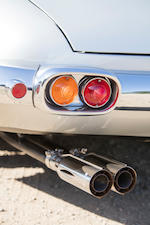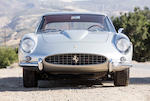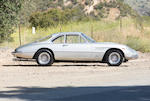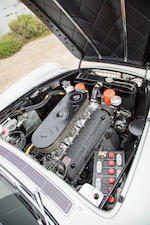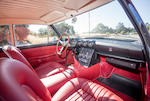 1963 Ferrari 400 Superamerica Coupe Aerodinamico
Coachwork by Pininfarina
Chassis no. 5029 SA
Engine no. 5029

3,967cc SOHC V-12 Engine
Triple Weber Carburetors
340 bhp at 7,000 rpm
4-Speed Manual Transmission with Overdrive
Front Independent Suspension - Live Rear Axle
4-Wheel Disc Brakes

*Breathtaking example of Maranello's rare Pininfarina-bodied luxury flagship
*Rare and desirable covered headlamp example with documented history by marque expert Marcel Massini
*Matching numbers and Ferrari Classiche Red Book Certified
*Pebble Beach Concours d'Elegance and Cavallino Platinum award winner
*Accompanied by owners manual, toolkit, and jack

The 400 Superamerica

By late 1959 the Ferrari 410 Superamerica, the marque's legendary premium luxury touring model, had been in production for three years. Despite tremendous styling and plush appointments, the 410 had grown to be mechanically dated by its drum brakes and 4-speed gearbox. In response, Ferrari introduced a revised Superamerica at the 1959 Turin Salon with chassis improvements including Dunlop disc brakes at all four corners, and an overdrive unit that substantially increased the car's top speed.

Perhaps most importantly, the new Superamerica featured an entirely different powerplant than the evolution of big-block Lampredi engines heretofore utilized in predecessors such as the 342 America and 410 Super America. Ferrari instead reverted to the classic Colombo short-block, enlarging its mainstay engine to displace almost four liters, and mounting it with the desirable Testa Rossa-style outside-plug cylinder heads (which provided easier plug changes and were less prone to failure because of individual porting).

The shorter Colombo motor also offered a lower physical profile that could facilitate a more aerodynamically raked hood. Pininfarina took full advantage of these dimensions in crafting a new streamlined coupe called the Superfast II, which debuted at Turin in 1960. The showcar's unique design included a small gaping-mouth grille and tapered fastback tail, elements that were soon replicated in series production in a bodystyle dubbed the Coupe Aerodinamico.

In September 1962, the 400 Superamerica was further improved with a longer wheelbase that increased cabin space. Duplicating the 2,650 mm wheelbase of the concurrent 250 GTE 2+2, the LWB 400 Superamerica was built in a brief run of 25 examples, approximately 18 of which were clothed with Aerodinamico coachwork. These rare and beautiful cars were perhaps the apogee of the closed premium Ferrari grand tourer, and were originally purchased by some of the world's most elite motorists, including Gianni Agnelli, Michel Paul-Cavalier, and Nelson Rockefeller. Boasting power, exclusivity, and the finest of appointments, the striking 400 Superamerica Coupe Aerodinamico achieved a degree of refinement that Maranello has scarcely equaled since.

The Motorcar Offered

Claiming factory authentication and a documented history including a multi-decade period of single-family ownership, this breathtakingly restored long-wheelbase 400 Superamerica is one of the finest examples of the rare model. According to the research of marque authority Marcel Massini, chassis no. 5029 SA is the 32nd of 35 total examples built, including both short and long-wheelbase 400 Superamerica iterations. The car is additionally the 15th of 18 Coupe Aerodinamicos built on the longer Series II chassis, and one of 30 Aerodinamicos built in total.

After entering the Pininfarina plant for coachwork on July 11, 1963, the Superamerica was completed on November 14, finished in grigio argento paint and trimmed with an interior of red leather upholstery and matching carpets (a color scheme that continues to distinguish the car today). The elegant coachwork featured the desirable closed-headlamp configuration that characterizes many of the greatest Ferrari designs, as well as many bespoke body and interior details tailored to the first owners wishes.

After a certificate of origin was issued in late February, the Superamerica was sold to its first owner, the Autoservizi Maggiore S.r.L., an automotive concern based in Florence. Founded by former motorcycle racer and 1924 Targa Florio (motorcycle) winner Vittorio Maggiore, the eponymous company was one of the first rental car providers in postwar Italy, and it soon became one of the country's most successful, eventually acquired by Avis/Budget in 2015.

Although the Aerodinamico was first registered under the Maggiore company's name, in May 1965 the car was officially sold to Vittorio Maggiore and re-registered to his Rome address. Mr. Maggiore may have retained possession of the top-shelf Ferrari as late as 1970, when it was exported to the United States. Purchased then by Benjamin Caskey of Palm Beach, Florida, the 400 Superamerica was repainted in dark blue metallic. As a member of the CCCA and AACA, Mr. Caskey dutifully maintained the Superamerica until his passing in 1987, after which his widow essentially stored the car for the following decade.

After sitting unused for ten years, 5029 SA was acquired in 1997 by dealer Mark Smith of Skippack, Pennsylvania, and the car was mechanically freshened for use but remained a well-sorted driver that had never been fully restored. In late 1997, the Ferrari was sold to Swiss collector Massimo Rossi, and he entrusted a full engine rebuild to Oldtimer-Repair Ltd. in Toffen, with the assistance of Ferrari Suisse SA. In 2001, Carrozzeria Zanasi in Maranello conducted a full coachwork restoration, including a bare-metal repaint in the original factory color of grigio argento (gray silver). Tappezzeria Luppi in Modena was retained to reupholster the interior in proper red leather with black and red carpeting. Following the completion of this rejuvenating process in 2001, the Superamerica was examined by FIVA's scrutineers and a desirable FIVA passport was issued.

Mr. Rossi occasionally enjoyed the superb Aerodinamico at prestigious events, including the Coppa Milano-San Remo gathering in March 2004, and in late 2005 he sold the car to Mr. Massini. The marque historian immediately brokered a sale to noted Ferrari collector Lee Herrington of Bow, New Hampshire, who retained possession for a few years before selling the Superamerica in early 2008 to the well-known Andrews Collection in Fort Worth, Texas. Chassis no. 5029 SA was then displayed in March 2010 at the Amelia Island Concours d'Elegance, and in January 2011 at the XX Cavallino Classic in Palm Beach, Florida, where it handily won an FCA Platinum award.

In May 2015, the beautifully refurbished 400 Superamerica was acquired by the consignor, a Southern California-based enthusiast. The new owner presented 5029 SA in August at the Concours on the Avenue in Carmel-by-the-Sea, winning the Ferrari Cup. Three months later the factory issued a highly desirable Ferrari Classiche Red Book that confirms the presence of the car's original matching-numbers drivetrain elements (with the exception of the gearbox, which is the correct type). In August 2016, the Superamerica's exhibition campaign continued with a class award at the prestigious Pebble Beach Concours d'Elegance.

Accompanied by a toolkit, jack, and an original owner's manual, 5029 SA offers its next caretaker a continued show career at FCA events and premium concours d'elegance. As one of just 18 Coupe Aerodinamicos built on the long-wheelbase 400 Superamerica, this car boasts nearly unparalleled rarity for a roadgoing Ferrari of the 1960s. It unquestionably merits the serious consideration of passionate Ferrari collectors worldwide. A truly elegant, powerful and bespoke automobile.