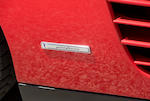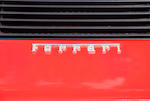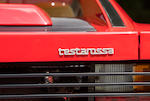 1986 Ferrari Testarossa Monospecchio
Design by Pininfarina
VIN. ZFFSA17A4G0065813
Engine no. 00402

4,942cc DOHC Flat 12-Cylinder Engine
Bosch K-Jetronic Fuel Injection
380bhp at 6,300rpm
5-Speed Manual Transaxle
4-Wheel Independent Suspension
4-Wheel Disc Brakes

*Ferrari Classiche certified and FCA Platinum Award Winning example
*Desirable early 'Monospecchio' single mirror model
*Comprehensive service history
*A 1980's icon in exceptional condition

THE FERRARI TESTAROSSA

Ferrari's flagship model, the Testarossa supercar, revived a famous name from the Italian company's past when it arrived in 1984. A 'next generation' Berlinetta Boxer, the Testarossa retained its predecessor's amidships-mounted, 5.0-liter, flat-12 engine, while the new supercar was now capable of reaching a top speed of 180mph.
The gill slats feeding air to its side-mounted radiators became one of the modern era's most instantly recognizable - and copied - styling devices. The new design managed to combine high downforce with a low coefficient of drag with the absence of extraneous spoilers and other such devices. The Testarossa possessed light controls and was relatively easy to drive - factors which when paired with its outstanding performance and stunning looks, contributed to an instant and sustained high level of demand.

THE MOTORCAR OFFERED

This desirable, early Monospecchio (single mirror) model, was sold new in the US in 1986 by Algar Ferrari. The first owner was a Ferrari enthusiast, who spared no expense maintaining his collection. As the service records demonstrate, each year the owner would have this Testarossa trailered to Algar Ferrari, with the instruction to service the car and address any needs it may have. The car remained in the first ownership for the next 26 years, until acquired in 2011 by the second owner. The new owner commissioned a comprehensive service by Algar, who resealed the engine and transmission, as well as carrying out the Ferrari Classiche Certification. The car continued to be used sparingly, and serviced regularly with the timing belt replaced in July of 2013.

With less than 19,000 miles from new, this fine Testarossa shows beautifully throughout. The Ferrari is complete with books (including window sticker and radio info), service records, tools, keys, accessories, and luggage - even the factory decal is still affixed to the rearview mirror. One of an estimated 300 Monospecchio Testarossas produced for the US, this exceptional example boasts multiple FCA Platinum Awards, and is the only Testarossa ever be invited to the Prestigious 100 Cars of Radnor Hunt, where it won Best Post 1970 Ferrari. This must be among the best examples on the market today of the iconic model.