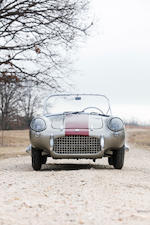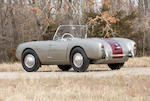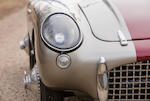 From the Evergreen Historic Automobile Collection
1959 Berkeley SE492 Roadster
Chassis no. 74
Engine no. 190

492cc Air-cooled, Two-stroke, In-line 3-Cylinder Engine
Three Amal Carburetors
30 bhp at 4,200 rpm
4-Speed Manual Transmission
4-Wheel Independent Suspension
4-Wheel Hydraulic Drum Brakes

*Fully restored
*One of only 666 of this model built
*Show condition
*A sure attention-getter at any vintage car meeting
*Supplied with full road equipment, correct spare, jack, tools, and manuals

THE BERKELEY

It was an ideal marriage of minds; Britons "Lawrie" Bond, the imaginative aircraft engineer who would later produce his own eponymous minicar, and Charles Panter, whose Berkeley Coachworks was among Europe's largest manufacturers of fiberglass camping trailers. Their collaboration gave us the motorcycle-engined, front-wheel-drive Berkeley, a two-seat, fiberglass-and-aluminum-bodied British sports car produced in small numbers in the 1950s. Their goal was to not only build a small and enjoyable sports car, but one that could race competitively in the under-750cc category. The little Berkeley roadster was a hit right out of the box. As the earliest smaller-displacement cars soon demonstrated that more power was needed, Berkeley increased the engine size, topping out at just under 500cc, and those versions proved highly suitable for road racing. Weighing just 700 pounds, the 30 horsepower output of a Berkeley-Excelsior SE492 delivered a competitive horsepower-to-weight ratio. Combined with fully independent suspension, a low center of gravity, and front-wheel drive, it was not only fast – 80 mph at full chat - but very nimble. Count Johnny Lurani entered a trio of SE492 roadsters, all fitted with specially-designed hard-tops, in the 1958 Monza 12 hours 750 GT category. Future Ferrari driver Lorenzo Bandini drove one of the tiny cars to a class victory. They were often seen in American sports car events, where they were capable of embarrassing their SCCA competition. An estimated 666 examples of this final model were built before the end of production in March of 1959.

THE MOTORCAR OFFERED

This example, chassis No. 74, was acquired by the consignor in early 2013. Finished in silver with a dark red vinyl interior, it is powered by a three-cylinder 492 cc Excelsior motorcycle engine with triple AMAL carburetors, and has been fully restored to as-new condition, including an engine and transmission overhaul, new clutch and exhaust system in 2013. Suitable for Concours or weekend touring, it can easily keep up with freeway traffic, and its excellent power-to-weight ratio and large drum brakes mean it is a joy to drive with abandon. It is supplied with full road equipment including a fabric top and frame, side curtains, and spare wheel. Helpfully, there is an active owner's group – the Berkeley Enthusiast's Club - to lend support and source spare parts as needed.