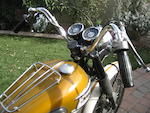 1965 Triumph T120 650cc Bonneville


Finding a true 'time-capsule' motorcycle is always cause for celebration, and so it was when the current owner discovered this 1965 Triumph Bonneville 650, looking just as it did when it was parked in 1971. The 13,000-mile machine had been taken off the road due to a holed piston, put in warm, dry storage and never fixed. That situation was quickly remedied with a cylinder hone, new pistons and a valve job. Upon reassembly, hoping to avoid any more top-end calamities, the new owner fitted an NOS airbox correct for 1965 to better filter the incoming air than the open velocity stacks originally run. He also had the aftermarket electronic ignition replaced with an NOS set of points. At this same time, the instruments and headlight, unfortunately damaged in transit, were replaced/rebuilt, the owner stipulating to his speedo man that the original mileage be replicated on the odometer.

Sharp-eyed observers might note something amiss about this bike's color scheme. That's because the original purchaser preferred the gold/white paint on the 1965 Trophy TR6 over that year Bonneville's blue/silver. Eager to close the sale, the Vermont dealer happily agreed to switch out the bodywork, which was identical in shape on both models. The bike is also equipped with the all-black dual seat common to the TR6 and TT Special models, where stock T120's had a gray top panel. It retains the taller handlebars specified by TriCor, Triumph's East Coast distributor.

Back among the running once more, here then is an authentic survivor bike, with virtually all of its from-the-factory parts in place, nothing replated or repolished, wearing original (if not quite 'correct') paint, truly a rare and desirous find.
Saleroom notices
Please note that the engine number appears to have been restamped. The Title is in transit.