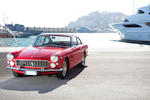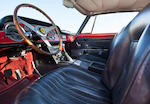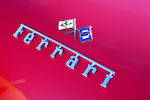 1963 Ferrari 330 America Berlinetta
Coachwork by Pininfarina
Chassis no. 5069
Engine no. 5069
•One of 50 made
•Delivered new to the USA
•Matching chassis and engine numbers
•Restored circa 15 years ago
•Registered in Italy

Towards the end of 250 GTE production in 1963, Ferrari began delivering a revised and improved version of this highly successful four-seater Grande Routiérè fitted with the new '330' engine. 'Big-engined' Ferrari road cars had traditionally formed part of the America/Superamerica series, and this new 4.0-litre model was duly christened '330 America' in accordance with Ferrari's established practice. Based on that of the contemporary 400 Superamerica, the 330 America's Colombo-designed 60-degree V12 engine incorporated numerous significant advances including wider-spaced cylinder bores and revised combustion chambers in the interests of better cooling and improved breathing. Although the 330 engine was demonstrably superior to the 400 SA's, it was nevertheless conservatively rated at 300bhp, 40 horsepower fewer than its progenitor. Chassis-wise the 330 America was identical to the late-production 250 GTE Series III and outwardly indistinguishable, though some examples carried the legend 'America' on the boot.

There had been four-seater Ferraris before the 250 GTE - Ghia, Touring and Vignale all producing '2+2' designs in the 1950s - but these attempts had been compromised by the necessity of using a chassis not conceived with passenger carrying in mind and were deemed less than entirely successful. Close collaboration between Ferrari and Pininfarina in the design of Maranello's first series-production four-seater ensured that no such criticism could be levelled at the 250 GTE.

At 2,600mm in the wheelbase, the multi-tubular chassis was similar to that of the Pininfarina-designed 250 GT 'notch back' Coupé and 200mm longer that the contemporary 250 GT SWB's. Moving the engine forward by 200mm and widening the rear track by 38mm made room for two rear seats in a bodyshell which, despite its increased length, retained Pininfarina's customary classical proportions. Independent front suspension, a live rear axle, all-round disc brakes and a four-speed manual/overdrive gearbox completed the basic chassis specification. Top speed was within a whisker of 225km/h (140mph), while that of the larger-engined 330 America was in excess of 240km/h (150mph).

The 250 GTE progressed through three series, Series II cars gaining a changed dashboard layout and the Series III different front and rear lights, before production ceased in 1963 after 950 had been built, co-incidentally with the introduction of the 330 America. In fact, the latter was an interim model produced while Ferrari readied the 250 GTE's replacement, the 330 GT 2+2. A mere 50 330 Americas were produced late in 1963 immediately prior to the 330 GT's announcement in January 1964, thus making this model one of the rarer Ferrari road cars.

Records show that Ferrari 330 America, chassis number '5069' - the 44th produced - was completed in November 1963 finished in white with a black leather interior and equipped with wire wheels and the four-speed/overdrive gearbox. The car was delivered new via the official North American Ferrari importer Luigi Chinetti Motors Inc of Greenwich, Connecticut, USA, sailing from Italy to New York aboard the freighter 'Export Champion'.
Chinetti then sold the car to Algar Enterprises in Paoli, Pennsylvania. It was later owned, from circa 1974, by Henry Euler in New York for a number of years, and was displayed by him at various car shows and concours d'élégance competitions on the East Coast; it won a 3rd place award at the New Hope Auto Show in New Hope, Pennsylvania in 1975. It is believed that the Ferrari was then exported to Ontario, Canada, where it underwent its first restoration in 1989. On this occasion the colour was changed to red. Since 1995 the car has been back in Europe: first in Monaco and then Italy.

The current owner purchased the 330 America circa 2001 from a gentleman in Monaco where it had undergone a comprehensive restoration by Ferrari specialists immediately prior to the sale. Since then the car has formed part of an exclusive private collection in Italy and has been used sparingly but regularly. A member of the Bonhams team inspected the Ferrari prior to cataloguing, finding it a well looked-after car in full working order and making all the right noises, the overdrive engaging without hesitation when asked and the interior possessing a lovely patina that only the original leather can exude. The gleaming red paintwork still presents very well. Importantly, the car is still fitted with its original, matching-numbers engine. Offered with Italian libretto and Certificato di Proprieta.