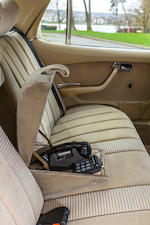 1978 Mercedes-Benz 450 SEL 6.9
Chassis no. WDB116 036 12 004 168
Engine no. 100-985-12-004291
•Rare and exclusive 'super saloon'
•First owned by Mr Adnan Kashoggi
•Two owners from new
•Extensively restored within the last ten years

Mercedes-Benz replaced the S-Class family of large saloons in 1972, the successor W116 range having been on the drawing board since the mid-1960s. Much of the development programme had concentrated on secondary safety, to such an extent that its occupants were considered more likely to survive an accident in the 450 SE saloon (or its peers) than possibly any other car in the world. Base model was the 280S equipped with a 2.8-litre twin-cam six, while for those with deeper wallets there was a choice of 350 SE or 450 SE V8s, both of which were available in long-wheelbase SEL variants.

For plutocrats there was the 450 SEL 6.9. Fast, well engineered and luxuriously equipped in Mercedes-Benz's finest tradition, the 450 SEL 6.9 first appeared in 1974. This new super saloon used the long-wheelbase bodyshell of the larger S-Class fitted with an enlarged and developed version of the overhead-camshaft V8 engine found in its predecessor and the leviathan 600 models. All Mercedes-Benz's latest safety developments were incorporated along with automatic transmission and self-levelling suspension as standard. Top speed was 225km/h with 100km/h coming up in around seven seconds. Only 7,380 examples of this exclusive model were made between 1975 and 1980.

This Mercedes-Benz 450 SEL 6.9 has had only two owners, the first of whom was the controversial Saudi Arabian businessman, Adnan Mohammed Kashoggi, who during the 1980s was ranked as one of the world's richest men. His yacht 'Nabila' was the largest in the world at that time and was used in the James Bond film 'Never Say Never Again' (1983), starring Sean Connery as '007'. A legacy of Mr Kashoggi's ownership is the presence in this Mercedes of two MATRA car 'phones (one in front and one in the rear), which were a feature of all his cars. For the last ten years this '6.9' has been serviced by Atelier 600, a classic Mercedes-Benz specialist, while the bodywork has been repainted and the mechanicals overhauled during the last ten years. There are related invoices on file totalling €53,000. Finished in dark blue with beige velour 'Pullman' interior, this magnificent car is described by the vendor as in generally excellent condition and comes with French Carte Grise and Contrôle Technique.

1978 Mercedes-Benz 450 SEL 6.9
Fahrgestell-Nr. WDB116 036 12 004 168
Motor-Nr. 100-985-12-004291

•Seltenes und exklusives Topmodell
•Erstbesitzer Adnan Kashoggi
•Aus zweiter Hand
•In den letzten 10 Jahren umfangreich restauriert

Mercedes-Benz ersetzte die S-Klasse im Jahre 1972, der Nachfolger W116 war schon seit Mitte der sechziger Jahre in der Planung. Schwerpunkt der Entwicklung war die passive Sicherheit, und als Ergebnis konnte davon ausgegangen werden, dass die Passagiere eines 450 SE (oder einer der anderen Varianten) im Falle eines Unfalls eine viel höhere Überlebenschance hatten als in jedem anderen Automobil. Das Basismodell war der 280 S, der von einem 2.8 Liter großen Reihensechszylinder angetrieben wurde; wohlhabenderen Kunden standen der 350 SE und 450 SE mit V8-Zylindern zur Verfügung, wahlweise auch mit längerem Radstand der SEL–Versionen.

Der 450 SEL 6.9 wurde 1974 vorgestellt und war das schnelle und luxuriöse Topmodell der S-Klasse. Er basierte auf der langen Version dieser Modellreihe und sein V8 Motor mit obenliegenden Nockenwellen war eine Weiterentwicklung des Antriebs aus dem 600. Mit der aktuellsten Sicherheitstechnik ausgestattet, kam der mit einer Niveauregulierung und mit einem Automatikgetriebe ausgestattete Wagen auf eine Höchstgeschwindigkeit von 225 km/h bei einer Beschleunigung von 0 auf 100 km/h in 7.4 Sekunden.
Zwischen 1975 und 1980 entstanden nur 7,380 Exemplare dieses exklusiven Modells.

Dieser Mercedes-Benz 450 SEL 6.9 hatte nur zwei Besitzer. Der erste war der umstrittene saudi-arabische Geschäftsmann Adnan Mohammed Kashoggi, der in den achtziger Jahren zu den reichsten Männern der Welt zählte. Seine Yacht 'Nabila' war die damals größte und diente als Schauplatz des James Bond Films 'Sag Niemals Nie' mit Sean Connery in der Rolle des 007. Ein Vermächtnis von Herrn Kashoggi sind zwei 'MATRA'-Autotelefone (jeweils eines vorne und hinten), mit denen all seine Autos ausgestattet waren. Über die letzten 10 Jahre wurde dieser 6.9 von der Werkstatt für klassische Mercedes-Benz, 'Atelier 600' gewartet. In dieser Zeit wurde auch die Karosserie neu lackiert und die Mechanik überholt. Die beiliegenden Rechnungen summieren sich auf € 53,000. Der dunkelblau lackierte Wagen mit beigefarbener Velours-Innenausstattung wird vom Einlieferer als in durchweg exzellentem Zustand beschrieben und wird mit französischer Carte Grise und Contrôle Technique angeboten.