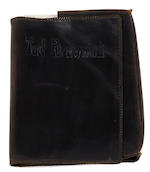 Tod Browning's personal collection of photographs from his films
Approximately 1700 stills total from The Unholy Three, The Mystic, The Black Bird, The Unknown, London After Midnight, West of Zanzibar, The Big City, Where East is East, Iron Man, Dracula, Freaks, and Mark of the Vampire, with a group of special location and wardrobe reference photographs from Louisiana Lou (a.k.a. Lazy River), comprising forty 8x10 in photos and twenty-five 5x8 in photos; and a box of seventy-six 8x10 stills from Fast Workers (1933), housed in a Kodak box; photographs are housed in custom numbered leather folders stamped "Tod Browning" to front with maker's mark ("Landen") carved in under each upper flap. Together with a leather bound list of volumes. No photos present from The Show (1927) or The 13th Chair (1929) though those films are listed in the inventory; however The Big City and Mark of the Vampire are not listed (but are present).
Director Tod Browning (1880-1962) remains one of the most popular and influential figures in horror film history. In the silent and early sound era, Browning worked in many genres, but he truly shone in directing a series of bizarre, intense, and dark films starring the legendary "Man of a Thousand Faces," Lon Chaney. Chaney usually played deeply scarred, vengeful characters in exotic locales in Browning productions like West of Zanzibar (1928) and Where East is East (1929) or gangsters, like in Browning's The Big City (1928) and The Blackbird (1926). But it was in thrillers like Browning's London After Midnight, The Unknown (both 1927) and The Unholy Three that the two truly excelled.
After Chaney's death in 1930, Browning's mega-hit Dracula (1931) launched Universal Studios' 1930s golden age of monster movies, and also catapulted Bela Lugosi to movie stardom. Frequently imitated and parodied to this day, Dracula ranks among the greatest horror films of all time. In 1932, Browning drew on his background in the carnival world to create the notorious Freaks, his brilliant sideshow melodrama starring a cast of actual human oddities. Despite its luridness, the film was ultimately humane, presenting the sideshow freaks in a much kinder light than the film's "beautiful" leads. But Freaks was his downfall, its critical and popular reception beyond disastrous, all but ending his career. In 1933, Browning traveled to Louisiana to take special location and wardrobe photographs for Louisiana Lou and worked on a script for the film with authors William Faulkner and Erskine Caldwell. Browning did not direct the final film (released as Lazy River (1934)), and only made a few other films after Freaks, including Mark of the Vampire (1935) and Miracles for Sale (1939).
This is Browning's massive personal archive of stills from his own films. An archive of this scope from a Golden Age Hollywood horror filmmaker of Browning's stature is virtually unheard-of. It is extraordinary in many ways, beginning with its sheer size: 103 stills from Dracula, including 36 featuring Lugosi; 151 from Freaks; 68 from Mark of the Vampire; 201 from The Unholy Three (including some extras); and 99 from The Unknown. Two of Browning's "lost" films with Lon Chaney are also thoroughly represented here: 159 from London After Midnight, and 364 from The Big City (including duplicates). Lon Chaney is thoroughly represented throughout the photographs from his films in many scene stills and behind-the-scenes images. Approximately 25 of the stills from Browning's Iron Man prominently feature Jean Harlow, and there are several portraits of her. A large portion of the photographs from Browning's years at Metro-Goldwyn-Mayer are not standard "finished" publicity photos and have their individual filming dates printed into the photographs themselves, as was customary at the studio. Many others have various studio stamps, such as "Director Proof" and "Rush Proof." Also exceptional is the photographs' overall condition: many show very little wear and appear to have barely been handled in decades. (Please refer to condition report for further information.)
This archive includes an assortment of extremely rare images, including 4 set stills from Dracula, along with an uncropped scene still of Lugosi and Helen Chandler revealing the top of a set; very rare images of Joan Crawford in Browning's The Unknown, along with unusual behind-the-scenes photographs from it and the other Chaney films; a series of three photographs from The Unholy Three of the deleted scene where little person Tweedledee (Harry Earles) attacks a little girl; and 8 photographs, including 2 featuring Browning, from West of Zanzibar's deleted "Human Duck" sequence depicting Lon Chaney in a costume later worn by Olga Baclanova in Freaks.
Approximately thirty minutes of Freaks was cut after its dire initial preview. There are some very rare photographs of missing scenes from the film here, most notably two photos of Wallace Ford and other lead players in the original "Tetrallini's Freaks and Music Hall" ending. Two poignant behind-the-scenes images from Freaks show the film's cast of sideshow performers eating at a long outdoor table: they were ostracized from the M-G-M commissary because their presence was considered too horrific.
Tod Browning bequeathed these photographs and other personal effects to his friend William S. Hart, Jr. and they have been in Hart's family ever since.
Saleroom notices
In appreciation for his work in authenticating the collection, the consignor of this lot has granted scholar David J. Skal permission to reproduce a very small amount (up to 25) of the 1700 images in this collection in his upcoming reissue of his Tod Browning biography. A complete listing of the images granted to Skal is available upon request.