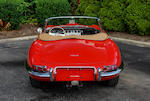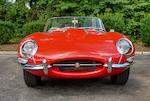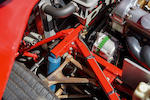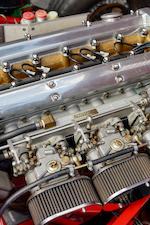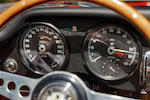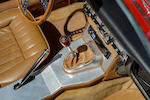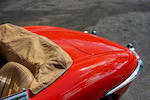 1963 JAGUAR E-TYPE SERIES I 3.8 ROADSTER

Chassis no. 879628
Engine no. RA2459-9

3,781cc DOHC Inline 6-Cylinder Engine
3 Double Weber Carburetors
Approximately 290bhp at 5,800rpm
5-Speed Manual Transmission (see text)
4-Wheel Independent Suspension
4-Wheel Disc Brakes


*Expertly prepared E-Type with tasteful performance upgrades
*Sporty engine upgrades and 5-speed manual gearbox
*Offered with books, tools and jack
*The perfect car for rallies and sporty driving


THE JAGUAR E-TYPE

In 1958, Jaguar technical director William Heynes and designer Malcolm Sayer convinced their boss, Sir William Lyons, that a new production sports model was needed. Thus was born the E-Type, one of Jaguar's longest-running and most revered models.

Actually, the E-Type already existed as a concept. Developed from the racing D-Type in 1956, it had been put aside when Lyons abruptly canceled the competition program. Dusting off the prototype, an aluminum-bodied roadster with a 3.4-liter XK engine and independent front and rear suspension, Heynes and Sayer reengineered it for steel, and a 3.8-liter engine as used in the Mk IX saloon.

At 2,520 pounds, it was 500 pounds lighter than the XK150 and more powerful to boot. The 3.8-liter twin cam engine was fed through three SU side draft carbs and developed 265bhp. A top speed of 150mph was easily achieved with the standard 3.31 to 1 gearing, and some speculated that optional taller gears would be good for more. In its day, the E-Type was bested only by Ferraris and the Mercedes-Benz 300SL. Its debut came at the March 1961 Geneva Motor Show, to universal applause and plaudits from the pundits.

From the start there were two models, a soft top with roll-up windows, called the "roadster," and a fixed-head coupe. At $5,595 for the roadster and $300 more for the coupe it was more than twice the price of an MGA, but also twice the car. On the other hand, its sticker price was barely half that of a 300SL.


THE MOTORCAR OFFERED

Although the early history of this stellar Series I Roadster remains unknown, it is clear that in last twenty years this car has been under excellent care After the photo-documented, nut-and-bolt restoration was completed by a Jaguar specialist in the late 1990s, this E-type has been used only sparingly.

In order to make this timeless designed E-Type even more drivable than the factory had made it, it was decided that the car would be given tasteful performance enhancing elements. Finished in a period correct red over tan interior with a matching convertible top, the sleek Roadster was given an update to its seats, incorporating the more comfortable, late Series I Type. Combined with the classic Moto Lita steering wheel, this E-Type is a good mix of sport and comfort.

Not only has the interior been upgraded, but the mechanical system also received refurbishments with sporty driving in mind. The engine was removed and rebuilt with high compression pistons and connecting rods, camshafts, and the cylinder heads were ported and polished, while the standard carburetors were exchanged for a triple Weber set up. The ignition system was upgraded to an electronic type and the original radiator was replaced with a performance aluminum type with auxiliary electric cooling fan. It was converted to an alternator and finally the gearbox was swapped with a 5-speed unit. Furthermore, the full clutch assembly was replaced.

In order to utilize the extra power from the upgraded engine, it was decided that the wire wheels and brakes also needed refreshing. New and wider wire wheels were fitted to the E-type to accept tubeless tires and thereby increase grip and road handling. The braking system was upgraded to a Wilwood system, and all brake lines were replaced with stainless steel lines.

Good acceleration and a crisp, racing like sound from the Weber carburetors makes this driver's E-Type a truly unique example of this British favorite, and it would surely be a fun and enjoyable contender for any vintage rally. The car is accompanied by an owner's manual, restored factory jack, a new knockoff hammer and a tool kit.