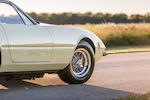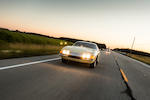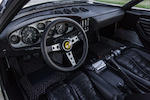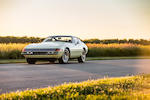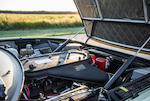 1971 FERRARI 365 GTB/4 DAYTONA BERLINETTA
Coachwork by Scaglietti - Design by Pininfarina

Chassis no. 14203
Engine no. B996

4,390cc DOHC V12 Engine
6 Weber Carburetors
352bhp at 7,500rpm
5-Speed Manual Transaxle
4-Wheel Independent Suspension
4-Wheel Disc Brakes

*One of just 12 Daytonas in Giallo Dino
*Documented history by Ferrari Historian Marcel Massini
*Participated in 2015 Copperstate 1000
*Recent mechanical refurbishment

The Ferrari Daytona

The concept of manufacturing a 4-cam V12-engined Berlinetta with considerably greater power output than the successful 275 GTB/4 model emerged in 1967, as soon as the 3.3-liter variant was being launched upon a receptive market. The new model would have to meet newly developed US federal regulations, which meant a tremendous amount of time-consuming development work before the new design could be introduced.

Ferrari's first known prototype for such a car emerged during the winter of 1967 with bodywork presaging the final design that would be adopted, although its front-end treatment looked back towards that of the 275 GTB. It used a three-valve per cylinder 4-liter V12 engine that was not taken further. Instead a Tipo 251 power unit would be adopted, which was a more conventional 4.4-liter with hemispherical combustion chambers in its twin-cam heads, and single-plug ignition. The block had been lengthened to accommodate a bore and stroke of 81mm x 71mm, identical to the Tipo 245's engine, which already powered the 365 GT 2-plus-2, GTC and GTS models.

The new 4.4-liter unit was lubricated by a dry-sump system with a 14-liter separate tank. The compression ratio was 8.8:1 and with six Weber 40DCN carburetors the engine delivered a muscular 352bhp at 7,500rpm, with 318lbs/ft. torque at 5,500rpm – enough – indeed, as one English technical writer of the time described as being "...more than enough to pull your house down".

The mechanical ensemble, comprising engine, torque tube and rear-mounted 5-speed transaxle was attached to the tube chassis at four points – two on the engine and two on the transaxle – and the familiar 2.4-meter wheelbase was retained, which dated back in unbroken line to the 250 GT SWB.

To clothe the new 365 GTB/4, Pininfarina created a classical and now legendary design, which combined Maranello tradition with modernity. Only the prototype body was actually built by Pininfarina and, as with the preceding Berlinettas, it was Scaglietti who actually made the bodies in steel (with opening panels in aluminum) for the production examples.

The venue for the new model's launch was the October 1968 Paris Salon, and its immediately successful reception saw it being nicknamed the 'Daytona' in honor of the Ferrari factory team's 1-2-3 defeat of the mighty Ford GT fleet in the 1967 Daytona 24-Hour race. Shortly after debuting the gorgeous GTS/4 Spider, a number of important revisions were introduced on both the Berlinetta and Spider versions. These changes came about as a result of the newly imposed federal safety legislation in the USA that deemed covered headlights illegal. Ferrari and Pininfarina were subsequently being forced into carrying out a mild front-end makeover. Their answer was to fit the Daytona with retractable headlights in early 1971.

Capable of achieving 278km/h (172mph) in standard form, the new Ferrari was the fastest production car in the world at that time. It also displayed the quickest acceleration when pitted against the Lamborghini Miura, Mercedes-Benz 350SL, Jaguar V12 E-Type and the De Tomaso Pantera.


The Motorcar Offered

Completed in Ferarri's legendary Maranello workshop on March 25th, 1971, this 365 GTB/4 Daytona Berlinetta was initially delivered to George Woolley's Ferrari in Toronto, Canada. Originally finished in Giallo Dino over a black leather interior with factory air conditioning, this Daytona is one of just four 1971 Daytonas finished in this intriguing color, with only 12 being produced over the entire Daytona production run.

By 1972, this V12 coupe had moved to Oak Brook, Illinois, before being sold to an enthusiast in Oklahoma in 1976. Just a year later, it was sold again and subsequently offered for sale by Ferrari of San Diego, where it remained ownerless through 1979. This interesting Daytona was then sold to a plastic surgeon in Flintridge, California, who is believed to have owned the car until 1982, at which point the history of this Ferrari remains vague until the current owner purchased it.

In 2014, while in the hands of the consignor, work began to rebuild this Giallo Dino Daytona with an emphasis on drivability and performance. All of the bushings in the suspension system were replaced, the shock absorbers rebuilt by Koni, and several joints were replaced as well, contributing to the excellent handling of this particular Daytona. The braking system received similar attention, with all-new rotors, calipers, and a new master cylinder, ensuring this powerful Coupe can be reined in. The twin distributors were converted with modern internals to endure better drivability, while keeping the original look. The engine underwent a major service too, including new coils and fuel pumps, along with filters, spark plugs, and tuning, preparing this car for spirited driving, as well as a new clutch, pressure plate, throw-out bearing and transmission overhaul.

To make driving the Daytona at low speed less of a handful, an EZ electric power steering unit was installed; the original steering components including the steering wheel are included with the car, should the next owner choose to revert this car to its original specification. The EZ electric power steering unit is speed sensitive and cuts off above 25mph, and additionally has a switch in case the driver does not want it operational. The largely original interior was tended to also, receiving new seat foam and bolsters, while retaining the original iconic Daytona center inserts. The arrow-straight Pininfarina-designed body bares an older repaint in its original Giallo Dino that lays nice and flat on the dramatic angles and curves of the Daytona with a very fine finish. The engine number falls into the correct sequence, and is indeed believed to be the original, matching numbers engine for the car.

After this extensive refurbishment, the sporting Ferrari participated in the 2015 Copperstate 1000, a 1,000-mile vintage car rally through Arizona, where it performed admirably, a testament to the condition and performance of this Daytona. With just over 52,000 miles on the clock – a figure believed to be the car's actual mileage since new – this 365 GTB/4 is a great example of Ferrari's ultimate model of front-engine superiority.