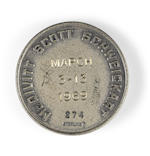 THOMAS STAFFORD'S APOLLO 9 ROBBINS MEDALLION
FLOWN Apollo 9 medallion made by the Robbins Company, 1 inch in diameter, minted from sterling silver. The crew mission emblem is on the obverse with the crew names, mission dates, and serial number "274" engraved on the reverse. With a Typed Letter Signed by THOMAS P. STAFFORD on his business stationery.

Accompanied by THOMAS P. STAFFORD'S signed provenance letter reads in part: "Enclosed with this letter is a sterling silver medallion carried on the flight of Apollo 9. It is one of the Robbins series of medallions made for our Apollo flight program and has serial number 274 engraved on the reverse side along with the Apollo 9 mission dates of 'March 3 - 13 1969.'

Apollo 9 was the first manned test flight of the Lunar Module by Commander James McDivitt and Lunar Module Pilot Rusty Schweickart. Dave Scott was the Command Module Pilot. Their flight proved that the Lunar Module was able to perform all mission tasks and cleared the way for my lunar flight with another Lunar Module just 2 months later in May of 1969. These successes enabled Apollo 11 to make the first lunar landing during July 1969."