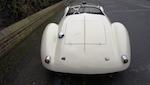 FIAT 1500 6C Barchetta 1937
Châssis n° 019.373
Moteur n° 1500-361689

•Carrosserie barchetta en aluminium
•Restauration de très haut niveau
•Immatriculée en Italie

La Fiat 1500 était un tout nouveau modèle qui fut dévoilé au public au Salon de Milan en novembre 1935. Les ingénieurs commençaient alors à prêter plus d'attention à l'aspect aérodynamique et la 1500 était un étonnant exemple de ce savoir fraîchement acquis appliqué à une voiture de tourisme. Conçue en soufflerie, la spectaculaire carrosserie de la 1500 arborait une calandre inclinée vers l'arrière, censée réduire la résistance aérodynamique, même si elle fut remplacée par une calandre verticale plus conventionnelle en 1940, sans doute sous la pression de la mode. Sous la tôle, pour la première fois sur une Fiat, un châssis-poutre avec suspension avant indépendante. Le moteur de la 1500 était un six cylindres 1 493 cm3 à soupapes en tête qui partageait ses dimensions d'alésage x course de 65 x 75 mm avec le quatre cylindres de la 508 contemporaine et délivrait 45 ch, transmis aux roues arrière par une boîte à quatre rapports. La vitesse de pointe avoisinait les 113 km/h.

Fiat proposait des modèles découverts aussi bien que des berlines et le châssis 1500 était également populaire auprès des carrossiers indépendants, comme les carrozzerie Ghia, de Turin et Colli de Milan qui proposaient de voluptueuses créations sur mesure en tôle d'aluminium. Des versions compétition, dotées de carrosseries spéciales, couraient dans des épreuves comme les Mille Miglia ou la Targa Florio. La construction de la 1500 reprit après la seconde guerre et lorsque le modèle fut abandonné, en 1948, il en avait été construit 42 500.

Selon un courrier de l'Archivio E Centro Storico Fiat, le châssis n° 019.373 a été construit le 1er novembre 1937 avec une carrosserie berline de série en acier. Plus récemment, la voiture a été magnifiquement rhabillée de son actuelle carrosserie barchetta en aluminium. La qualité de la restauration doit être vue pour être appréciée à sa juste valeur et la voiture est présentée « prête à partir ». Son six cylindres en ligne 1 500 cm3 est alimenté par des carburateurs Weber et sonne merveilleusement. Old English White avec intérieur en cuir rouge, la voiture dispose d'une bonne habitabilité pour ses passagers et d'un grand coffre à bagages.

Vendues avec ses papiers d'immatriculation italienne, cette étonnante Fiat sportive ferait une excellente candidate à un concours ou un rallye historique et se distinguera du tout venant. Il est vivement recommandé aux acheteurs potentiels d'accorder toute leur attention à cette voiture avant la vente.

1937 FIAT 1500 6C Barchetta
Chassis no. 019.373
Engine no. 1500-361689

•Aluminium barchetta coachwork
•Restored to a high standard
•Registered in Italy

The FIAT 1500 was an all-new design that was first shown to the public at the Milan Motor Show in November 1935. Automotive engineers had begun to pay greater attention to aerodynamic considerations and the 1500 was an outstanding example of this newly acquired knowledge applied to passenger car design. Developed in a wind tunnel, the 1500's striking-looking body featured a raked back radiator grille intended to reduce aerodynamic drag, though this would be replaced by a more conventional, upright grille in 1940, no doubt at the dictates of fashion. Beneath the skin there was a tubular backbone chassis boasting independent front suspension, the latter making its first appearance on a FIAT car. The 1500's engine was a 1,493cc overhead-valve six that shared its 65x75mm bore/stroke dimensions with the contemporary four-cylinder Tipo 508 and produced a maximum of 45bhp, which was transmitted to the rear wheels via a four-speed gearbox. Top speed was in the region of 113km/h.

FIAT offered open models as well as the standard saloon, and the 1500 chassis was popular with independent coachbuilders such as Carrozzeria Ghia of Turin and Carrozzeria Colli of Milan, which offered voluptuous one-off bodies in sheet aluminium. Competition versions with special bodies raced at events such the Mille Miglia and Targa Florio. The 1500 recommenced manufacture after WW2 and by the time the model was deleted in 1948 some 42,500 had been produced.

According to a letter from FIAT Archivio E Centro Storico, chassis number '019.373' was manufactured on 1st November 1937 with a standard steel saloon body. In more recent years the car has been beautifully re-bodied with its current aluminium barchetta coachwork. The quality of the restoration must be seen to be appreciated and the car is described as 'on the button', while the 1,500cc straight-six engine breaths through Weber carburettors and sounds wonderful. Finished in the charming colour combination of Old English White with red leather interior, the car boasts ample room for passengers and a large boot for luggage.

Supplied with Italian registration papers, this stunning FIAT sports car would make an ideal entry in any concours event or historic rally and is sure to stand out from the crowd. Potential buyers are encouraged to inspect this car prior to the auction.