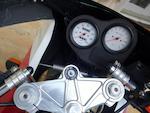 One of approximately 34 made
1994 Bimota DB2 900cc Tri-Colore
Frame no. ZES1DB215SRZES002
Bimota is a company that knows how to survive the ups and downs of haute couture motorcycle culture by deciding just what the right buttons are and pressing them just in time. The button in question here was "entirely Italian construction." Thus it was in 1984 when Federico Martini (formerly of Ducati) replaced Massimo Tamburini as Bimota's technical director. Martini maintained his relationship with Ducati for engine supply.

By 1994 Pier Luigi Marconi was in charge of the design studio, and thus the DB2 900 was a visual departure from the DB1; no longer was the bodywork all-enveloping for the frame of triangulated latticework of round of chrome-molybdenum steel tubes was now an intended visible feature. The fork is Paioli 41mm and adjustable Ohlins rear shock, this time with a braced steel tube swingarm. Twin Brembo Serie Oro 320mm floating discs up front are matched with a single Brembo 230mm solid rear disc. The motor was Ducati's 904cc air-cooled, 86 horsepower 2-valve desmo, belt drive, v-twin, sourced from the 900SS/Monster complete with Mikuni 38mm carburetors. With Ducati's melodious dry clutch and 6-speed, the bike "made all the right noises" and went pretty well too. "...In many ways, the combination of lightness and enjoyable performance makes this the most-fun Bimota ever produced." Two Wheels, 1994.

A total of 402 DB2s were built, 285 with the full fairing, and 123 with the half fairing. It's not known how many had the Tricolore finish but the number of 34 is bandied around. This rare, two-owner bike is in excellent, well preserved condition with less than 6,000 miles on the odometer, comes with a second exhaust system, tool kit, key fob, etc.
Footnotes