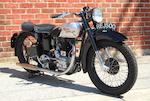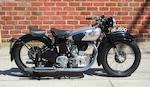 "Built like a Gun, Goes like a Bullet"
1947 Royal Enfield Model J 500cc Twinport
Frame no. 1371
Engine no. J542
Royal Enfield, well known for producing engines, bicycles and firearms, turned their hand to motorcycles way back in 1901 and, by the First War, had established themselves as one of Britain's most popular vehicle brands. Post-WWII, the Model G and Model J models were revived and featured a rigid rear frame and a 4-speed Albion gearbox complete with RE's neutral selector lever. The J featured telescopic forks (using two-way hydraulic damping) in place of the pre-WWII girders. The twin-port 499cc engine had a bore and stroke of 84mm x 90mm and a 5.5:1 compression ratio, and used an Amal 276 side bowl carburetor and Lucas magneto ignition.

The classic British post-WWII Model J single offered was bought by the seller in 1996 from an "older gentlemen" (believed to be the second owner) in Sylmar, California who had imported it from England 30 years earlier. It was rough but still with most of its original parts and this "ride-to-work model in a world hungry for transport" was then subjected to the most rigorous of down-to-the-last-nut-and-bolt restorations using the "famous SoCal underground band of engineers": Mike Parti did the engine, Homer Knapp (Hollywood Machine Shop) the gearbox, Doug Wood the magneto and generator, Tony Markus the paint, Van Nuys Plating the plating and Glory Motorworks the general servicing. Parts came from the UK through Hitchcock's Motorcycles of Solihull. Final assembly was undertaken by the seller. The odometer currently reads 3,642 miles. In 2007 it was accepted into the Legend of the Motorcycle International Concours d'Elegance in Half Moon Bay, California.