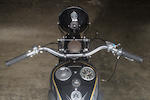 1946 Ariel 347CC RED HUNTER NG

Frame no. AP2174
Engine no. BK1132

Val Page's arrival at Ariel in 1925 as Chief Designer would trigger an upturn in the Selly Oak, near Birmingham, firm's fortunes. Page designed new models to replace the existing range, the first of which - a pair of singles displacing 600cc (sidevalve) and 500cc (overhead-valve) - debuted later that year. In 1932 the sports versions were christened "Red Hunter" and, under Page's successor Edward Turner, developed into fast and stylish machines. In mid-1946 the Hunters became the first models to feature Ariel's new telescopic front fork - not on this bike - and the following year could be ordered with the optional Anstey Link plunger rear suspension.

All Red Hunters had distinctive dark red petrol and oil tanks which were painted in the former Bournbrook cinema opposite the main Dawlish Road Ariel factory.

This high pipe, single port, girder fork Red Hunter is sold with a copy of its factory dispatch record. It left Birmingham via Scholefield Goodman on December 18, 1945 destined for a Bob Mac Cooper of East Northport, New York. It ultimately reached the California-based vendor nearly 60 years later. In 2007 he had it carefully restored to its original specification except for the Buchanan-built stainless spoke, alloy rim wheels. The frame was powder coated, new tires, tubes, seat, exhaust added, and the engine was fully rebuilt. The odometer shows total mileage of ????. Mileage since restoration is on the trip at ????. This is an excellent example of a now rare "high quality" Ariel single, well-known to be a "nice ride."
Saleroom notices
Since going to press, it has come to our attention that this is not a Red Hunter model as described, but rather an OHV De Luxe NG. Furthermore, the motorcycle was restored, but not to exact standard specification as stated in the catalog description.