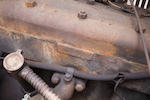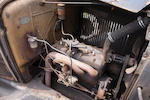 Offered from the Alexis 'Lex' du Pont Collection
1929 Ford Model A Station Wagon/Pickup
Coachwork by Murray Body Co.
Engine no. AA3769948
200ci L-Head 4-Cylinder Engine
Single Updraft Carburetor, 40hp
3-Speed Manual
Solid Front and Rear Axles with Leaf Springs
4-Wheel Mechanical Brakes

*du Pont family ownership for decades
*Highly original
*Well done conversion from wagon to pickup

THE FORD MODEL A WAGON

Just one of Ford's many 'firsts', Ford's entry into an area of the market for which it and other group brands would become synonymous – the 'Woodie' or Station Wagon – came in 1929, when it arrived on the Model A. It was a true multi-purpose vehicle. In a day and age when re-configurable seat set ups were common place the similarities are strikingly similar, showing just how advanced it was in concept. At a push it could accommodate eight people and their baggage on the fold down rear deck, or alternatively the individual pair of second row seats and rear bench could be folded forward and lifted out, leaving a substantial flat deck area. As with the 'T', the color palette was limited to a single color, 'Manila Brown,' while fenders, wheels and most trim pieces were painted black. Over time dealers and subsequent owners frequently upgraded the appearance by adding the passenger car's chromed radiator shell.

THE MOTORCAR OFFERED

Originally delivered from Ford as a station wagon, this Model A was carefully converted to a pick-up truck along the way. Having been in the DuPont family for many years it served a faithful utility duty before moving to the family museum.

Largely original and reported to have been run recently, the Model A has mainly lived life indoors. It is generally quite sound and solid and the interior seems to still have nice original upholstery. Use it as is or spend a few weekends shaping it up and one could have a charming little truck with interesting history.
Saleroom notices
The title for this vehicle is in transit.