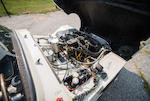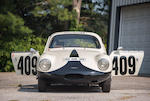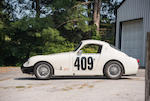 Delivered new to racer Dan Margulies
1959 Austin-Healey Speedwell Sprite GT
Coachwork by Williams & Pritchard Limited
Chassis no. AN530370
1,293cc OHV Inline 4-Cylinder Engine
Twin 1½" SU Carburetors
90bhp at 5,400rpm (approx.)
Close-Ratio 4-Speed Manual Transmission
Independent Coil Spring Front and Semi-Elliptic Leaf Spring Rear Suspension
Lockheed Hydraulic Front Disc and Rear Drum Brakes

*Delivered new to British racecar driver Dan Margulies
*Known history from new
*Period race history
*One of only a handful of surviving Speedwell Sprite GTs
*A rare and competitive sports racer

THE SPEEDWELL SPRITE GT

Modifying an existing production car to make it a bit faster is one thing—but it's another thing entirely to start with a production car and build it into such a highly crafted racecar that the Fédération Internationale de l'Automobile (FIA) recognizes it as an entirely separate model. That is the route Speedwell took with the Sprite GT.

Speedwell Performance Conversions Ltd. was founded in 1957 by racers George Hulbert, Les Adams and John Sprinzel to modify the Austin 948cc motor for racing. Finding swift success, racing legend Graham Hill and noted aerodynamicist designer Frank Costin soon joined the firm. With their combined talents, the group went to work turning the Austin-Healey Sprite—a fun, inexpensive but not particularly fleet of foot—from a Sunday driver into a sports racer that could complete on the world stage.

Making quick work under the hood using their tried and true speed equipment, the real magic was visible on the outside in the form of Frank Costin's lithe body work. A sleek one-piece nose of fiberglass construction sat ahead of a hand-formed aluminum flatback roof that incorporated a curved glass windscreen the combination of which, when plonked atop a steel-bodied 1958-1961 Mark I Sprite with the hotter motor, chassis improvements, Girling front disc and rear drums, and a close-ratio transmission, resulted in the Speedwell Sprite GT. The FIA homologated the Speedwell as a separate model on September 17, 1960 for use in races and rallies.

Placed in the capable hands of the likes of John Sprinzel, Briggs Cunningham, Bruce McLaren, Walter Hansgen and others, the Speedwell Sprite GTs found success on the international rally circuit and Sebring raceway in the early 1960s. Overall, 25 Speedwell GTs were produced.

THE MOTORCAR OFFERED

This Speedwell was purchased new by London Rolls-Royce dealer and noted racer Dan Margulies. Carrying the UK registration "2824 MV", Margulies would go on to race the car at three international rallies, in addition to other events. First was the 1960 Alpine Rally in June with J. Campbell-Jones navigating followed by the Liège-Rome-Liège Rally in September with Stuart Turner navigating; however Margulies failed to finish either event. In 1961, Margulies lent 2824 MV to Peter Jackson for club rally during which its original aluminum 'Monza' hood was damaged. In preparation for the 1961 Tour de Course, in which Jackson and Margulies would be co-driving, the fiberglass hood from Jackson's car—46 BXN—was put onto 2824 MV, a part that it would carry to this day.

Margulies subsequently sold the car to Tom Jones who only briefly kept the car before selling it to Anthony Moore for £500 in 1963. After a year of ownership the Speedwell was sold to Gold Seal Sports Cars. Finding its way to David Taylor of Birkenhead in the UK in the ensuing years, 2824 MV was purchased from Taylor by David Donley in 1977 and brought to the U.S. to vintage race. Actively campaigned by Donley at Sebring and Palm Beach International Raceway, much of which is recorded in photographs on the file from those races, after nearly five years of ownership 2824 MV was listed in the classified ads in late 1981 and acquired by Bud Nixon for $4500. Nixon entrusted the car to Jack Merriman for restoration including the fitment of a new Speedwell Monza bonnet similar to the one it had when new. Nixon raced and showed 2824 MV through the northeast for 17 years before selling it to the owner who has the car today.

It was not a continuous 16 year tenure however as after racing the car on the East Coast, the current vendor sold the Speedwell to Dan Leonard in 2001. Again given to Jack Merriman for restoration, Leonard would keep the car for 11 years before again selling it back to the current owner.

Presented today in lovely, well maintained, as-raced condition and wearing its Liège-Rome-Liège Rally livery, it is reported to be in good running order. Complete with numerous period photos from throughout its history as well as SVRA logbooks from 2002-2012, it will no doubt prove to be as competitive today as it was in period.
Saleroom notices
This vehicle is titled as a 1960.