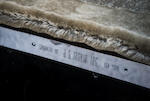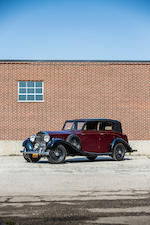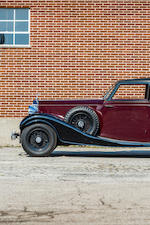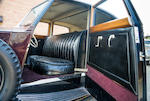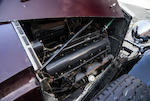 Delivered new to Florence Adele Vanderbilt Twombly
1937 Rolls-Royce Phantom III 40/50 Touring Limousine
Coachwork by J.S. Inskip, Inc.
Chassis no. 3AX85
Engine no. B74Y
7,338cc OHV V12 Engine
Single Stromberg Carburetors
180bhp at 3,000rpm
4-Speed Manual Transmission
Front Independent Suspension – Live Rear Axle
4-Wheel Drum Brakes

*Delivered new to American heiress Florence Adele Vanderbilt Twombly
*Originally ordered through and bodied by J.S. Inskip of New York
*Only a handful of long term owners
*Rakish, one-off coachwork
*Beautifully preserved

THE ROLLS-ROYCE PHANTOM III

"The most captious critic is obliged to admit that a Phantom III provides all that can be wished for in a large luxury motor-car. The comfort, silence and road-holding with really impressive acceleration and maximum speed made a combination of virtues which few cars of the time could equal."- Anthony Bird, Rolls-Royce Motor Cars, 1964.

Perhaps the most outstanding luxury car of the 1930s – certainly to have been built in the United Kingdom – was the Rolls-Royce Phantom III. Introduced in 1936, the 7,338cc V12-engined Phantom III succeeded the Phantom II, the 6-cylinder engine of which was considered to be at the end of its development life. The choice of a V12 configuration was a logical one for Rolls-Royce, the company already having had considerable experience in manufacturing V12 aero engines such as that used in the record-breaking Supermarine S6B seaplane. No doubt another consideration was the need to match the multi-cylinder opposition, notably the V16 Cadillac and V12 Hispano-Suiza.

A state-of-the-art design employing advanced materials and techniques such as 'skeleton' cylinder blocks with wet liners and aluminum alloy cylinder heads, the PIII V12 produced 165bhp in its debut form. The maximum output was subsequently raised to 180 brake horsepower, which was sufficient to propel later examples to 100mph, earlier models being capable of around 90. Its engine configuration aside, the Phantom III represents an important milestone in the history of Rolls-Royce cars, being the first with independent front suspension. A total of 727 had been manufactured when World War II halted production; about 300 are believed to exist worldwide today.

FLORENCE ADELE VANDERBILT TWOMBLY

American heiress Florence Adele Vanderbilt Twombly was the granddaughter of Commodore Cornelius Vanderbilt, Jr., daughter of the Commodore's preferred heir and oldest son, William. Born in 1854, Florence was only 23 when her grandfather died and she inherited part of his $169 million fortune—a large sum of money now and an astronomical figure in 1877. It was in that same year that she married financier—and financial advisor to her father—Hamilton McKown Twombly. While money can do many things, it did not bring long life to her family with her eldest daughter and youngest son both dying suddenly in their teens and her husband passing away in 1910. She would never remarry.

The trappings of great wealth of course gave her the ability to spend generously, and spend she did. Retaining her father's New York City Fifth Avenue home that she inherited in 1885, she and Hamilton also built the legendary Vinland in Newport, Rhode Island in 1896, the 800-acre Florham Estate in Florham Park, New Jersey in 1897, and a 70-room townhouse on the corner of East 71st Street and Fifth Avenue in Manhattan. It was to her Florham Estate that she ordered her new Rolls to be delivered.

THE MOTORCAR OFFERED

This special, one-off Rolls was ordered new through and bodied by J.S. Inskip, Inc. of New York City; factory records indicate that it was delivered to Inskip on October 24th, 1936 and the finished limousine was furnished to Mrs. Vanderbilt Twombly on June 19th, 1937. Finished with a rakish, 4-light, close-coupled limousine body with divider, the most immediately evident design feature is the steeply sloped, split-vee windscreen combined with the sweeping, helmeted fenders. Inside, a white steering wheel—a feature often reserved for cars bound for perennially warm climates—sat ahead of the driver's compartment trimmed in black leather. Mrs. Vanderbilt Twombly's accommodations were more generous with a deeply tufted, rich boardcloth rear seat, deep-pile mouton carpets, a roll-up glass partition, a floor heater, two occasional seats, a make-up compact, an electric clock and an intercom system to communicate with the driver.

Mrs. Vanderbilt Twombly would maintain the Rolls for some time, enjoying a life of luxury but eschewing many of the over-the-top frivolities that punctuated the Gilded Age, helping to end the era of the socialite from that time. Upon her death, 3AX85 would remain in New York with an oil change decal in the door jam indicating that the car was brought to J.S. Inskip for service on November 11th, 1955 with only 17,863 miles on the clock.

Eventually purchased by a state senator from Oregon in the mid- to late-1950s, 3AX85 would head across country and remain in the same private collection for the next five decades. Barely used during this period, the Rolls entered the vendor's collection in 2010 following its long term, Oregonian keeper's passing. Beautifully preserved today, it appears with its original interior and what looks like its original paint complete with Mrs. Vanderbilt Twombly's hand painted monogram on the coachline of the rear doors. Reported to be in strong running condition, the car's many features which include its trafficator, lights, clock, and rear buzzer system are all described as operational. Showing only a touch over 18,800 believed-to-be-original miles, it stands today as a stunning example of American coachwork on English engineering with a glorious ownership history.

Footnote: At some point in the car's history, its original firewall plate was removed and replaced with a plate stamped '3BU100'. It should be noted that the car's correct chassis number, 3AX85, appears stamped elsewhere on the frame and the engine matches the one listed on the build records.
Saleroom notices
Factory records and notes from Schoellkopf files housed with the Rolls-Royce Owners Club confirm that Mrs. Florence Adele Vanderbilt Twombly owned two Phantom IIIs, 3AX85 and 3BU100. The first, 3AX85, she acquired new. The second, 3BU100, was rebuilt by Inskip with reworked coachwork from another car, in the same guise as the first. It was delivered to her in 1947. There is evidence to suggest that her original car was dismantled by Inskip at around this same time. Bonhams have been able to confirm that this car remained in Mrs. Twombly's family until 1986, passing to her daughter Florence Adele Twombly and son-in-law William Burden, from Burden this car was sold to noted collector Bob Bahre, then to a Mr. Westlund from who the current owner acquired the car. This car appears to comprise components from both cars, notably the firewall and chassis plate from 3BU100, while it also has the engine from 3AX85, number B74Y. It is currently titled as '3AX85'. Please note this title is in transit.