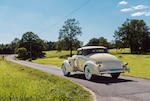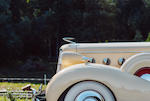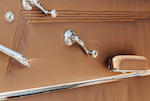 Subject of a $180,000 restoration
1935 LaSalle Series 50 Convertible Coupe
Chassis no. 2207498
248ci L-Head Inline 8-Cylinder Engine
Single Stromberg EE-15 Duplex Downdraft Carbuetor
105bhp at 3,600rpm
3-Speed Manual Transmission
Front Coil and Rear Semi-Elliptic Leaf Spring Suspension
4-Wheel Hydraulic Drum Brakes

*Subject of a two decade restoration at a cost of over $200,000
*Beautifully appointed but never shown
*An icon of automotive styling from the Art Deco Era
*A CCCA Full Classic®

THE LASALLE SERIES 50

By the mid-1920s, GM president Alfred P. Sloan had done a fine job of aggregating a hierarchy of brands for "every purse and purpose." However, he realized that there was a large price gap – over $1000 – between Buick and Cadillac. What was a Buick owner to do when he wanted a new, more elegant vehicle? Chances were he went to Packard, which had become America's favorite luxury brand. Sloan was intent to keep the customer within the GM fold, so the LaSalle was born.

The LaSalle wasn't just a car to fill in a price gap; it was a new brand with a sporty, stylish character. To help him with his objective, Sloan hired a young stylist from a custom body shop that was owned by Cadillac's California distributor. His name was Harley Earl, and what started as a one-time project to design the inaugural LaSalle ended up being a 32-year career that changed the rules in Detroit.

The 1935 LaSalle maintained much of the previous year's good looks that proved LaSalle to be the most stylish of American brands in an era full of streamlined Art Deco-classics. Building upon the 1934 model with improvements both mechanically and stylistically, the '35 Series 50 sale body production shifted from Fleetwood to Fisher but performance increased thanks to some tweaking of the engine and a significant reduction in weight. Offering a full line-up of different bodies, including a Coupe, two Convertibles – one with two seats and a truck, the other with a rumble seat in place of the trunk – and both a four- and two-door Sedan, prices were kept below that of Cadillac but aimed squarely at the likely of Chrysler and Mercury. In total, 8,635 Series 50s of all types would roll off of the production line in the 1935 model year.

THE MOTORCAR OFFERED

The Convertible Coupe was the priciest offering in the Series 50 line-up with a list figure of $1,325. As such, less than 10% of Series 50 production were Convertible Coupes with only 820 rolling off the line in 1935. This particular car spent the better part of its life in the U.S. before being acquired by the Scandinavian vendor in 1989. Brought to Europe, the LaSalle was the subject of a nut-and-bolt restoration that spanned about two decades and cost over $180,000 in parts alone.

Finished in Diana Cream over brown leather with a beige cabriolet top, the quality and thoroughness of the restoration is evident upon inspection of the car. Complete with the option sidemount covers and in-dash electric clock, this head turning rumble seat Convertible Coupe represents the pinnacle of Art Deco design. With its gleaming chromed hood scallop vents and blocky LA SALLE lettering on its chromed centercap wheels, there are few more stylish ways to show up to a tour or concours.

With the restoration completed only three years ago and only sparingly used since then, this CCCA Full Classic® is a most welcome addition to any collection and a great ticket to numerous desirable events.
Saleroom notices
The correct chassis number for this vehicle is 227498, but it is titled with chassis number 207498 and its title is in transit.