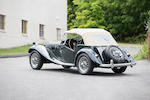 1954 MG TF Roadster
Chassis no. HDE432667
Engine no. 39054
1,778cc Volvo B18 OHV Inline 4-Cylinder Engine
2 SU Carburetors
Approximately 100hp
4-Speed Volvo Manual Transmission
Front Independent Suspension – Live Rear Axle
4-Wheel Drum Brakes

*Fastidiously restored example
*Volvo drivetrain with nearly double the stock HP
*Excellent door fit
*A true sleeper TF with Volvo durability
*High quality conversion with a stock appearance

The MG TF

Although MGs had been available in the United States in the 1930s, the marque's great popularity really began after World War II. The classic TC model, with its large wire wheels, right-hand drive and exposed rear fuel tank, was regarded as the quintessential British sports car. In 1949, the improved TD offered independent front suspension, rack-and-pinion steering, disc wheels and left-hand drive for New World markets and in 1952 MG became the best-selling import in America.

After the TD came the TF. The new model was given an evolutionary makeover, with a swept-back radiator grille and more sweeping fenders. Headlamps were nestled into the inner surface of the front fenders. Mechanically, the new TF model was TD-based, using the same XPAG 1,250cc engine but with valve and carburetor improvements.

MG's TF is the final evolution of the T-series, a lineage dating back to the TA of 1936. The inherent rightness of MG's concept when designing the TA is evident in the long life enjoyed by the T-series and in the effect these cars had in the years just after World War II, when they formed the foundation for the sports car movement in America.

THE MOTORCAR OFFERED

On the outside this looks like a nice, well-restored TF. Under the hood reveals the 1800cc Volvo engine putting out nearly twice the power of the MG power plant. Mated to Volvos exceptional 4-speed all-synchro transmission, this conversion transformed the beloved and lightweight TF into a bit of a rocket. Being able to reach nearly 100hp in a 2000lb car really ups the fun factor.

Fully restored about 15 years ago to a high standard, this TF presents very nicely today. The body is noteworthy as it has excellent door fit and nice, straight panels. The car runs well and the Volvo engine has a particularly sporty exhaust note. A full top, side curtains and many of the original tools are included with the car.

This is a great example of a sleeper MG TF. With excellent reliability and vastly improved performance and usability this TF is sure to be great fun.