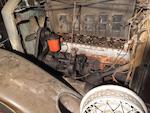 1930 Pierce-Arrow Model A 7-Passenger Tourer
Chassis no. 3025617
Engine no. 300606
366ci L-Head Inline 8-Cylinder Engine
Single Stromberg Updraft Carburetor
125bhp at 3,000rpm
3-Speed Manual Transmission (see text)
Solid Front and Semi-Float Rear Axle with 4-Wheel Semi-Elliptical Leaf Spring Suspension
4-Wheel Bendix Mechanical Drum Brakes

*Continuous single family ownership since the late 1940s
*Original and unrestored
*Unused and dry stored since the late 1960s
*Excellent basis for a restoration
*CCCA Full Classic®

THE PIERCE ARROW MODEL A

Based in Buffalo, New York, Pierce built birdcages, ice boxes and bicycles before introducing its first gasoline-driven automobile in 1901; however, the Pierce-Arrow name was not used until 1904. In 1908 the firm added Motor Car Company to the Pierce-Arrow name and soon switched its attention exclusively to the production of luxury cars, pioneering many technological developments, including servo-assisted braking and hydraulic tappets, while building some of the most prestigious motor cars ever to grace America's highways.

Some idea of the rapidity of Pierce-Arrow's rise may be gauged from the fact that as early as 1909 The White House ordered two for state occasions. From then onward Pierce-Arrow would be synonymous with the ultimate in opulence, ranking alongside Cadillac, Packard and Rolls-Royce. Clinging to traditional styling, apart from their striking in-fender, streamlined headlights, and handicapped by a range of 6-cylinder engines in an increasingly multi-cylinder marketplace, Pierce-Arrow sadly saw its sales decline throughout the 1920s.

A new range of straight eights was introduced, and sales doubled in 1929. A V12 was added in November 1931 but both Pierce-Arrows found life very tough in the post-Wall Street crash years. Sales dwindled throughout the 1930s and the once-magnificent Pierce-Arrow folded in 1938.

THE MOTORCAR OFFERED

This particular 144-inch wheelbase Model A 7-Passenger Tourer was purchased 64 years ago by the late J.R. Miller. J.R., a long-time car and motorcycle enthusiast, owned a number of interesting vehicles throughout his lifetime but the one that stayed in his garage the longest was this Pierce-Arrow. The car's previous owner was J.R.'s cousin who, along with two friends, had purchased the Pierce in 1948 or 1949 from a used-car dealer in the Kansas City area. He used the car as a daily driver and a mobile stage for his 7-piece jazz band (The Seven Sultans) performing in parades and other venues in Kansas and Missouri.

J.R. acquired the car in 1951 while a college student in Kansas. He and his wife relocated to Iowa in the late 1950s where he was an active AACA and CCCA member displaying the car at regional shows through the 1960s. J.R. liked that the car was in original condition and he never performed any cosmetic restoration work. He did, however, replace the original 4-speed transmission for a more suitable Pierce-Arrow 3-speed. The car was taken off the road in the late 1960s with a failed connecting-rod bearing and has remained in dry storage in its current condition until removed from its Indiana garage to be brought to this sale.

Many engine parts, spares and accessories to accompany the car are to be found in the passenger compartment. A spare Pierce-Arrow engine block, oil pan, manifold, driveshaft, steering column, and steering wheel are sold with the car but must be collected by the successful bidder at the buyers' expense from the Estate in Indiana within 90 days of the sale.

Saleroom notices
This vehicle is titled under its engine number and as a 1931.