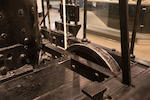 Run in the 1933-34 Century of Progress Fair in Chicago
1928 Baltimore and Ohio Railroad Built "1831 York" Locomotive

THE YORK AND THE B&O RAILROAD

During the 1820s, the British-born steam railway quickly caught the attention of American businessmen and engineers who saw its value as practical transportation. By that time Britain had a well-developed industrial economy with collieries, iron mines, foundries, textile mills and other industrial concerns, furthermore a complex and extensive canal network laced the country, providing slow, but adequate, industrial transportation. America was still primarily an agricultural nation with only formative industry and minimal heavy infrastructure. The opening of the Erie Canal in 1825 precipitated a host of similar schemes and railroad projects.

Among these was the Baltimore & Ohio, chartered in 1827, which envisioned connecting the port of Baltimore with the Ohio River (a gateway to further western trade with access to the interior of the country). Baltimore hoped to benefit from its railway in the same way that New York City had profited from the Erie Canal.

Initially, the B&O's founders planned to operate the railroad with horses, but soon investigated locomotive technology and in the late 1820s sent representatives to Britain to make inquiries. While impressed with the technology, they found that British locomotives were not only very expensive, but their relatively long rigid wheel base was poorly suited to B&O's light track structure.

New York businessman Peter Cooper, who had financial interests in Baltimore, had a better idea – and he convinced the B&O into testing a domestically designed locomotive. An early 'buy American' proposal and with B&O's consent he organized the construction of a small one-ton steam locomotive (later known as 'Tom Thumb'). [Cooper later ran for President of the United States among other endeavors, and later on published some fanciful recollections of his locomotive experiences.]

Following Cooper's successful demonstration in 1830, B&O planned a locomotive competition similar to Liverpool & Manchester's famous Rainhill trials of 1829 in England. Five locomotives were entered in the competition, held between January and June 1831. Curiously, Cooper's was not among them. The winning locomotive was the York, named for York, Pennsylvania where the locomotive was constructed. This was the work of Phineas Davis (1895-1835), a watch-maker and early steam advocate, and built with the help of his partner Morris J. Garner (sometimes spelled Gartner).

Significantly, York was a short-wheel base four-wheel, vertical boiler locomotive similar to Cooper's. It featured a pair of vertical cylinders that drove vertical main rods that connected to horizontal side rods, which powered the wheels. Designed to burn anthracite, the York was deemed most successful of the five locomotives and after some alterations entered service on the B&O, where it hauled passenger trains on the line from Baltimore to Ellicott City, Maryland. In July 1831, it was reported to have hauled a five car train with 150 passengers on board. It was capable of hauling 15 tons at 15 mph on level track, and could reach speeds of 30 mph, which were considered impressive statistics for the period.

Embracing Cooper's ideas, Phineas Davis improved upon his York design. Aided by Ross Winans, Davis constructed a second, better designed locomotive called the Atlantic —the first "Grasshopper type,"—which employed Cooper's vertical fire tube boiler. The Atlantic weighed about seven tons and had two vertical cylinders. The Grasshopper design proved reasonably successful, and twenty such locomotives were constructed at B&O's Mount Clare shops.

Sadly Phineas Davis, like Dr. Frankenstein, was killed by his creation. On the 27th of September 1835, he was thrown from one of his locomotives when it derailed on its way toward Washington DC. Ross Winans took over from David, and using Davis' and Cooper's designs went on to become one of the first successful American locomotive manufacturers. These were locomotives of strictly an American pattern, and represent an alternative technological solution to British-designed engines, most of which were based on Robert Stephenson's Rocket of 1829. Ultimately, most successful steam locomotives built in the United States were patterned after the Rocket, which makes the York even more interesting as its line became extinct a century before the steam locomotive itself was phased out.

THE LOCOMOTIVE REPLICA OFFERED

The York was one of three working replicas of early American locomotives built in 1927 by Baltimore & Ohio at its Mt. Clare shops in preparation for the railroad's Fair of the Iron Horse centenary celebrations in Baltimore. As the first chartered common carrier railroad constructed in the United States, and a significant pioneer of railroading and railroad technology, B&O had long played a key role in preservation and promotion of its own history. Since the original York built in 1831, had been lost (scrapped) decades earlier, some of its descendants had survived, and to provide historical context, the York was faithfully recreated.

As built, the replica measured 12 feet tall (to the top of the smoke stack), 10 feet 11 inches long, and 7 feet 4 inches wide. In addition to the engine was a tender for carrying fuel and water that was 8 feet long. Together, York and its tender were 19 feet long. The engine features a primitive marine-style vertical boiler with 108 tubes and 6.75 square foot firebox grate. This supplied steam to a pair of vertically oriented cylinders 5.25 inch by 12 inches (bore x stroke). Although Davis' original engine was supposed to have weighed 3.5 tons, the replica is reported to weigh 13,540 lbs. Drive wheels were 30 inches in diameter.

After its performance at the Fair of the Iron Horse, the locomotive was sent to Chicago to participate in the Century of Progress fair held in 1933 and 1934. Afterwards, Baltimore & Ohio donated the replica to the Chicago Museum of Science and Industry for its permanent exhibit. In 1966, it was loaned for display in York, Pennsylvania, where it resided until 1978, when it was then loaned to the Chessie System's Baltimore & Ohio Railroad Museum as part of Baltimore & Ohio's 150th anniversary displays. Although Chessie System coveted the replica and hoped to keep it long term, in 1980 it was returned to the Chicago Museum of Science and Industry as part of a railroad-themed display. Chessie System is one of the components of modern day CSX Transportation, one of America's largest freight railroads.

Footnotes
Saleroom notices
Offered on a Bill of Sale.