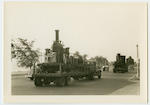 Run in the 1933-34 Century of Progress Fair in Chicago
1928 Pennsylvania Railroad Built "1825 John Stevens" Locomotive

THE JOHN STEVENS

Colonel John Stevens (1749-1838) was Revolutionary War veteran, one-time treasurer of New Jersey, engineer, inventor, and prolific steam propulsion advocate. As early as 1788 he met with American steam boat pioneer John Fitch, which led to Stevens immediately seeking ways to forward steam power. In 1789, he invented an improved vertical boiler for marine applications.

Although a generation ahead of his time, Stevens' foresight and bold ideas greatly shaped and influenced later development. The concept of a steam locomotive was still in its infancy in Great Britain, when in 1811 Steven began publicly advocating steam railroads in the United States. He took action in 1815, obtaining a charter to build a railroad in New Jersey—believed to be the first of its kind in North America. At the time canal-fever dominated transportation scheme, and discouraged progress toward actually constructing a railroad. His later efforts failed to attract serious investors and did not make it past the charter stage.

Undaunted, he sought to demonstrate the potential of a steam railway, and in 1825, he built his fully operational experimental "steam wagon" and ran it on a half mile of circular track on his Hoboken, New Jersey estate. His demonstration attracted hundreds of visitors, and as a result of this promotion, his sons obtained a charter for the Camden & Amboy Railroad across New Jersey in 1830. This pioneer line was one of Pennsylvania Railroad's predecessors, and was one of the earliest importers of British locomotives with its famed John Bull of 1831.

Stevens' locomotive also influenced development of early American-built locomotives. Locomotive pioneer Peter Cooper (a successful New York glue maker) demonstrated his locomotive (later called 'Tom Thumb') to the Baltimore & Ohio on August 28, 1830, where it hauled thirteen tons at four mph, and reached speeds in excess of 15 mph. Cooper had intended to build a fleet of similar machines for B&O but was unable to fulfill his promise. Instead, Phineas Davis picked where Cooper left off, and his locomotive York was an advancement of John Stevens' demonstration engine. Aided by Ross Winans, Davis developed the Grasshopper type, bought by Baltimore & Ohio. Winans went on to become one of the first significant locomotive builders in the United States and supplied American-designed engines to several pioneer railroads. His early engines continued to employ vertically orient marine style boilers and these represented a distinct technological line and presented a contrast to most locomotives that were descended from British imports derived from Robert Stephenson's famed Rocket of 1829.

THE LOCOMOTIVE OFFERED

A century after Stevens' demonstration, Pennsylvania Railroad sought to promote its own history and highlight the significance of early railway development. PRR focused on Stevens' pioneer engine and its 1928 replica was part of a working display at the Stevens Institute in Hoboken (an organization founded in 1870). Later, the Chicago Museum of Science desired to display PRR's John Stevens (as the replica had become known) at the Century of Progress fair held in 1933-1934. The museum coordinated with the Pennsylvania Railroad to ship it to Chicago. During the 1930s the locomotive became part of the museum's permanent collection, although previously it had been considered for donation to the Henry Ford Museum in Dearborn, Michigan. In 1939, PRR constructed a similar replica for public display which now resides at the Railroad Museum of Pennsylvania in Strasburg.

This John Stevens is a replica locomotive constructed in 1928 by the Pennsylvania Railroad at its company locomotive shops at Altoona, Pennsylvania. It was designed as a full-size working model of the demonstration locomotive built a century earlier by pioneer railroad proponent, engineer and inventor, Col. John Stevens in 1825. The original machine is understood to have been the first full-size steam locomotive built in the United States to have operated on tracks.

The locomotive uses a primitive design derived from contemporary (1820s) marine practice, and was described in period sources as a steam wagon. It consists of a painted wooden platform frame 16 feet long, 4 feet 2 inches wide with the boiler mounted at one end. This marine-style vertical multi-tube boiler is 45.5 inches tall. Reports indicate that original boiler was of the water-tube type, and was designed by Stevens for steam boat operation. The replica is made from iron with iron tubes. The locomotive features spoked wheels. Significantly, the running wheels are flangeless, instead using vertically orient roller guides (projecting from below the platform) at the back of the wheels to engage the inside face of the running rails. Unlike conventional railroad locomotives that rely upon the principle of adhesion (friction between drive wheels and rails) for propulsion, the Stevens locomotive uses a rack system. The boiler feeds a single 5x12 inches (bore and stroke) cylinder that drives a system of gears with a spur gear below the platform used to engage a centrally placed rack rail. The cylinder-piston crossheads are constructed from wrought iron with cylindrical journals.
Footnotes
Saleroom notices
Offered on a Bill of Sale.