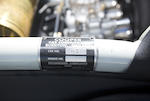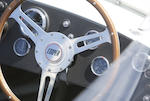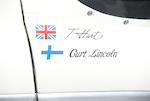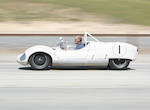 Offered from the Tony Hart Collection
The ex-Curt Lincoln
1959 COOPER-CLIMAX MONACO T-49 MK I SPORTS RACER

Chassis no. CM-1-59
Engine no. 430/30/1164 (Originally FPF/430/15/1104)

1,964cc DOHC Inline 4-Cylinder Engine
198bhp at 6,800rpm
4-Speed Manual Transaxle
4-Wheel Independent Suspension
4-Wheel Disc Brakes

*The first production Monaco built by the Cooper Car Company
*One of only eight Monaco Mk 1s built in 1959
*Known provenance from new
*Professionally restored for the current owner
*Climax FPF power


THE COOPER-CLIMAX MONACO T-49 MK 1

Soon after its introduction, the stubby little "Offset driving-position" Cooper Monaco carved out a niche as a very effective entrant in small-displacement sports-racing classes. Successor to Cooper's center-seat "Bobtail", it was named for Cooper's success at Monaco, where Frenchman Maurice Trintignant won the 1958 Grand Prix aboard the Cooper-Climax F1 entered by British privateer Rob Walker. The space-framed, aluminum-bodied Monaco was Cooper's first production rear-mid-engined sports-racer, specifically designed to meet FIA requirements that demanded two seats, two doors, and a windscreen. Based on Cooper's Formula 1 chassis, it was constructed on four large-diameter tubes on a relatively short (91-inch) wheelbase) with an engine bay that could accommodate a variety of powerplants. The earliest cars were in fact sold as tax-free kits, with the factory at Surbiton not building its own chassis until 1959. In the original surviving Cooper Car Company chassis book – as recounted in the authoritative Cooper Cars (Osprey, London, 1983) by Bonhams consultant Doug Nye – only eight of these Mark 1 cars are listed as having been produced and sold through 1959.

Suspension of the T-49 was by double wishbones with coil springs in front, with a transverse-leaf spring and lower control arms in back. The centrally-mounted engine – either a 1.5 or 2-liter unit - was laid over at an 18-degree angle and bolted to a Citroen-ERSA four-speed transaxle. Steering was by rack-and-pinion, and braking by large, 10.25-inch diameter Girling discs behind Cooper's proprietary cast magnesium alloy wheels. Good side-to-side weight distribution was achieved by placing the 12-gallon fuel tank between the left side wheels, while the driver and battery were placed on the right. Front-to-rear balance was 44/56, which produced very good handling. Standing just 33.5 inches high and weighing only 1120 lbs. dry, the Cooper-Climax Monaco was a potent weapon, proving immediately successful, especially in Britain and the United States, enjoying some advantage over their rival front-engined Lotus 15-Climaxes. The great Stirling Moss – later to be knighted – made his debut in the first 2.5-liter Climax variant. Several other drivers fitted the 2.5 liter Maserati 4-cylinder in place of Cooper's preferred Coventry Climax FPF power unit.


THE MOTORCAR OFFERED

While this 1959 Cooper-Climax Monaco carries chassis number 1, it is in fact the second example of the series, completed January 15, 1959. CM-2-59 was a prototype that wasn't completed until February 25th. CM-2-59 was shipped directly to Sebring for the March 12 Hour race, where it was entered in the Sports 1.5 class but succumbed to engine failure. Chassis CM-1-59, meanwhile, was delivered to Helsinki, Finland and to its new owner Curt (or Kurt) Lincoln. Lincoln was a successful Finnish industrialist, and that small country's leading racing driver at the time. He raced in many Scandinavian events and in even behind the Iron Curtain, most notably at Tallinn, Estonia, which boasted a rich auto racing history.

Mr. Lincoln raced CM-1-59 for several years across Scandinavia and Europe. As an interesting aside, his daughter Nina would eventually meet and marry a meteoric young Austrian Formula Junior and Formula 2 racing driver named Jochen Rindt, tragically fated to become Formula 1's first posthumous World Champion Driver, in 1970, while he was the lead driver for Team Lotus. Lincoln eventually sold CM-1-59 to the American owner/driver Jack Brewer of Elmira, New York, who raced the car for some years before eventually retiring it from competition and selling it to a new owner based in Vermont. Attempts were made to replace the car's original Coventry Climax 4-cylinder racing engine with a Detroit V8 of some description, but there is no evidence that the conversion was ever completed.

Past owners of this fine little racing machine included Harry Blanchard, future three-time World Driving Champion Sir Jack Brabham and J.R. "Hap" Sharp, later to join Jim Hall at Chaparral in Texas. Eventually it landed in the California stable of prominent vintage racer Don Orosco, and around 1984 was sold to Dave Springett, who commissioned a restoration. Upon completion it was raced at Riverside in Southern California, and is a veteran of the Monterey Historic races and the Wine Country Classic. For a decade, this historically significant little racing car was on static display in the Towe Auto Museum in Sacramento, California. In 2007, the car was offered for sale at Bonhams auction at the Quail Resort & Golf Club in Carmel, California, where it was acquired by the current owner. As stated in Bonhams 2007 sales catalog, "...It is the tap-root of the rear-engined sports-racing dynasty which led direct to the Cooper-based Shelby American King Cobra projectiles of 1963-64 with their heavy-metal Ford V8 horsepower. It is also the progenitor of the direct line of descent which spawned 'anything goes' CanAm Challenge sports-racing car competition in the USA and Canada from 1966-74." Fitted with a pair of 45mm Weber carburetors, the engine was dyno-tested at 198 hp at 6800 rpm by Veloce Motors West in Petaluma, California. With a modicum of service and preparation, it would be ready to provide its next owner with many hours of enjoyable vintage racing anywhere in the world.
Saleroom notices
Please note that this vehicle is offered on a California Title and its correct engine number is 430/20/1164.