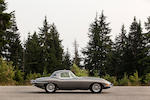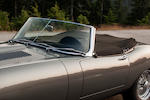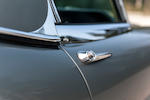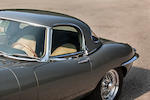 1962 JAGUAR E-TYPE SERIES 1 3.8 ROADSTER

Chassis no. 878271
Engine no. R-7967-9
Original UK registration 3488 WK

3,781cc DOHC Inline 6-Cylinder Engine
3 SU Carburetors
Approximately 290bhp at 5,800rpm
5-Speed Manual Transmission
4-Wheel Independent Suspension
4-Wheel Disc Brakes


*Long-term ownership by a Jaguar Club Concours judge
*Fully refurbished with some modern upgrades
*One of the best-driving and sounding E-Types available
*Supplied with a factory hardtop, spare wheel, and tool kit
*Jaguar-Daimler Heritage Trust certificate


THE JAGUAR E-TYPE

When introduced at the 1961 Geneva Salon, the new Jaguar stirred passions with its extremely sleek and timeless design backed by staggering performance. Constructed using methods derived from the D-Type sports racing car, the E-Type was a technical marvel. The proven XK power plant was carried over from the XK150, and made sure the lithe Jaguar would exceed the 150mph mark.

Often called the most beautiful production car of all time, the E-Type remains an automotive icon of design, engineering and speed. With spare parts readily available, a number of marque clubs to join and many driving and Concours events to attend, the E-Type is an excellent, widely admired collector car.


THE MOTORCAR OFFERED

Here is one of the finest Series 1 E-Type Roadsters we have ever been privileged to offer. Chassis no. 878271 was completed October 4, 1962, and delivered to its first owner, a Mr. F. Nemith of London soon afterward. The car was eventually purchased by Canadian collector and racing driver, Dr. Gilles St Pierre, of Rimouski, Quebec, and acquired by the current owner in 1989. The owner states that this Jaguar has been his daily driver over the last 25 years, accruing 10,000-12,000 miles a year and maintained without compromise. It has been steadily developed to achieve optimum performance and handling, as would have been if it had been picked up new from the factory with available privateer modifications. The owner says the car has been "refurbished" rather than restored, with every effort made to use OEM components, with one notable exception: its original "Moss" gearbox was replaced with a modern Tremec five-speed unit, which greatly improves driving ease and comfort. In 2009, the body was stripped and new floors installed by Coachwerkes Auto Restoration of Victoria, BC, then repainted its original color of Opalescent Silver Grey. New engine frames were installed in 2015 by RX Autoworks of Vancouver, BC.

In 2009, the engine was rebuilt with new Arias pistons, Series III rods and oil pump. The crankshaft was Magnafluxed, reground, and polished, and the entire drivetrain, including the aluminum flywheel and clutch assembly, statically and dynamically balanced. The carburetors were rebuilt, as was the water pump. The cylinder head was ported; an upgraded valve train with more aggressive cams was installed, along with a Pertronix electronic ignition system. The engine was then assembled by Sean Kostrzewski of Octagon Motor Group. A custom stainless steel exhaust system was fabricated, new wiring installed throughout, and the instruments rebuilt. The steering was overhauled in 2011, the brakes in 2012, the differential in 2013, and front suspension in 2015. A high-torque starter was installed, along with all new hoses and a new radiator from Ron Davis Racing. There is a new OEM fuel tank and lines. In 2015, the refurbishment continued, with a new windshield, and a new tan leather interior was installed by David Gallagher at Phoenix Upholstery in Vancouver. It has a new set of Avon CR6ZZ tires on stainless Dayton wire wheels.

The owner, a JCNA Concours judge, has driven this E-Type in numerous road events, including the Targa Canada West. It has a formidable autocross history throughout the Pacific North West, and in 2013 was a National JCNA Concours Champion and class winner at the All-British Field Meet in Portland, Oregon. It has appeared in both television advertising campaigns for Mellon Bank and in the series "Witches of East End". The owner states that it is a supremely comfortable and capable long distance performer. The owner says the car's 3:31 limited-slip rear axle allows it to run easily at 130 mph at just under 4000 rpm with much more in hand. The car is supplied with a factory hardtop, a new mohair soft top, boot cover, full tonneau, and complete tool roll, jack and original spare wheel. The original Moss gearbox and engine frames are included as well.