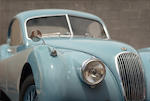 1953 JAGUAR XK120 FIXED HEAD COUPE

Chassis no. S680774
Engine no. W5362-8

3,442cc DOHC Inline 6-Cylinder Engine
2 SU Carburetors
160bhp at 5,000rpm
4-Speed Manual Transmission
Front Independent Suspension – Live Rear Axle
4-Wheel Drum Brakes


*Beautifully restored by marque specialists
*Presented in striking Pastel Blue over Blue/Grey interior
*Fewer than 2,800 XK120 Fixed Head Coupes built over three years
*Among the most beautiful Jaguar models ever produced
*Delivered new to Southern California


THE JAGUAR XK120

Told by the post-war Attlee government to "export or die", the British motor industry responded valiantly, none more so than Jaguar Cars, soon to become the UK's biggest US-dollar earner thanks in no small measure to the success of its XK120 sports car. Conceived and constructed in but a few months, the XK120 debuted at the 1948 Earls Court Motor Show where the stunning looking roadster caused a sensation.

Its striking appearance notwithstanding, the XK120 was conventional enough beneath the skin, being built on a separate chassis, featuring independent front suspension by means of wishbones and torsion bars, a live rear axle, and drum brakes all round. The body was the work of Jaguar boss William Lyons himself and one of the most beautiful shapes ever to grace an automobile, conceived as a coachbuilt aluminum structure for the simple reason that Jaguar expected to sell no more than 200 XK120s in the first year!

The car's heart was, of course, the fabulous XK engine. Conceived in wartime and intended for Jaguar's post-war range-topping saloon, the 3.4-liter six embodied the best of modern design, boasting twin overhead camshafts running in an aluminum cylinder head, seven main bearings, and a maximum output of 160bhp.

The XK120 set new standards of comfort, roadholding and performance for British sports cars and, in keeping with Jaguar tradition, there was nothing to touch it at the price.


THE MOTORCAR OFFERED

This gorgeous Pastel Blue over two-tone light and dark blue leather was completed on February 10, 1953 and dispatched ten days later to West Coast Jaguar distributor Charles Hornburg, Jr. in Los Angeles, California. Originally finished in black over red hides, the first owner was not recorded and the known history does not begin until 1973, when the car was purchased from a used car lot on Sunset Boulevard in West Hollywood by Keith Frick. Already having been repainted and reupholstered in brown on brown, it was understood that the car had come to the dealer from its second owner -- who was described as "a sheikh".

Frick would keep the car for nearly three decades, during which time it was restored twice. The first restoration took place in 1994 and the second in 2009. The extensively documented 2009 restoration was completed by XKs Unlimited and the Jaguar specialists at Classic Showcase. The body was stripped down to bare metal, while the drivetrain was overhauled, with anything deemed needing repair or replacement rectified with correct components. Photos, a DVD, and over $30,000 in receipts document the work completed and accompany the car.

The previous owner acquired the Jaguar in August of 2011 and drove it only a handful of miles, during which time it was kept closeted in a heated garage and regularly maintained. Documented by its Jaguar Daimler Heritage Trust Certificate and having covered less than 300 miles since restoration, this beautiful XK120 Fixed Head Coupe would be a great entry to any number of historic rallies, or a run to the local Cars and Coffee meet on a weekend morning.