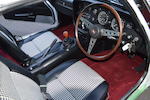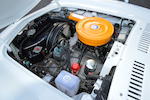 1967 MAZDA COSMO SERIES I

Chassis no. L10A-10260
Engine no. 10A-1245

982cc Twin-Rotor Wankel Engine
Single 4-Barrel Carburetor
110bhp at 7,000rpm
4-Speed Manual Transmission
Front Independent Suspension - DeDion Rear Axle
Front Disc - Rear Drum Brakes


*One of just 343 Series I Cosmo's
*First production vehicle with twin-rotary engine
*One of the most desirable Japanese sports cars of all time
*Japanese domestic market example
*Iconic, innovative and collectible sports car


THE MAZDA COSMO

Introduced at the 1964 Tokyo Motor show, the Mazda Cosmo was the firm's first foray into rotary-engine production vehicles, shortly after getting the license from NSU to do so. The Cosmo was the first production vehicle to feature a twin-rotor rotary engine. Colloquially referred to as a Wankel engine after NSU engineer Felix Wankel, these engines were lauded for their free, high revving nature as well as their high output relative to their size and weight. However revolutionary, early reliability issues plagued the rotary engine, dooming its widespread adoption in the automotive industry. Mazda was the only major company to put rotary engines into mass production, continuing through the recent RX-8.

In 1967, the Series I entered serial production featuring a 110 horsepower rotary engine mated to a 4-Speed manual transmission, motivating this charming 930-kilogram two-seater to a top speed of 114 miles per hour. Stopping from such speeds was dealt with using front discs and rear drums mounted to an independent front suspension and a De Dion rear end. The unmistakable profile of the Cosmo is defined by its simple, low lines and pronounced greenhouse. It also featured decidedly fish-like gills on the front quarters and bumper and innovative split taillights. Stylistically and technically, the Cosmo stands out from its competition.

The Cosmo is a truly an innovative and important sports car and one of the most exceptional and desirable Japanese cars ever produced. Just 343 of these Series I examples were produced of the charming Cosmo.


THE MOTORCAR OFFERED

This stunning Series I Cosmo has remained in Japan since its production in 1967. Originally delivered in the classic combination of white over a black, checkered interior, this sports car eventually made its way into the collection of the consignor. Recently undergoing a thorough restoration, this Cosmo is presented in incredible condition throughout. The engine and transmission has been refurbished by a former Mazda Group C racing mechanic and the suspension has been sorted. Cosmetically, the distinctive, grilled body has been expertly repainted in the original white and the chrome has been re-plated, making this rare coupe shine brilliantly. The interior has also benefitted from this thorough restoration, with new seats and new red carpets.

This example of one of Japan's rarest and most significant sports cars is presented in stunning condition and is offered with books, manuals, and a complete tool set. It offers a rare opportunity to attain a well-sorted Series I to be spiritedly driven or shown at the highest levels.

Saleroom notices
Due to California emissions laws, please note that this vehicle may only be sold to an out-of-state resident for use outside of California or to a licensed automotive dealer.