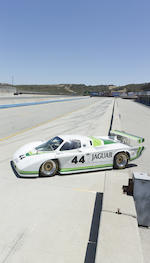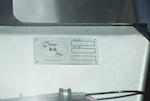 1982 JAGUAR XJR-5 IMSA GTP

Chassis no. 001

Aluminum monocoque chassis
6.2-liter Jaguar V12
Six Weber 44 IDA carburetors
Double wishbone suspension, coil-over shocks
Five-speed manual Hewland VG 600 gearbox
Top speed 217 mph


* 1st XJR-5 built, s/n 001
* 1st factory racing effort in 20 years
* Driven by Bob Tullius and Bill Adam
* Restored and track ready
*Extensive spare parts package included (please inquire)


THE JAGUAR XJR-5

It had been 31 years since a Jaguar had won le 24 heures du Mans — in 1957, the last of the D-type's three straight victories — but many thought that either one of the two TWR XJR-9LM prototypes entered in the 1988 round of the 24-hour race had an excellent chance of halting the streak. Porsche was on its own streak, having won the previous seven straight races at la Sarthe, but Tom Walkinshaw's Jaguars had the confidence from winning eight of the 10 rounds of the 1987 World Sports-Prototype Championship as well as three of the first four races in the 1988 series — against the same Porsche 962Cs they would face in the French classic.


THE MOTORCAR OFFERED

Le Mans is never a sure thing, so a huge sigh of relief must have resounded through Britain when the XJR-9LM driven by Andy Wallace, Johnny Dumfries and Jan Lammers limped to victory (with a damaged gearbox) over the once unbeatable Porsches. And there must have resounded, from somewhere in America, a colorful string of congratulatory expletives from one Bob Tullius, the man who put Jaguar back on the road to Le Mans with this car, Group 44 XJR-5, s/n 001.

As the 1970s came to a close, Jaguars were fast disappearing from the world's roads, and the company desperately needed to get car buyers once again interested in the marque. Managing director John Egan thought a race program was key, especially to a moribund American market, so he consulted with Jaguar's top executive in the U.S., Mike Dale, about a car that would be eligible to run in both IMSA's new GTP prototype class and the 24 hours of Le Mans.

Dale knew exactly who to call on to head the program. Bob Tullius and his Group 44 team had enjoyed a long relationship with Jaguar and had been campaigning British sports cars in America for 20 years, and Dale had come to admire Tullius's square-jawed determination and the impeccable preparation of his team's cars for competition. Group 44's Triumph TR8 race program had just ended because Triumph had stopped the car's production, so Tullius would be free to develop the new Jaguar race car.

It would be a giant leap for Group 44, rising from SCCA club racing and Trans Am to IMSA's top class, so Tullius went looking for the talent he would need and came back to the shop with respected designer and builder Lee Dykstra, who brought along aero expert Max Schenkel and body designer Randy Wittine. Dykstra had plenty of experience from previous work with the All American GT Chevy Monza and, more relevantly, Al Holbert's Can-Am racer, which Dykstra clearly emulated in the development of this beautiful prototype sports racer.

Dykstra's design goal was a car with good balance between drag and lift as well as superior control of longitudinal forces, and he began with a Holbert CRC-2 chassis, lengthening it to accommodate the V12 bolted to the monocoque as a stressed chassis member. A top was added and the tail was reconfigured to conform to IMSA/FIA rules, and, after extensive wind tunnel work with scale models in order to fashion the car's underbody, the XJR-5 was completed in time for its debut at Road America's Pabst 500 Miles in August 1982.

The car's simple green graphics and gleaming white bodywork made a striking impact in a field dominated by Porsche 935s, but those who saw the XJR run remember most the thrilling roar from the Jaguar V12. Group 44 crew chief Lanky Foushee once recalled how much more the team knew about the V12 than Jaguar's own engineers, and their effort resulted in a 530-horsepower naturally aspirated powerplant that was strong and reliable — but still no match for the 800-horsepower turbocharged Porsches.

The Jaguar's only chance would be from its superior aerodynamics and from the still relatively unexplored phenomenon of positive downforce. Even if the Porsches might own the track's straights, the Jaguar's superior grip would enable it to enter and exit the corners more quickly. Bill Adam, co-driver with Tullius in this first outing for 001, once said, "When the ground effects came into play, you'd eat them alive." Well, the team ate all but two of the 935s alive in recording an astonishing third-place finish, and the future looked bright.

A series of minor problems and mishaps plagued 001 for the remainder of 1982, and thereafter it was used as a spare, returning just once more for a final race in 1983 at the Laguna Seca 100 Mile, where Tullius sprinted solo to a second place behind Al Hobert's March Chevy.

At the same time in 1983, Tullius and Adam had moved from s/n 002 to #003 and then into #004, which is the chassis that scored a fifth at Miami and a DNF at Sebring before it was entered in the Road Atlanta 500 Kilometres in October. It was there and then that the XJR-5 became the first Jaguar to reach the top step of the podium in a major international racing series in more than 25 years — and it was the first factory-backed prototype to win an IMSA race.

Jaguar and Tullius would finish third and second in 1983 in their respective manufacturer's and the driver's chases after racking up wins at the Mosport 6 Hours and the Pocono 500, lending momentum into a 1984 season that would see the team's first visit to Le Mans. An early XJR-5 win at Miami with Brian Redman and Doc Bundy at the wheel was not to be repeated, and Jaguar would finish third in IMSA's GTP points behind Chevrolet and Porsche, but it was the team's June visit to la Sarthe that would crown the season for the renewed Jaguar effort.

The two-car Group 44 team (two cars to race; one for spares) immediately captured the hearts and minds of the attending throng with their svelte shapes and thundering V12s. The #44 was reserved for Tullius, Bundy and Redman, and it managed to reach the front as the field began its first round of pit stops. The usual Le Mans maladies eventually hampered both Jaguar entries and resulted in two DNFs, but now there would be no looking back for Jaguar's international racing ambitions.

Tullius returned in 1985 with a ramped-up effort, determined to capture the GTP class win, and he teamed with Chip Robinson and Claude Ballot-Lena for 13th overall in a decidedly tougher field than ran in 1984 and the class victory. Despite its success, however, Group 44 soon would be replaced by TWR to run Jaguar's international racing program, and it would be a British team that would, in 1988, take Jaguar to that historic return to the top of the Le Mans podium.

Chassis s/n 001 was put into storage at Group 44 and was run by Bob Tullius at the 2000 Goodwood Revival before being sold to the current owner, effectively making this a two-owner car. Restoration was recently completed in the acclaimed shop of former racers Jim Busby and Rick Knoop to race-ready condition, and the car comes with a long list of spares.

The XJR-5 has an aluminum monocoque chassis, an aluminum honeycomb floor, steel-reinforced bulkheads, and a steel rollover structure. The body is of fiberglass and carbon-Kevlar construction, the engine is a 6.2-liter Jaguar V12 with six twin-choke Weber 44 IDA carburetors, and the transmission is a Hewland VG five-speed.

No expense was spared in the restoration, which includes a total engine upgrade by noted builder Ed Pink Racing Engines. Now rated at 625 horsepower, the V12 is mated to that Hewland VG 600 gearbox along with a new clutch, throw-out bearing and input shaft. All ancillaries were reconditioned, the headers were Jet-Hot coated, and a new battery and tender were installed.

The suspension was rebuilt with new plating, seals, bearings, jam nuts and washers; the brake calipers and master cylinder were rebuilt; the CV joints were rebuilt and fitted with new boots; the radiator was removed, checked and cleaned; the pedal assembly was rebuilt and re-plated; the fire bottle was recharged; and the air jack, cooling and oiling systems were rebuilt for competition.

The restored car was track-tested by Rick Knoop at Willow Springs and declared fully ready for vintage competition.

This car now wears the original minimalist livery from the 1983 season, which allows the graceful lines of this historic prototype to shine as brightly as any contemporary machine. XJR #001 might have recorded a very modest racing history, but it is the car the launched a legendary marque toward a successful return to the top tier of world sports car competition — and there are not many cars that can claim a similar heritage.
Footnotes