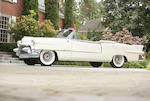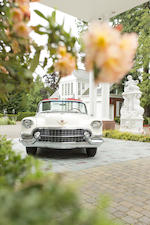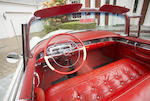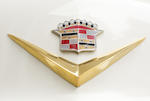 1955 CADILLAC ELDORADO SPECIAL CONVERTIBLE
Coachwork by Fisher

Chassis no. 556294293
Engine no. 556294293

331ci, OHV V8 Engine
2 Four-Barrel Carter Carburetors
270bhp at 4,800rpm
4-Speed Hydra-Matic Automatic Transmission
Front Coil Springs with Rear Semi-Elliptic Leaf Springs
4-Wheel Hydraulic Drum Brakes


*Matching numbers example
*Single-owner until 2006
*Only 15,484 miles
*First Cadillac with 'spaceship' tail fins
*Highly original example


The Cadillac Eldorado Special Convertible

In 1955, the Eldorado benefited from a number of important improvements ranging from styling enhancements to the addition of a special high-performance engine.

The most notable aesthetic change came in the form of new sweeping, pointed tail fins to replace the 'fishtail' versions enacted in 1948. This convertible only model was the first Cadillac to sport these new, soon to be iconic, fins. Brake, turn signal, and backup lights were situated at the base of the fins, and an Eldorado badge appeared on the rear deck lid. Other styling enhancements included the full rear-wheel cutouts, "Saber Spoke" cast aluminum and steel wheels, and metallic appliques on the upper door and quarter window sills.

Not just an experiment in design, the Eldorado's 331-cubic inch overhead valve V8 produced 270 horsepower, which, in-part from the addition of the 2 four-barrel Carter carburetors, helped the Eldorado to 20 more horsepower than the standard Cadillac 331 engine. The standard transmission was a four-speed Hydra-Matic automatic; coupled with this comfortable gearbox were a selection of optional convenience accessories including air conditioning, heating, a new electrically operated antenna, fog lights, side mounted spot lights, a new signal-seeking pre-selector AM radio, a remote-control trunk, and six-way power seats.

With only 3,950 made in 1955, and a price tag of almost $6,000, the Eldorado was the finest product Cadillac could produce and was reserved for it's most discerning clientele.


The Motorcar Offered

When this highly original 1955 Cadillac Eldorado convertible was sold in 2006 it was first time the car had changed hands since it was new. For the cars first 51 years it was the pride of one owner and was only driven 15,200 miles. In 2007, the current owner acquired the car and had the engine rebuilt, the components cleaned, sand blasted, and painted, and the engine dyno tested by Accurate Engines in Kirkland, Washington. Since then this car has only traveled 271 miles and has been privileged to a consistent, in-house mechanic.

Honored with two fastidious owners this car is believed to have never needed any cosmetic work beyond some small paint touch-up and a few pieces of chrome redone. The top, interior, carpet, and most of the chrome is in excellent original condition. This Cadillac also retains all of its original owners books and service stickers on the door. In strikingly preserved condition this car will compete extremely well in any AACA Preservation Class event, having won a class award in the Original/Unrestored Category at the St. Anthony's Concours d'Elegance in Oklahoma City, 2006.

With a rebuilt engine and an open design this Cadillac is well suited for long highway trips or short jaunts around town. Offered in a stunning color combination; this low mileage, highly original, iconic Cadillac convertible is an opportunity to own a beautiful piece of automotive history.
Saleroom notices
Please note that the title for this vehicle is in transit.