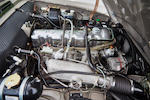 1971 MERCEDES-BENZ 280SL

Chassis no. 113044.12.019017
Engine no. 130983.12.012474

2,778cc SOHC Inline 6-Cylinder Engine
Bosch Fuel Injection
170bhp at 5,700rpm
4-Speed Automatic Transmission
4-Wheel Independent Suspension
4-Wheel Disc Brakes


*Beautiful example of Mercedes-Benz's classic 'Pagoda' 280SL
*Complete with both soft and hard tops
* Sports car performance with saloon car comfort
*Wonderful Mercedes-Benz for Sunday morning cruising
*Offered with copies of Mercedes-Benz data card


THE MERCEDES-BENZ 280SL

"Some cars don't change, they just get better. The Mercedes-Benz 280SL, latest version of a line that began as the 230SL in 1963, is the same as ever, just better," concluded Road & Track after testing a 280SL in 1968. "For those who value engineering, finesse and high quality construction, it's alone in the field," enthused the highly respected American motoring magazine, while its manufacturer considered the 280SL, "a Grand Tourer in the traditional sense" and "a unique combination of sports car performance and saloon car comfort (a Mercedes-Benz saloon naturally)."

These attributes help explain the 280SL's phenomenal success, particularly in the all-important North American market where the optional automatic transmission was considered an essential feature by the majority of customers. The fact that it looked like "sex on wheels" helped enormously too, of course. The 280SL's essential user friendliness broadened its appeal beyond the traditional sports car enthusiast market, and many celebrities and film stars owned 280SLs.

The last of a popular and extremely successful line begun with the 230SL of 1963, the Mercedes-Benz 280SL was introduced in 1967 powered by a new 2.8-liter six-cylinder engine that produced 170bhp, 20 horsepower more than the preceding 250SL. The 280SL's 120mph top speed was no greater but it was significantly quicker off the mark, its 0-60mph time of 10 seconds being a whole second better than its predecessor. Christened "pagoda top" after their distinctive cabin shape, these SL models were amongst the best-loved sports-tourers of their day, and are increasingly sought after by collectors who have rediscovered their significant merits.


THE MOTORCAR OFFERED

Assembled at the Mercedes-Benz factory in Stuttgart, Germany, during the fall of 1970, this fine 280SL was destined for the US market, and equipped with a left hand drive steering arrangement. As new, it was finished in DB726 Grey Beige, with a matching hard top, and trimmed with a Bamboo-colored MB Tex interior. The car was optioned with a Beige soft top, white-wall tires, headlamp washer, cruise control and a Becker radio.

The car's early history remains unknown, but at some point the Mercedes-Benz migrated to the northeast, where a comprehensive restoration was performed in the late 2000s. The 280SL's exterior was re-finished in the correct Grey Beige color by Danbury, CT based Grosso Restorations, while mechanical refurbishments were carried out by Performance Imports and Koren's Autobody, also based in Danbury, CT. A new interior was installed by Ryan Custom Interiors.

Displaying good panel gaps, this 280SL has that outstanding quality feel so indicative of the marque. Complete with hard and soft top, Becker radio and copies of the factory build sheets and restoration receipts, this fine example of the legendary Pagoda-top 280SL is ready for its next caretaker.