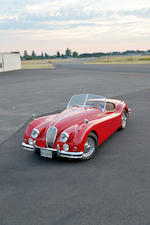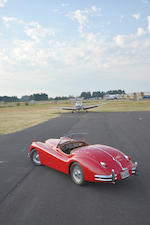 1955 JAGUAR XK140 MC ROADSTER

Chassis no. S811260
Engine no. G3002 8S

3,442cc DOHC Inline 6-Cylinder Engine
2 SU Carburetors
210bhp at 5,750rpm
5-Speed Manual Transmission
Independent Front Suspension - Live Rear Axle
4-Wheel Drum Brakes


*Exquisitely restored inside and out
*Multiple award-winning example
*41 years in current ownership
*Classic Jaguar styling and strong XK power
*Offered with Jaguar-Daimler Heritage Trust Certificate


THE JAGUAR XK140

While it has been said that the MG TC was the car that introduced America to the joys of sports cars in the late 1940s, it is arguably the Jaguar XK series that gave the sports car movement its style and dash. It is today difficult to believe that the company conceived the XK120 in 1948 as a limited-production specialty model to introduce and showcase the new twin-cam engine. By 1954 - 12,000 examples later - it was clear that it was something else altogether. The XK140 was launched in 1954, giving buyers what they loved about the 120, but with benefits of vastly improved steering, better cooling and brakes and most importantly, increased legroom thanks to a relocation of the engine and firewall.

Also new was the option of a 'C-Type' cylinder head, borrowed from the Le Mans winning competition car. Jaguars so equipped were called 'SE' in the UK and 'MC' in the 'States. The package also included dual exhaust, Dunlop chrome wire wheels and fog lamps. The added power and improved breathing of the C-Type head gave the MC cars 210bhp, providing a quicker and more exciting response, thus this specification is much prized by enthusiast drivers.


THE MOTORCAR OFFERED

The Jaguar-Daimler Heritage Trust states that S811260 was completed April 1, 1955, leaving the factory in Pacific Blue paint with a blue leather interior and canvas top. It was delivered to the Charles Hornburg Company of Los Angeles on May 10, 1955 and thence to its first owner. The consignor relates that he purchased the car from its second owner in 1973 after discovering it parked under a tarp in Santa Monica, California. The consignor had planned a restoration, but marriage and a new family took priority, and the car was put aside. In 2003, having seen the car's value steadily increase, the consignor decided it was time to sell, but his family insisted on a restoration.

That no-expense-spared, bare-frame project began in 2005, with the consignor hiring a close friend, Dave Brost, a 20-year employee of Steve's Auto Restorations in Portland, Oregon. The consignor relates that he and Brost worked on the car every Monday and Wednesday evening and Saturday morning over six years, consuming over 3500 man-hours of labor. After the frame was cleaned and powder-coated, the pair spent a full year stripping and painstakingly refinishing the steel and alloy body shell, doors, hood, and trunk lid. Lead was used to fill the seams and gaps to factory standard. Finally, the car was re-sprayed Spectramaster Red. A new tan leather interior kit from BAS Jaguar Trim of Blaine, Washington, along with a new canvas top and new side curtains, were carefully installed by Guy Recordon of Portland, known for his Pebble Beach-quality work. The chrome was re-plated to show standard. The engine was rebuilt by Dan Hall's Automotive in Portland, and the twin carburetors were sent to SU specialist Joe Curto in New York. A new, fully synchronized 5-speed transmission from Tremec replaced the original, while the rear axle was overhauled by McDonald Vintage Restorations in Canby, Oregon. New windshield glass, including the correct manufacturer's "bug" was installed. A new stainless steel exhaust system was supplied by XKs Unlimited, along with a new set of Dayton chrome wire wheels and Firestone Cavallino Sport tires from Coker Tire.

With the work complete, the consignor entered the Jaguar in the 2012 Forest Grove (Oregon) Concours d'Elegance, where it was judged Best in Class, Best Overall Convertible, and was a finalist for Best in Show. Soon afterward, it captured both Best in Class and Best in Show at the 2012 Fort Vancouver Concours d'Elegance. That fall, it was voted Best in Class and Best Jaguar by Jaguar Club of America judges with a score of 99.94 out of 100 possible points at the 2012 All British Field Meet in Portland. It was also voted Best in Class by fellow entrants. The consignor states that the minor issues noted by the judges have since been addressed, and the car should now score 100 points. Finally, it was voted "Peoples' Choice - Favorite Import" at the 2012 Oregon City Car Show.

Ready for its next Concours appearance, this lovely Jaguar roadster is supplied with its original transmission, wire wheels and tires, along with its spare wheel, a correct tool kit, jack, lube gun, and numerous marque-specific books.

Footnotes