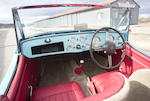 1949 LEA FRANCIS 2½ LITER SPORTS

Chassis no. 5158
Engine no. S5173

2,496cc, DOHC Inline 4-Cylinder Engine
2 SU Carburetors, 100hp at 4,000rpm
4-Speed Manual Transmission
4-Wheel Drum Brakes, Front with Hydraulic Assistance
Independent Front Suspension by Torsion Bar
Semi-Elliptic Leaf Spring Rear Suspension


*Fresh from a comprehensive restoration
*Elegant British Sportscar
*One of only 85 built
*Known history from new


Lea Francis

Best known for their 'Hyper' model, which in supercharged form provided Kaye Don with a win in the 1928 Tourist Trophy, the Lea-Francis company was one of a number that originated in Coventry in Great Britain, where historically the armaments industry had been based. That industry's use of high quality tubes provided a natural evolution into bicycle, motorcycle and ultimately motorcar manufacture. Despite its Tourist Trophy win, as they arrived in the 1930s, the firm was making a loss and went into receivership in 1931. Production continued at a trickle for the next few years before Lea-Francis re-emerged under new ownership in 1938, offering a pair of twin-cam engined models designed by Hugh Rose, formerly with Riley.

With a reputation as purveyors of quality motor cars to those who preferred individuality to the banality of mass production, the long established Coventry firm of Lea-Francis recommenced production after WW2 with its 1939 range, and it was not until 1947 that a new model arrived in the shape of the 14hp Sports. Boasting up-to-the-minute styling, albeit somewhat reminiscent of the pre-war BMW 328, the Sports was powered by Lea-Francis's Riley-esque twin-camshaft 1.8-liter four and was good for 85mph. In 1949, the model received a substantial upgrade with the enhanced performance of a 2.5 liter version of the twin cam four cylinder, coupled to twin SUs. Sadly this was not enough to save the brand and only a mere 85 of these fast, stylish roadsters were produced.


The Motorcar Offered

This striking British sportscar was delivered new in this guise of 'Electric Blue' paint, according to the factory records that survive with former company owner Barrie Price in the U.K. It is known to have been supplied first through Northern England representative Marshalls Ltd. of Halifax in Yorkshire to Mr. Waterhouse, who retained it for five years, before moving south in the U.K. to a Mr. Watson of Kent and then finally in 1963 it passed into the long term ownership of a Mr. Ashwill of Chelmsford in 1963. Amazingly, the car would rest there until the mid-2000s, when it was sold to these shores and to Mr. Zifenbein of Madison Heights, Michigan. Further, David Evans of Blacklick, Ohio became the next owner, who repatriated the car for an engine rebuild.

The 'Leaf' (as they are popularly known), arrived in the present private collection ownership later on in 2008. Upon its acquisition the current owner, being a true enthusiast and understanding that we are all mere custodians of such machines, elected to complete a comprehensive refurbishment of the car and to research its history fully. Of course, his first stop was with Barrie Price, who supplied all of the details of its ownership and was well placed to help and guide on its restoration.

All told, the process took four years and more than $80,000 was expended in returning the car to its former glory, which as evidenced from its presentation today is above and beyond the levels one might expect for cars at this price point. Since this work, the car has only been exercised for a mere 100 miles, leaving it in 'as new' condition. Its sole showing, at the Greenwich Concours d'Elegance in 2014, produced a 1st Prize in the British Sports Car class.

This rare car is ready to enjoy.

Saleroom notices
Please note that this vehicle is titled as a 1947.