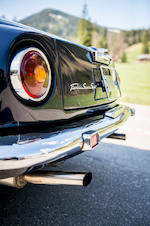 1965 Lancia Flaminia 2.8-Litre Super Sport 'Double Bubble' Coupé
Coachwork by Carrozzeria Zagato
Chassis no. to be advised
Restored between 1990 and 2000, the car is finished in dark blue with red leather interior, though further investigation would be required in order to establish the original colour combination and its country of delivery. It should be noted that the engine is neither the original nor of the correct type for a Lancia Flaminia Super Sport Zagato.

The car starts and idles correctly, the engine feeling responsive and revving smoothly, while the gearbox feels precise. However, there is some noise when in second gear. It would be fair to say that the body and paintwork would benefit from some refurbishment. Modern racing-type seat belts are fitted and there is a regularity-type chronometer on the dashboard.

Accompanying documentation consists of the purchase invoice (2008), Contrôle Technique (passed September 2014), Swiss Carte Grise and a quantity of maintenance invoices for the period 2008-2014 totalling more than 80,000CHF. A reproduction owner's manual is included in the sale.

La voiture, restaurée entre 1990 et 2000, est bleu foncé avec intérieur en cuir rouge, mais il serait intéressant de mener une enquête pour connaître sa couleur d'origine et son pays de livraison. Il est à noter que le moteur n'est pas celui d'origine et ne correspond pas au type de celui d'une Lancia Flaminia Super Sport Zagato.

La voiture démarre et tourne parfaitement au ralenti, le moteur paraît réactif et prend ses tours en douceur, la boîte de vitesse semble précise. Des bruits suspects apparaissent pourtant en seconde.
Il faut avouer que la carrosserie et la peinture auraient besoin d'être rafraîchies. Des ceintures de sécurité modernes, type compétition, ont été installées ainsi qu'un chronomètre de régularité sur le tableau de bord. Les documents fournis avec la voiture comprennent la facture d'achat (2008), un contrôle technique (passé en septembre 2014), une carte grise suisse et un tas de factures d'entretien couvrant la période 2008-2014 pour un montant total de 80 000 francs suisses. Une reproduction du manuel est incluse dans le lot.

Saleroom notices
Please note that the chassis no is 826232002066 as stated in the printed catalogue Veuillez noter que le numero de chassis est 826232002066 comme indique au catalogue