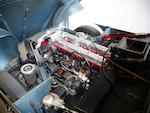 Original Left Hand Drive EU delivery new
1958 Aston Martin DB Mark III Sports Saloon
Registration no. Tickford
Chassis no. AM300/3/1577
Engine no. DBA/1189
Two years after the introduction of the DB2/4 MkII came the DB MkIII - the '2/4' suffix being dropped - 551 of which, mainly saloons, were made between March 1957 and July 1959, 55% of which were exported. Externally the most obvious change was the adoption of a DB3S-style grille, establishing the 'hallmark' look of subsequent Aston Martins, which had been drawn up by Tickford designer, Bert Thickpenny. This restyled nose give the car a more imposing look while the interior boasted a redesigned dashboard with instruments grouped in a cowled panel ahead of the driver.

The engine benefited from an extensive redesign by Tadek Marek (newly arrived from Austin) and featured, among other improvements, a stiffer block, stronger crankshaft and a new cylinder head with bigger valves. 162bhp was available with the single-pipe exhaust system, 178bhp with the optional twin-pipe version. Elsewhere there were improvements to both clutch and gearbox; Laycock overdrive became available and front disc brakes were standard rather than optional after the first 100 cars had been built, commencing at chassis '1401'. Despite the inevitable weight increase, the MkIII was faster than any of its predecessors with a top speed of 120mph.

If that still was not enough, customers could opt for more a powerful DBB and (later) DBD 'Special Series' engine. Introduced as an option at the 1958 London Motor Show, the DBD came with triple (sometimes twin) SU carburettors and produced 180bhp or 195 with the twin exhausts. This engine was fitted to 47 cars.

Unbeknown to many, the DB MkIII is another 'James Bond' Aston Martin, appearing in Ian Fleming's novel 'Goldfinger', though by the time the book made it to the screen the DB5 was the current model, so that was used instead.

Its accompanying copy order form reveals that left-hand drive chassis number '1577' was delivered new via Garage Mirabeau, Aston Martin agents for France, and first owned by Monsieur Robert Labouchere of 52 Avenue des Champs Élysées, Paris. The colour scheme is recorded as Ice Blue with black Connolly leather interior trim, and the car came equipped with disc front brakes and Alfin rear drums. It is note that it was re-sprayed Fiesta Red in September 1961. The car has since been refinished in pale blue/green while the black leather interior is believed original.
For many years '1577' belonged to the well-known Aston Martin collector Jean Louis Hebert in France, and was subsequently sold to the current vendor. The Aston must have been restored some time ago but still presents in very good condition. Representing a rare opportunity to acquire a highly original left-hand drive DB Mark III retaining matching numbers, the car comes with a copy of Swiss registration papers dated 1959; a copy of French registration papers dating 2007; and a copy of the aforementioned order form.

Détail souvent méconnu, la DB MkIII est une autre Aston Martin « James Bond » car elle apparaît dans le roman de Ian Fleming « Goldfinger », mais du fait qu'au moment de l'adaptation de l'ouvrage à l'écran, la DB5 était commercialisée, c'est cette dernière qui fut retenue pour figurer dans le film.

La copie du bon de commande qui l'accompagne révèle que ce châssis à conduite à gauche n° 1577 fut livré neuf par l'intermédiaire du Garage Mirabeau, importateur Aston Martin pour la France, à son premier propriétaire, M. Robert Labouchère, 52 avenue des Champs Elysées à Paris. Les teintes choisies étaient Ice Blue pour la caisse et noir pour la sellerie en cuir Connolly, la voiture étant livrée avec des freins avant à disque et des tambours arrière Alfin. On notera qu'elle fut repeinte en Fiesta Red en septembre 1961. Par la suite, la voiture a été repeinte bleu clair et vert, la sellerie en cuir noir étant très probablement d'origine.

Longtemps, « 1577 » fut la propriété du collectionneur français d'Aston Martin bien connu Jean-Louis Hébert avant d'être cédée au vendeur actuel. L'Aston qui a bénéficié d'une restauration il y a déjà un certain temps se présente toujours en très bon état général. Rare occasion d'acquérir une DB Mk III à conduite à gauche dans un état d'origine remarquable et avec numéros concordants, la voiture est accompagnée d'une copie des papiers d'immatriculation suisses de 1959, d'une copie des papiers français de 2007 et d'une copie du bon de commande mentionné ci-dessus.